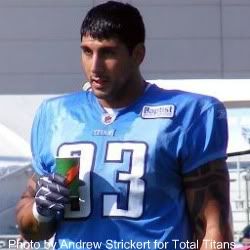 Will Jason Babin be a Titan again this year?
Tennessee General Manager Mike Reinfeldt had a two month window in January and February to get some of the Titans re-signed to new contracts. It's something that happens every year, as each team tries to keep its best players for four more years or so.
None of that has happened this year. No players were re-signed in January or February, as the 2011 NFL calendar year came to an end. That's rare, but this hasn't been a typical offseason. The Titans changed their coaching staff in January and the labor uncertainty didn't permit teams to function as usual, particularly regarding the status of players with four or five years service.
Still, even if this had been a normal offseason, I don't believe the Titans would have done a lot in trying to keep their own potential free agents. All of them are expendable, all of them are replaceable. There are better options available for upgrading their respective positions.

ESPN NFC South blogger Pat Yasinskas wrote this article in February, which provided salary cap numbers for each team. The Titans were 12th in the league at $107.4 million (RFA tenders not included.) Little has changed since then. ESPN's John Clayton gave us an update last week, which had the Titans 13th at $109.7M.
That number will be reduced by $12.75 million when Vince Young is released, leaving the Titans about $23M to sign Jake Locker and the draft class, plus any free agents. The Titans can save another $10 million by releasing Chris Hope ($6.5M) (see also this article) and Justin Gage ($3.5M).
I'm eager to see Reinfeldt spend some of that money on upgrading some positions with quality free agents. He didn't re-sign any free agents to be when he had the opportunity so hopefully he'll look for upgrades when free agency commences.
Following is a look at the Titans who may not be Titans much longer if Reinfeldt spends some cash on upgrading the roster.
Four of the Titans who will be free agents were starters last year – DE Jason Babin, MLB Stephen Tulloch, LG Leroy Harris and FB Ahmard Hall. Six Ten other Titans will also be free agents.
Babin had a career best 12½ sacks last year in Jim Washburn's scheme but won't be a good fit for what Jerry Gray and Tracy Rocker want to do. Babin will want a lot of money after his Pro Bowl season, but he won't be worth that much to the Titans. Surprisingly, former NFL coach Brian Billick wrote this about Babin: "With Babin having already played for the Texans, Seahawks, Chiefs, and Eagles over his NFL career, I see no reason to think he'll go anyplace other than his current home in Tennessee. He found a scheme that he can thrive in, and he should value the Titans just as much as they should value him."
I guess Billick, affectionately known as Buck Fillick to Titans fans, doesn't know that the Titans have a new coaching staff and the scheme Babin thrived in is now in Philadelphia. It's not hard to imagine that's where Babin will end up.
Reinfeldt claimed the Titans want to have Tulloch back, but I don't put much credence in that. If they wanted him that badly, they could have re-signed him in February or before. On the other hand, perhaps they did try to re-sign him but didn't offer as much money as Tulloch's agent, Drew Rosenhaus, is looking for. It's rumored that Jim Schwartz would welcome Tulloch in Detroit and I can easily envision the Lions offering more money than the Titans would be willing to spend.
Neither Harris nor Hall had a good season last year. I doubt if any of the GMs around the league will be lining up to woo them. Of the four starters who will be free agents, Harris and Hall are the ones I expect Reinfeldt to re-sign, primarily because he can get them without a big outlay of cash, though I'd prefer that he addresses those positions in free agency. The Eagles and Lions, or perhaps other teams, will probably overpay to get Babin and Tulloch.
For more on those four starters, and upgrading those positions, please check out these articles on defensive end, middle linebacker, interior line and fullback.
Non-starters Jacob Ford, David Ball and Donnie Nickey will be free agents who have a slight chance of returning. The Titans' new defensive line scheme, which calls for larger defensive ends, doesn't bode well for Ford, who was the smallest DE on the Titans roster last year. On the other hand, Ball could fit well enough to stick around. I recall the Ratbird game in 2008 when injuries forced the Titans to move Ball inside to DT, so he's proved the ability to play multiple techniques if needed.
I see no reason for the Titans to keep Nickey around for another season, even though safety and safety depth are problems.
Randy Moss, Bo Scaife and David Thornton aren't expected to be back. It's too bad Thornton couldn't remain healthy. He had some good games for the Titans, particularly against his former team, the Colts.
I wouldn't mind if all ten 14 Titans free agents are no longer Titans in a week. I guess Ball is the one I'd most like to see back, along with Harris and Hall.
Are there any of those ten 14 free agents you'd like to see back in two-tone blue this year?
Edit: Marques Douglas, Jamie Winborn, Rod Hood and Chris Simms are also free agents, according to ESPN. It was my error for omitting them initially.

Though he's 34 years old, Douglas can still play a little. He appeared in the Titans final six games of last season, starting twice. He does have the size the Titans are looking for in their DEs.

Hood was on IR all of last season. Although he had three interceptions in 2009, his overall play left a lot to be desired. Jerry Gray couldn't have been pleased if he saw Hood on film, especially in run defense.

The Titans will have to be desperate at LB if they keep Winborn around.

If the Titans can't sign Matt Hasselbeck, Donovan McNabb or even Marc Bulger, they might have to re-sign Simms. He is an eight-year veteran, after all, with 16 NFL starts. I'm not sure that he could beat out Rusty Smith, though.