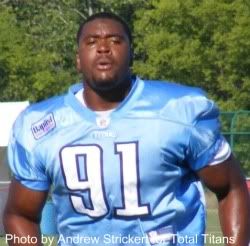 Jason Jones deserves to be a Pro Bowler.
I keep getting reminders from the NFL to vote for the Pro Bowl. "You Vote. They Play."
Problem is, from my viewpoint, there aren't enough Titans worthy of getting votes this year. Too many of them don't deserve to be in the conversation.
I'm not a big homer that will vote for someone just because they wear the two-tone blue. If a player hasn't played at a high level, he doesn't deserve to be voted for.
Only seven Titans players have received votes from me for this year's Pro Bowl. That's not saying I believe all seven should be in the Pro Bowl. I don't. It's only saying I think seven deserve to get some votes. All seven don't deserve to win. I'll have some words about each of those seven players, after the break.
Chris Johnson
— Having an off year, on pace for 'only' 1,415 yards this season. CJ is currently fourth in the conference in rushing (Arian Foster, Jamaal Charles, Maurice Jones-Drew) and even if he's not deserving to play in the Pro Bowl, CJ is at least worthy of receiving some votes. Rashard Mendenhall and Peyton Hillis should also receive some consideration.
Michael Roos
— Ditto the same argument as above. I don't know that he's one of the top three tackles in the AFC this year (Jake Long, Joe Thomas, D'Brickashaw Ferguson

,
et al
) but he has to be included in the conversation.
David Stewart
— Since he's a right tackle, there's little chance of him being named to the Pro Bowl. Actually, he's probably not even one of the best three right tackles in the conference this year, but he's in that company. It was probably a wasted vote but Big Country got one from me anyway.
Jason Jones
— No Titan is more deserving of a Pro Bowl selection this year than JJ but I'll be surprised if he gets the recognition he deserves. Haloti Ngata, Casey Hampton and Vince Wilfork are all having fine years and all have two things JJ doesn't – name recognition and reputation. Jones' recent injury doesn't help his cause either.
Michael Griffin
— The NFL has him competing for a Pro Bowl roster spot as a free safety, even if he has been playing more of the role of a traditional strong safety,
as Tom noted
recently. Of course, Ed Reed should be voted the starting FS but either Griffin or Eric Weddle could receive the second most votes to also make the team.
Rob Bironas
— Has made 19 of 20 field goal attempts, a 95% success rate, including a perfect two for two from over 50 yards. Several other kickers have made more field goals but it took them more attempts to do so.
Marc Mariani
— Two returns for scores, one each on a kick return and punt return. Jacoby Ford and Brandon Tate also have two return TDs this year, all on kickoffs. Mariani is fourth in kick return average in the AFC (minimum 10 returns) and is second in punt return average so he has some good numbers to showcase.
Those are the Titans who got my votes. Which Titans have you voted for or do you plan to vote for? You can vote for your favorite Titans
here
until December 20.