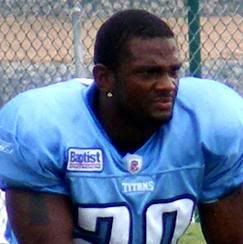 We're now in the first day of the NFL calendar year and as always, it's started out with some activity around the league. The Titans have historically not been active early in free agency, as Drexel noted in his last article, preferring to let things settle before making any moves.
The Titans chose not to re-sign Nick Harper or Rod Hood, leaving a vacancy to be filled. Jeff Fisher usually likes to have several veteran corners (last year was an exception and it was costly) and there are plenty of them who are now available, either in a starting role or as a backup.
I don't expect the Titans to pursue either of the top unrestricted free agents, Leigh Bodden and Dunta Robinson. Another thing the Titans have not historically done is to sign restricted free agents with high tenders. That would seem to leave out Carlos Rogers, Fabian Washington, Tramon Williams, Ellis Hobbs and Richard Marshall. (Al Davis ought to be committed for tendering Stanford Routt as a first and third but that doesn't really concern us.) 
This brings us to the second tier of corners, some of whom may be in the Titans' sights.
The Packers gave Will Blackmon a low tender and he could be had for a fourth-round draft pick. Blackmon is also a punt returner, which would be a welcome bonus. On the downside, he's coming off an ACL injury and has a history of missing games due to injury.
Pittsburgh tendered William Gay at a fifth-round level and he has some upside
Drexel likes
.
Then there's the following group of corners who are now available without compensation due to their prior team.
Apparently the Colts regard Marlin Jackson and Tim Jennings as disposable. Jackson and Jennings were first and second-round draft picks and were the reason the Colts released Harper. Wouldn't it be ironic if one of them replaced Harper again? Jackson was a good corner at one time but now has injury issues.
Detroit did not re-sign Phillip Buchanon and my initial reaction was that the Lions have the worst pass defense in the league. Part of that is they don't have a pass rush (which they hope to get with the acquisition of KVB), which makes it hard for even the best defensive backs. I haven't seen Buchanon play in a few years and something I wonder about is if he has changed his attitude about tackling. I recall the time he elected to watch Willie Parker score rather than trying to tackle him. (I'm sure every Texans fan remembers that play.) Buchanon was a first round draft pick and has been with four teams in eight years.
The Jets have parted ways with Lito Sheppard, who was due a large roster bonus. The Jets just acquired Antonio Cromartie to play opposite Revis, so they're in good shape without him. Sheppard is a one-time All-Pro and two-time Pro Bowler with 103 career starts. He'll be 29 years old this season.
The Dolphins declined to keep Nathan Jones but he may be better in the slot than outside.
Nine-year veteran Fred Smoot is also available after stints with the Redskins, Vikings and Redskins again. Smoot has 126 career starts and will be 31 this season.
Brent Grimes is a big question mark. Although he's started only six games, Walter Football
ranked him eighth
among all free agent corners. If he's that good, why wasn't he tendered by the Falcons?  The Falcons apparently have a lot of problems at corner and don't believe Grimes is part of the solution. Maybe the Falcons know something nobody else does, but if Walter Football believes he's that good, I'm sure a lot of teams think he has something to offer.
Do any of those guys, or any other free agent corners, look good to you?