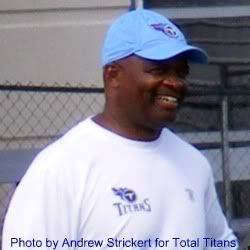 Fred Graves has become the fifth Titans coach to leave the team this month. Graves, who coached the wide receivers since 2007, joins Jim Washburn, Chuck Cecil, Craig Johnson and Jeff Fisher as ex-Titans coaches.
Whoever the new Titans coach will be will now have to find a replacement for Graves and I don't know if that will be an upgrade or not, only time will tell.
Graves was criticized by some fans, unfairly I believe, for not doing a good job developing young players. True, most of the young WRs didn't get much playing time in his tenure, but I put that on Fisher. Fish would rather get a root canal than play rookies, in my opinion.

It also didn't help Graves that he was asked to make chicken salad out of chicken crap on occasion. Look at some of the gems he was given to work with in Paul Williams, Chris Davis and Chris Davis.
However, when he was given some talent, such as Kenny Britt and Damian Williams, I thought he did a good job. I didn't hear anyone complain about Fred when Britt was catching all those touchdown passes last year.
This is my favorite Fred Graves story. Carolina Panthers WR Steve Smith approached Fisher at the Indy combine in 2007 to recommend Graves for the Titans' vacant WR coaching position. Smith, a two-time first-team All-Pro and four-time Pro Bowler, credited Graves, who was his college coach, for his development as a receiver.
I thought that was pretty nice of Smith, to do that for his former college coach. Graves also coached Kevin Dyson in college and later went on to become the Bills WR coach under Gregg Williams. I imagine Fish made phone calls to Williams and K-Dyse before making the hire. That sounds like a good trio of recommendations for Graves.
We should also remember that Graves coached some pretty good wideouts in Buffalo, including then-Pro Bowler Eric Moulds, Peerless Price and Josh Reed. The Bills didn't have a good team then, and Williams was fired after three years, but they did have a potent aerial attack.
Graves is now going to the Panthers and will be reunited with Smith and I expect Smith had a lot to do with that too. It wouldn't surprise me if Smith went into new Panthers coach Ron Rivera's office and recommended Graves for the job there.
Graves had a reputation for having his receivers catch bricks in practice, but that must have been a pretty infrequent occurrence. In four years at training camp, I never once saw him do that. I wish I had seen it, I would have loved watching it and taking a few pictures. Maybe he did it a time or two when I was watching other position groups, who knows? Or maybe he only did it at other times of the year.
Overall, I thought he was a pretty decent coach. I get the feeling that Fred's peers on the Titans feel the same way and I believe that if one of them is named the new head coach of the Titans, he will probably wish Fred was still here.
Fred, thanks for what you did with the Titans and best of luck to you, except for when the Titans visit Charlotte later this year.