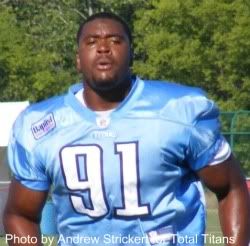 Will Jason Jones remain a Titan in 2012?
Two years ago, defensive end was the biggest offseason need for the Tennessee Titans and they used their first-round draft pick, the sixteenth overall, to select DE Derrick Morgan. Problem solved, right? Well, no.
Fast forward two years and defensive end is arguably the biggest need once again, so we're right back to Square One.
Football Outsiders ranked the Titans 2011 defensive line 31st in the league for their pass rush and none of the Titans' top pass rushers were defensive ends, so improvement is clearly needed. (I considered DT Karl Klug, LB Akeem Ayers and CB Cortland Finnegan to be the most effective pass rushers last year and two of them, Ayers and Finnegan, were less than occasional pass rushers.)
Three of the Titans' regular four defensive ends from last year are scheduled to be unrestricted free agents this year so there may be more turnover at this position than at any other for the Titans in 2012, with the possible exception of the safeties.
The 2011 Defensive Ends:

Jason Jones

– The Titans thought, wrongly so, that Jones would be able to make the switch from DT, where he played his first three seasons, outside to DE. It didn't work and Jones ended up as a swing player, getting snaps at both positions. Jones is headed for free agency and Mike Munchak said the Titans would continue to use him at both positions if he's re-signed. The former second-round draft pick still has some upside as a pass rusher, though it's mostly as a three technique DT.
William Hayes – Nicknamed "Big Play Hayes", perhaps unfairly, he never lived up to it in his four seasons. I think people may have formed unrealistic expectations from him due to the praise he received from former DL coach Jim Washburn. Hayes has always been better against the run than as a pass rusher, so if the Titans re-sign him, he shouldn't be counted upon to improve the pass rush.
Dave Ball – Another DE headed towards free agency, Ball is probably the least likely to receive an offer from the Titans. He's had eight unremarkable seasons, the last four with the Titans, and is now on the wrong side of 30. Ball, who's had a history of concussions, considered retirement after another concussion last season, but changed his mind and says he still wants to play.
Derrick Morgan – After a torn ACL prematurely ended his rookie season, Titans fans hoped last year to see him display the talents that had made him a first-round draft pick. Morgan got off to a slow start and never did showcase those talents, so we'll now have to hope he gets it together in his third season. Morgan had only 2½ sacks in 15 games last year, so that's one facet of his game he definitely needs to improve upon. There's one thing we can be sure of – Morgan is the only DE who we can predict with certainty will be on the team this season.
Possible Free Agent Acquisitions:

Mario Williams – He's scheduled to become a free agent and Houston may have a difficult time re-signing him. The Texans have salary cap issues and they would also like to re-sign RB Arian Foster and C Chris Myers. A former first-overall draft selection and two-time Pro Bowler, Williams had 48 sacks in his first five seasons and five in five games last season before tearing a pec and ending the season on IR. Williams will command top dollar in free agency but the Titans can afford it. I'd like to see them try to get him.
Robert Mathis – Although the Colts have expressed a desire to retain Mathis, the 245-pound Mathis would likely have to switch to OLB in the Colts' new 3-4 defense. Mathis, who's about to turn 31, had 9½ sacks in 2011 and has 83½ in his nine NFL seasons. It's just a hunch on my part, but I believe the Titans are more likely to pursue Mathis than any of the other top free agent DEs.
Dwight Freeney – Although he's not scheduled for free agency, many observers expect the Colts to release Freeney, whose 2012 base salary will be $14M and will count $19M against the cap. The 32-year old Freeney won't be a fit in the Colts new 3-4 defense as a DE and reportedly doesn't want to be an OLB. Freeney has 102½ career sacks and registered double digit sack totals in seven of his ten NFL seasons.
John Abraham – He almost seems too old to be considered but the 33-year old DE had another productive season last year with 9½ sacks. Abraham does not have a reputation as a good locker room guy and I thought the Titans would never sign such a player – but they did sign Randy Moss, so I guess it's possible. Abraham had 22½ sacks in his last two seasons and has 112 sacks in his 12-year career.
Cliff Avril – The Lions may franchise Avril if they're unable to re-sign him, so he may not reach free agency this year. Avril, who will only be 26 years old this season, has increased his sack total each year, from five in 2008 to 11 last season, and has 30 sacks in his four years in the league.
Jeremy Mincey – Jaguars GM Gene Smith said re-signing Mincey will be a priority, but the free agent to be has said he won't give the Jags a hometown discount. The 28-year old Mincey had eight sacks in his breakout season after only seven sacks in his first five seasons.
Andre Carter – After registering 10 sacks in 13 games last year, Carter tore his quadriceps and was placed on IR by the Patriots. Carter, who'll be 33 years old this season, has had double digit sacks in two of the last three and three of the last five seasons. His age and his health have to be concerns, though.
Mark Anderson – The seven-year vet is something of an enigma. Anderson had 10 sacks last year and 12 as a rookie, but never had more than five in any of his other five NFL seasons. Anderson will be 29 this season.
Possible Draft Picks:

Melvin Ingram, South Carolina – probably won't be available when the Titans draft at #20.
Quinton Coples, North Carolina – same as above
Nick Perry, USC – projected first-rounder
Andre Branch, Clemson – possible first-rounder
Whitney Mercilus, Illinois – possible first-rounder
Total Titans will have more on all these draft prospects, plus more, in the coming weeks.
Fringe players now on the roster:

Malcolm Sheppard – Like Jason Jones, Sheppard is a swing guy who can play both DT and DE. Sheppard, who was picked up late in the 2010 season, appeared in 11 games last year and is an exclusive rights free agent. Depending on what happens in free agency and the draft, he has a fair chance of making the roster for another season.
Keyunta Dawson – The five-year NFL veteran (four years with the Colts, one with the Lions) has appeared in 60 NFL games with 20 starts. He has one career sack. The Titans have signed Dawson to a reserve/future contract.
Pannel Egboh – Signed by the 49ers as an undrafted free agent, then spent time on the practice squads of the Texans, Eagles and Titans. He had a good training camp last summer but didn't make the 53-man roster. Egboh was re-signed by the Titans in January to a reserve/future contract.
Outlook: I won't be upset if the Titans lose any one or two of their three free agents to be but I don't believe they can afford to lose all three of them. That would leave only Morgan with three or more roster spots to fill through free agency and the draft. Of the three pending free agents, it seems that the Titans are most interested in keeping Jones and I would make him the favorite to return for another season in two-tone blue. If the Titans don't sign a top pass-rusher in free agency, I expect them to address the position in either the first or second round of the draft.