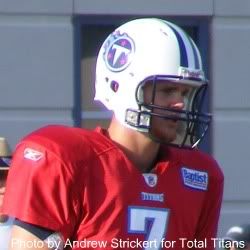 Rusty Smith will get his first NFL start on Sunday.
The Tennessee Titans (5-5) will face the rival Houston Texans (4-6) in an important divisional matchup at Reliant Stadium this Sunday. The winner will stay in hot contention in the tight AFC South race while the loser will be in last place, with a tough uphill climb ahead of them.
This game could be called the Misery Loves Company game. The Titans have lost three games in a row they should have won. Houston is in a four-game losing streak and has lost their last two games on touchdown passes in the final seconds.
The game will also mark the
first career start
for Titans rookie QB Rusty Smith. Normally, it's tremendously difficult for teams to win in that situation but Smith and the Titans have one thing in their favor which will make the task a little less difficult. The Texans have the worst pass defense in the league and
Football Outsiders
also ranks them
last in total defense
.
It was first thought Dinger would be unable to make the trip due to his illness. If he hadn't been able to, we'd not only have a quarterback in his first start but also have Dowell Loggains calling plays for the first time. Not a promising combination.
I expect we'll see a heavy workload for Chris Johnson and probably a few more carries than usual for Javon Ringer as well.
I was surprised to see Rusty throw deep as often as he did in his debut last week so he may fire away this week too.
As generous as the Texans are in giving up the deep ball, Randy Moss and Nate Washington should get some opportunities and I like their chances.
The Texans offense is very good, as usual, but Arian Foster has added the element of a strong rushing attack. He's also the Texans' second leading receiver. Considering the problems the Titans defense has had with passes to RBs lately, Foster should be a dual threat.
Matt Schaub to Andre Johnson is still a dangerous combination. Johnson has been a pain in the Titans' butt ever since he entered the league in 2003. Last year, Johnson had three TDs in the two meetings between the two clubs. For his career, he's had seven TDs and 1,009 yards.
The Johnson-Cortland Finnegan matchup is always one to watch, though Finny often gets the worst of it.
Pro Bowl TE Owen Daniels has been injured much of the year but Joel Dreessen has filled in for him pretty well, including 106 yards and a touchdown last week. Dreessen ought to be the latest in the ever-growing list of tight ends who have had big days against the Titans.
The Texans' o-line, which was much maligned in previous years, is functioning much better. I don't know how much of that is Foster but they do look good run-blocking and they're better in pass protection too.
Mario Williams is still the man to watch on the d-line. As usual, I expect he'll line up at both ends throughout the game. Michael Roos and David Stewart have usually done a fairly good job against Super Mario.
The Texans could use some help across the rest of their d-line.

Houston's linebacking corps has had problems. Pro Bowl MLB DeMeco Ryans is on injured reserve. SLB Brian Cushing was suspended four games for over-training, then filled in at Mike for a while, and he's now back at Sam.
Here's something which will give you an idea how bad the problems were for the Houston LBs. They brought in Stanford Keglar to upgrade their depth. There was a time when Keglar showed some promise with the Titans but he fell behind Colin Allred, then Jamie Winborn and rookie Rennie Curran.
This Texans team can be run on and I certainly expect the Titans to try their best to do so. Of course, as mentioned earlier, the pass defense is even worse.
It's hard for me to predict the Titans will score a lot of points. They haven't scored a lot lately against mediocre Dolphins and Redskins defenses. Maybe facing the worst defense in the league is just what the doctor ordered.
Titans 24
Texans 21