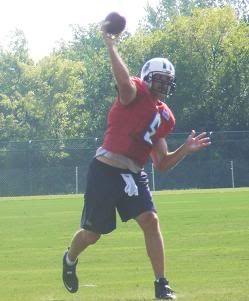 Kerry Collins may get his first start of the season. Photo by Andrew Strickert for Total Titans.
The Tennessee Titans (4-2) will attempt to remain at the top of the AFC South this Sunday when they host the Philadelphia Eagles, also 4-2, in an interconference meeting.
Kerry Collins will likely quarterback the Titans, following knee and ankle injuries to Vince Young in the Jaguars game this past Monday night. Eagles coach Andy Reid has named Kevin Kolb his starter, ahead of the injured Michael Vick (ribs).
Besides the absence of VY, the Titans may possibly be without the services of WR Kenny Britt, who may face disciplinary action following a Friday morning nightclub
incident
. 
Forecast
: Partly sunny, with a high near
79° and a 20% chance of
showers and thunderstorms after 1pm. South wind between 5 and 15 mph, with gusts as high as 20 mph. I'm bringing a Titans poncho, just in case, but it should be good football weather otherwise. I wouldn't mind a little rain and wind to slow down the Iggles' aerial attack.
Eagles offense: The Eagles still employ a West Coast offense, as they have since Andy Reid became their coach umpteen years ago. However, they run the ball quite a bit too, and why not? If you had a LeSean McCoy on your team, you'd like to run the ball often too.
Kolb, as noted above, will start and he's coming off an excellent outing when he amassed 326 yards and three touchdowns on 23 of 29 attempts for a 133.6 passer rating. If he's ineffective or injured, the dangerous Vick is rumored to be healthy enough to play if needed.
One guy who's not healthy enough to play is WR DeSean Jackson, who's probably still woozy after his concussion last week. The Eagles still have speedster Jeremy Maclin and Jason Avant so Kolb and/or Vick  won't be without weapons. I'm afraid of Maclin, especially if he gets isolated on Alterraun Verner. I'm sure the Iggles will try that and I'm also sure the Titans will plan to give Verner deep help as often as possible. Still worried.
The Eagles also have Brent Celek, a better than average tight end, who's a favorite target of Kolb, a West Coast QB, as opposed to Vick, who is not.
Injuries also affect Philadelphia's line. Pro Bowl LT Jason Peters will be out so look for more sacks from Dave Ball and Jacob Ford. I wouldn't mind seeing the Iggles keep Celek in to help block on that side, especially when Kolb is the QB. One less target for him to throw to.
Eagles defense: The Eagles deemed WLB Will Witherspoon and DE Jason Babin as not good enough to play for them. Imagine how good they'd be with them and what kind of talent they must have had to let those two go! Philly plays a 4-3 and has a well-deserved reputation for being extremely blitz-happy. It will be interesting to see how often they run-blitz on Sunday.
The d-line is good. Watch Pro Bowl RDE Trent Cole, who goes up against Michael Roos. That Pro Bowler vs Pro Bowler matchup is my favorite of the day. RDT Brodrick Bunkley vs Leroy Harris should be another good matchup to watch. Juqua Parker, one of the men the Eagles judged to be better than Babin, is the end opposite Cole.
MLB Stewart Bradley is a rising star. Outside him are former Lion Ernie Sims and second-year man Moise Fokou. I don't know how well Sims is playing but I bet the Eagles wish they had Witherspoon back.
The Eagles boast several Pro Bowlers in their secondary. Asante Samuel, a three-time Pro Bowler, as well as a one-time first-team All-Pro, is the left corner. Strong safety Quintin Mikell is in his fourth year as a starter after four years on the bench. He received his first Pro Bowl designation last year. The secondary is rounded out by young FS Nate Allen and veteran corner Ellis Hobbs, who is also the Eagles' kick returner.
Prediction: This is a good Eagles team on both sides of the ball, who really pushed the Falcons around last week. The best opportunity I see for a Titans' win is through more swarming defense with plenty of pressure on whichever Eagles QB is in the game. On offense, the Titans will need several touchdowns out of Chris Johnson to stay in the game. I don't see a lot of points on the board via Kerry Collins to Nate Washington bombs, though I'd be pleased to be proved wrong. Eagles Pro Bowl kicker David Akers missed three field goal attempts last week. Let's hope he waits until next week to get out of his slump.
Titans 23,