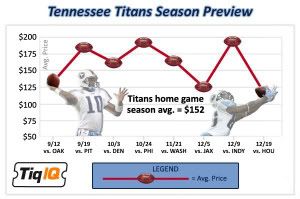 If you're ever in the market for single-game tickets, you'll be excited to learn that Total Titans has partnered with
TiqIQ
to get you
Titans tickets at the best prices available!
No longer will you have to browse all the different ticket sites on the web to find the best tickets at the best prices — the research has already been done for you and you can get those tickets without a markup! The price you would pay at those other sites is the exact same price you pay here.
Just click "Titans Tickets" on the menu bar at the top of each page here on Total Titans to find the best Titans tickets at the best prices. (Or you can click
here
.)
I've really been impressed with all the features I've seen and I'd like to ask you to take a look too and let me know what you think. If you agree with me that this is the best and easiest way to buy Titans tickets, not to mention the cheapest way, then please pass this info on to all the Titans fans you know.