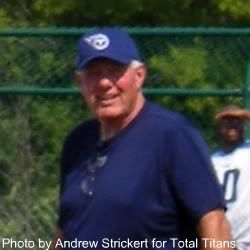 Bud Adams isn't a happy camper anymore.
Titans owner Bud Adams, on evaluating Jeff Fisher's job performance:
"I am not too happy right now… We'll go up to the end of the season and then I'll make my decision. I am not very pleased with what has happened here."
I'm not pleased, either, to put it mildly. I don't believe any Titans fans are pleased. Another six-game losing streak. The wheels have fallen off and we're looking at rebuilding, waiting for next year.
We see crappy performances on the field and our eyes have not deceived us. The stats back it up, as does the 5-8 record, which is on course for 5-11.
Here are some stats that really hurt, after the jump.

Defense – opponent's time of possession, 34:37 – most in the NFL
Defense – plays from scrimmage, 920 – most in the NFL
Offense – time of possession, 25:54 – least in the NFL
Offense – plays from scrimmage, 730 – fewest in the NFL
Our defense is giving opponents more opportunities to score than any other defense in the league. Very friendly of them. Our offense is not giving itself enough opportunities to score. The defense can't get off the field and the offense can't stay on it.