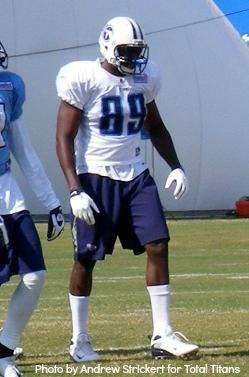 Will Jared Cook be wearing two-tone blue in 2013?
In April and June, I wrote about the Titans who were in the final year of their contracts. Now that the Titans have played three quarters of the season, it's a good time to revisit the subject. These are the starters, plus a few notables, whose contracts expire at the end of the season.
Offense:
TE Jared Cook – There's no doubt Cook is an extremely talented tight end, and one who could become a top tier TE in a system that more frequently utilized those talents. Tom has written on several occasions about the two different offenses the Titans employed under Chris Palmer – the Craig Stevens offense and the Jared Cook offense – so the decision whether or not to re-sign Cook (or to franchise him) will be a philosophical one by the Titans. How committed are they to the "Jared Cook offense"?
G Leroy Harris – Regular readers of Total Titans know that we've been critical of the offensive line long before it became fashionable to do so, and I called for the Titans to replace him two years ago. Instead, they re-signed him to a two-year contract. I was supportive of Harris last year, believing he wasn't the weak link on a poor interior line, but he has given no reason for anyone to support him further. This wasn't a good year for Harris before being injured and placed on IR.
FB Quinn Johnson – I've never been a big fan of QJ. I can't say it was a mistake for the Titans to keep him over training camp competition Collin Mooney, but I wouldn't be disappointed whether he's here next year or not.
C/G Kevin Matthews – Long surrounded by insinuations of nepotism, Matthews has proved, so far, to be just another backup. If I was Ruston Webster, I wouldn't re-sign him. Matthews does have some value as a swing player, though you'd never suspect it if you only saw him play last Sunday.
RB Javon Ringer – Career backup to Chris Johnson. Has shown occasional flashes. Not enough of them to merit another contract on their own, but he has been a good pass protector and third down back. I wouldn't be totally surprised to see him in two-tone blue again next year if his knee is OK.
C Fernando Velasco – Also a career backup, until this year. Velasco has done a good job, the best center the Titans have had since 2008 (though that's hardly high praise), in my opinion. Velasco's performance this season has earned him a new contract and I'd like to see him get it. If any of the interior o-linemen whose contracts are expiring (Harris, Matthews, Velasco) deserves to be back, the choice of Velasco is a no-brainer.
Defense:
DT Sen'Derrick Marks – The Titans' 2009 second-round draft pick has never lived up to the expectations associated with that status. The problem is that if he's not re-signed, there isn't anyone on the roster who can satisfactorily replace him (I'm not yet convinced Mike Martin is that guy.) Hopefully, the Titans will plan to sign a good replacement in free agency or draft one.
LB Gerald McRath – Placed on IR before the season. With the linebacking corps' starters set for several years, the backup LBs had better be contributors on special teams, which McRath hasn't been over his career. I know that Dave McGinnis really liked McRath at one time. Maybe McRath will have a future with the Rams.
CB Ryan Mouton – Can anyone give me a good reason why Mouton should be back in Tennessee next year? Apparently, Jerry Gray agrees – rookie Coty Sensabaugh has been the nickel lately. Mouton was a healthy scratch last Sunday. Anytime a rookie is ahead of a veteran on the depth chart, it doesn't bode well for the veteran.
LB Will Witherspoon – He's been demoted to a backup role, special teams contributor, and also been a healthy scratch this year, so the writing is clearly on the wall regarding his future in Tennessee. I loved the signing of Witherspoon in 2010 – he had big shoes to fill and did so probably better than anyone else then could have. Father Time caught up with Spoon, however, and the Titans are moving on without him.
Special teams:
K Rob Bironas – He'll be "only" 35 next year, not particularly old for a kicker, and still has decent leg strength. He's still accurate. Why not?