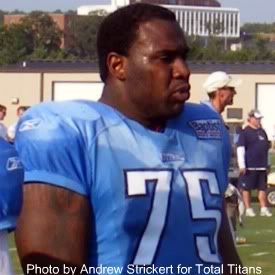 Former starter Jovan Haye is on the bubble.
Two weeks ago, after observing the first two weeks of training camp, I wrote a piece on the early chances each player had to make the roster. Players fell into four categories: those who were virtual locks to make the roster, those with a good chance, those with a slim chance, and the camp bodies. Since then, we've had the first two preseason games, plus another week and a half of camp, so it's a good time to update that first piece.
Some players will obviously need a good game tonight to either ensure their position or improve their chances. The players to keep an eye on tonight, from a roster standpoint, are mostly those in the new On the Bubble category.
There have been both personnel changes and players who have changed categories. We've added some new players, some players have improved their stock and some are no longer in a position as good as they were in previously.
Additions to the roster: RB Kestahn Moore, WR Kevin Curtis and OT Adam Terry. Moore is nothing but a camp body, who was added after Javon Ringer's injury. I've placed the newly-signed Curtis in the On the Bubble category for now. He was a 1,000-yard receiver a few years ago and I'm sure he'll get a look good enough to give him a chance. Terry has been working regularly with the second team o-line since his arrival. Like Curtis, he's a veteran with starting experience, which gives him some additional value.

Pos
spots
Virtual Locks
Good Chance
On the Bubble
Camp Bodies
QB
3
Hasselbeck, Locker
Smith

Ratliff

RB
2
Harper, C.Johnson, Ringer
S.Johnson
Donaldson, Moore
FB
1
Hall

Hill

, Tronzo
WR
6
Britt, Mariani, Washington, Williams
Gage, Hawkins
Curtis, Figurs, Kirkendoll, Preston

Spencer

TE
3
Cook, D.Graham, Stevens
Geer, C.Graham
OL
9
Amano, Harris, Roos, Scott, Stewart
Otto, Velasco
Durand, Kropog, Matthews, McQuistan, Stingily, Terry
Gray
DE
5
Jones, Morgan
Ball, Ford, Hayes
Egboh
Davis, Hartsell
DT
4
Casey, Marks, Smith
Klug
Clayton,

Haye

Sheppard
LB
7
Ayers, McRath, Ruud, Witherspoon
McCarthy
Bailey, Curran, Shaw

Cornell

,

Malast

,

Stokes

CB
4
Finnegan, McCourty, Verner
Walker
Campbell, Ittersagen
Hawkins, Lewis
S
6
Griffin
Babineaux, Hope, Smith
Fuller, Johnson, Rolle,

Schommer

ST
3
Amato, Bironas, Kern

Cunningham

#
53
34
13

24

22

18

11
Edit, 8-30: I have struck through the names of the players released for the August 30 roster reduction to 80 players.
Players are listed alphabetically within position and category. The number of roster spots in the table above is the same number from last year's season opener. A few of those numbers will probably change, albeit very slightly. Hopefully, we'll have three RBs this year instead of two. We might have two QBs instead of three. I can live with one less QB, one less WR and one less LB than last year.
Not everybody in the good chance category should be considered as having a better chance than someone on the bubble.
For example, all three defensive ends Ball. Ford and Hayes have a good chance, but the Titans could decide to keep only two of those three. On the other hand, I fully expect the Titans to keep more than five linebackers, so someone (or maybe even two) in the on the bubble category will stick.
I wouldn't be surprised if none of the receivers on the bubble are selected, even though several of them have borderline talent. The Titans may elect not to keep as many WRs this year. Keeping six or seven has never helped before.
Here are some changes I've noticed in the last two weeks and which are reflected on the new chart.
Brett Ratliff has moved from the Slim Chance category two weeks ago to the Camp Body category. Ratliff has been getting less and less work, especially in passing. For the final week and half of camp, he was mainly used in drills where they needed someone to take a snap and hand off to a back. He didn't do much throwing and didn't play at all against the Rams last week.
Jamie Harper has moved from the Good Chance to the Virtual Lock category.
The o-line is the main reason I've relabeled the categories. In the old table, I had five linemen listed as having a good chance. That's true, but some have a much better chance than others. The new table shows Velasco and Otto with a good chance, while the others are on the bubble. I'll be shocked if only eight total are kept, it'll probably be nine and perhaps ten.
Karl Klug and Zach Clayton both had a good chance on the last chart. Klug's chances remain better, though, so Clayton has been downgraded to the bubble category.
The biggest change on the field, as well as on my chart, is at safety. Anthony Smith has been working with the second team defense, while Vince Fuller was demoted to third team. That puts Fuller, who did have a good chance two weeks ago, on the bubble.
There's not much time left for any of the players to change the coaches' and front office's opinions on them. After tonight's game, the team should practice twice (the 29th and 30th) before travelling to New Orleans for a Thursday night game. The roster reduction to 53 players will be just two days later, which means there will be just two games and two practices before the (almost) final cutdown.
Key dates:
Aug 27 – Titans vs Bears
Aug 30 – Roster cutdown to 80 players
Sept 1 – Titans at Saints
Sept 3 – Roster cutdown to 53 players
Sep 11 – Titans at Jaguars, Week One
What are your thoughts on the players on the bubble? Please share your thoughts here both before and after tonight's game.
Tom will be writing a recap with his thoughts shortly following the game tonight so please jump in with your opinion there too.