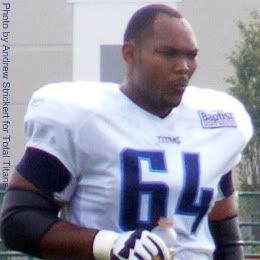 LG Leroy Harris re-signed for two more years.
The need to upgrade the interior line was a topic I touched on multiple times over the last eight months (and voiced my displeasure longer than that) and, like many Titans fans, wished that it would somehow happen. Here's a piece I wrote looking at free agency upgrades and here's one on drafting a guard/center. This is Tom's offseason analysis of the guards, written in March.
As we know, despite the wishes of Titans fans to upgrade the guard positions, it didn't happen. Instead of signing Harvey Dahl or one of the other top free agents, Titans GM Mike Reinfeldt re-signed unrestricted free agent Leroy Harris, who didn't get a better offer from any of the other 31 NFL teams.
The guards have performed poorly for the last several years and it now appears that will be the case again in 2011. The only ray of hope in this gloomy forecast was the preseason game with the Rams, when the guards actually blocked well. However, just a week later, they regressed back to their normal ineptitude when they faced the Bears.
Jake Scott is the best of the guards, which isn't saying a lot. He hasn't exactly been a stellar performer for the last two seasons. He's not a strong run-blocker though he can be effective at times. Scott is better in pass protection than he is in run-blocking, which is good for Matt Hasselbeck but not so good for a team wanting to run the football. This is the final year on Scott's contract so we at least have some comfort in knowing that if he doesn't perform better this season, he won't be back for another one.
Leroy Harris is a guy I used to think more highly of, back before he became a starter. I must not be the only one who's soured on him since then. As mentioned earlier, Harris didn't have a better offer from any of the other teams, some of whom needed a quality, veteran starter. Harris' new contract is for two years, terms undisclosed, which ought to tell you something.
Titans fans should pray that Scott and Harris remain healthy this year. As poorly as they've performed the last two years, and there is little evidence to suggest they'll improve, things will go from bad to worse if one of them is injured.
Fernando Velasco is the next best guard and is also the backup to starting center Eugene Amano. He'll be the next man up in case of an injury. Velasco reminds me a little of both Amano and Harris, guys who stuck around as backups for a few years. Amano and Harris eventually became starters but that's where the comparison ends, since I don't see Velasco developing into one. I've got Velasco penciled in as having a Good Chance to make the team, ahead of several other guards who are On the Bubble.
I've got the following three guys on the bubble, competing for one spot, possibly two if the second is a combo C/G.
Pat McQuistan is listed as a tackle, and though he got a little work at RT in training camp, he's been used primarily at guard. He was used first at RG, then moved to LG. McQuistan had 8 starts at RG for Miami last year and can reportedly play every position on the line but center. From what I've seen of him in camp, he's a better blocker than any of the other guards on the bubble. His experience as a starter and ability to play four positions ought to give him great value, but if he's that good, consider this. Why did the Dolphins let an eight-game starting lineman from a year ago walk away?
Ryan Durand can also play both guard spots and in a pinch, a little RT as well. Durand struggled at times in camp, or so I thought, and I don't believe he'll beat McQuistan out, though he may possibly join him in surviving the cut.
Kevin Matthews is listed as a center on the Titans roster, but we've also seen him play guard, which would help him if that final roster spot is for another C/G. The son of his position coach, Kevin has been slowed by an ankle injury, which doesn't help his chances. It could be another stint on the practice squad, with the possibility of rejoining the active roster in case of injuries.
Thomas Gray is a camp body who will be cut when the Titans reduce the roster to 53 men.
My prediction for the 53-man: Scott, Harris, Velasco, McQuistan.