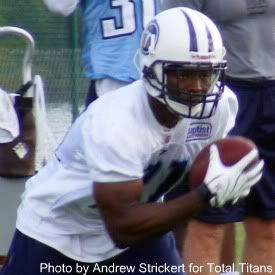 Javon Ringer could be the starting RB on opening day.
We continue our preseason look at each of the Titans' position groups with the focus today on the running backs.
Two things have changed since Drexel wrote this offseason positional analysis in February. The Titans used a fourth-round draft pick to select Clemson RB Jamie Harper and, as expected, Chris Johnson is holding out, in hopes of obtaining a new contract with at least $35 million guaranteed.
Whether CJ will be in the starting lineup or not on September 11 has been the $64k question this preseason. Obviously, he'll be the starter if he'll be on the active roster but he won't be getting 30 touches a game (Mike Munchak per Terry McCormick) so others will be getting extra work at the start of the season. Here's how the rest of the roster looks now, and how it might look without CJ, including possible free agent pickups.
Javon Ringer has been sidelined with a hip pointer from the Vikings game but should be fine for the season opener in Jacksonville. He's entering his third season, and may possibly get his first NFL regular season start in three weeks. Ringer had 51 carries last year for 239 yards, a nice 4.7 yard average, with two TDs.
After rushing for 390 carries in his senior season at Michigan State, an amazing number for a college back, there shouldn't be any worries about his ability to carry 25-30 times a game for the Titans, if needed.
Of course, there's a big dropoff from CJ to Ringer but if the solid blocking from the o-line continues, the decline in the running game shouldn't be that steep. The Titans' third, fourth and fifth RBs shredded the Rams defense last week, ripping off yardage in chunks behind the improved blocking. The main difference will be in the open field, which is scoring territory for CJ but merely big gain territory for Ringer et al.
Jamie Harper should survive the September 3 roster cutdown to 53 players, unless the Titans haven't learned from their mistake last year when they failed to keep LeGarrette Blount. Harper will be the big back in the group and we hopefully won't see him shying away from tacklers any more. He's got good hands out of the backfield and has shown good cutback ability on multiple occasions in training camp and in the Rams game. He does need to improve his pass protection. I've got Harper a good bit ahead of the next guy on the depth chart.
Stafon Johnson's story is an inspirational one, a feel-good story, the story of a guy who survived a near-death experience to play football again, and is now making a second comeback after a gruesome ankle injury in the 2010 preseason. I'm not that impressed with him as a football player, though, and don't believe he has much chance of making the roster. Johnson is noticeably bulked up from camp last year and I'm not sure it hasn't cost him a little speed, not that I think having that speed back would help him much.
Herb Donaldson was the second RB, after Harper and before Stafon, to see action against the Rams, but not because he's ahead of Johnson on the depth chart. It was probably because Donaldson is from St. Louis and Munchak probably let him get plenty of midgame carries in front of his family and friends. Donaldson is no more than camp fodder and has virtually no chance of being on the roster this fall. That also told me Munchak didn't feel the need for Stafon Johnson to get that work against the second Rams unit instead of their third.
Another camp body, Kestahn Moore, was added to the roster last week. He didn't make an impression in the short time I saw him in camp. About all I know about him is that he was Percy Harvin's backup at Florida and was in the training camps of the Chiefs and Redskins and on the Chiefs practice squad in previous seasons.
While I've got Ringer and Harper as certainties to make the roster, and Stafon Johnson, Donaldson and Moore not making it, there's a good chance the Titans will add a veteran after the final 53-man cutdown, if CJ is still holding out.
Here are some of the vets around the league who are rumored to be in jeopardy of losing their jobs.
The Packers' Ryan Grant just accepted a $1M pay cut in return for a guaranteed contract, though it's still possible he could be cut. The Bears addition of Marion Barber moves Chester Taylor back to third on the depth chart and makes him expendable. Injury-prone Pierre Thomas is being replaced in New Orleans by first-round draft pick Mark Ingram. Dallas RB Tashard Choice, the Eagles' Ronnie Brown, and Patriots RBs Kevin Faulk and Sammy Morris could all be casualties.
None of these are long-term options but any of them could contribute in a running back by committee approach. Don't be surprised to see the Titans pick up one of those guys on September 4 to prepare for the possibility of a continued CJ holdout.
The other area I wanted to address in this positional analysis is the fullback position.
Ahmard Hall failed to find a new home when he tested the free agent market this summer and re-signed with the Titans for one year. Hall's service to our country makes him one of my favorite Titans, at least off the field. At one time he was one of the better blocking fullbacks in the league but I've been critical of him more recently and I was disappointed that Mike Reinfeldt didn't upgrade the position in free agency.
Joe Tronzo and Patrick Hill got some extra work in camp before Hall re-signed and was allowed to practice, but neither mounted a serious challenge to him. Riar Geer is listed as a TE/FB on the roster but has worked almost exclusively with the TEs. It doesn't matter, since he has no chance of making the team at either position.
And finally, a few questions for you. If CJ is still holding out when teams reduce their rosters to 53 players, which back or backs would you like to see in two-tone blue? Do any of the names I listed above appeal to you? Are there any other veterans you can think of who might get cut? What do you think about the possibility of a season without CJ and how will the Titans fare?