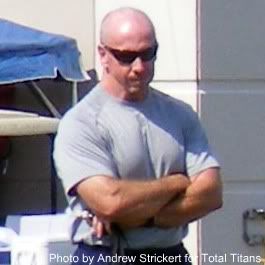 "The Turk", Steve Watterson, will be the bearer of bad news for eleven or more players today.
Following yesterday's initial roster cutdown, the Titans' active roster now stands at 64 players, not including Chris Johnson, who the Titans have one week to add. I've got those 64 players broken down into two groups, 42 who have clinched a roster spot, and 22 who make up the pool the other 11 spots will be filled from.
These 42 guys should have slept well last night: Amano, Amato, Ayers, Babineaux, Ball, Bironas, Britt, Campbell, Casey, Cook, Finnegan, Graham, Griffin, Hall, Harper, Harris, Hasselbeck, Hayes, Jones, Kern, Klug, Locker, Mariani, Marks, McCarthy, McCourty, McRath, Morgan, Otto, Ringer, Roos, Ruud, Scott, S.Smith, Stevens, Stewart, Velasco, Verner, Walker, Washington, Williams and Witherspoon.
Only half of these 22 players will survive today's cutdown to 53: Bailey, Clayton, Curtis, Durand, Egboh, Figurs, Ford, Fuller, Gage, C.Hawkins, L.Hawkins, Hope, Ittersagen, R.Johnson, Kropog, Matthews, Shaw, Sheppard, A.Smith, R.Smith, Stingily and Terry.
And here's how it looks by position… I will edit this throughout the day by striking out the names of players who are released.
Position
Spots
Clinched roster spot
Hoping not to hear from the Turk
QB
3
Hasselbeck, Locker
Smith
RB
2
Harper, Ringer
FB
1
Hall
WR
6
Britt, Mariani, Washington, Williams

Curtis

,

Figurs

,

Gage

, Hawkins
TE
3
Cook, Graham, Stevens
OL
9
Amano, Harris, Otto, Roos, Scott, Stewart, Velasco

Durand

, Kropog, Matthews, Stingily,

Terry

DE
5
Ball, Hayes, Jones, Morgan

Egboh

,

Ford

DT
4
Casey, Klug, Marks, Smith
Clayton, Sheppard
LB
7
Ayers, McCarthy, McRath, Ruud, Witherspoon
Bailey, Shaw
CB
4
Campbell, Finnegan, McCourty, Verner,

Walker

Hawkins,

Ittersagen

S
6
Babineaux, Griffin

Fuller

, Hope,

Johnson

, Smith
ST
3
Amato, Bironas, Kern
#
53

42

41

22

12
As in recent similar tables, the number of spots is the number from Week One last year, and is used here as a reference point only. Players are listed alphabetically, by position and category. Some random thoughts on those positions with players still hoping to make the team…
QB – Do the Titans keep Rusty as a #3? I would guess he'd have no problems clearing waivers and could then be placed on the practice squad.
WR – Curtis' broken hand muddies the water here, as does Hawkins' latest tease with a TD and long KR Thursday night. The Titans can save $3.5M by releasing Gage, but he had a very strong training camp, making a strong case for himself. The fact that Curtis was brought in at a late date and the fact that Figurs is still here says something about the state of affairs with the WR corps. I see no reason to keep a sixth WR. Excess baggage and the waste of a roster spot, in my opinion.
OL – Five guys left, competing for probably two spots. Only one of them can play center (Matthews) and just one (Durand) is a true guard. Kropog, Stingily and Terry are all tackles. Kropog and Durand should be the favorites here.
DE – Derrick Morgan's failure to fully recover from his ACL injury puts the Titans in a tough spot, as does Jason Jones' latest injury, whatever it is this time. (I'm losing track.) It's pretty certain the Titans will have to keep 5 DEs, one more to join Morgan, Jones, Hayes and Ball. Ford is the better pass rusher but can't defend the run. Egboh fits Jerry Gray's desire to stop the run first more than Ford does and I wouldn't be surprised to see Egboh get the job.
DT – I'm not sure why Clayton and Sheppard are still around, unless it's because of the injuries at DE. The Titans already have a four-man rotation at DT but I could see them moving Klug outside if necessary, which would open up a spot inside for either of the two still on the bubble. I could also see them moving Sheppard out to DE if needed as a short-term bandaid.
LB – Do Reinfeldt and Munchak opt for six or seven LBs? There's been talk that the new kickoff rule diminishes the importance of extra LBs but I don't buy that so much. You still need guys who can cover punts and when the weather gets cold, you'll see a lot more returnable kicks. Shaw ought to make the team as the #6 and Bailey has a good chance to make it seven.
CB – It will be a surprise to me if either Ittersagen or Hawkins makes the team. It seems like the secondary is set with five CBs – Finnegan, McCourty, Verner, Walker and Campbell.
S – I don't think there's any doubt Chris Hope needs to take a significant pay cut to remain. If not, he's gone. If so, he, Griffin, Babineaux and Smith would make a top four, with Vince Fuller hoping to survive as a fifth. The Titans have always seemed to carry an excess of safeties in the past but I don't see a need for more than five, considering the talent level. I've never been a big Robert Johnson fan and will be surprised if he hangs on.
It will be interesting to see who, if anybody, Reinfeldt picks up off the waiver wire this weekend. You never know when someone like a LeGarrette Blount is foolishly released.
I hope you'll stay with us today on Total Titans as we follow the continuing roster reduction. Please also be safe as you enjoy the holiday weekend with your family and friends.