The 2010 edition of Titans training camp opened on a hot Saturday afternoon and I wanted to share a few pictures and observations. On Saturday, I was at the south end of the third field, behind the end zone, where the running backs do their positional work.
After the team stretched, they began working on special teams, as they usually do, with the focus on punting. There's never much to say about that, other than who's doing what. With Damian Williams on PUP, Alvin Pearman was first in line to field the punts as the "returner" and was followed shortly thereafter by Marc Mariani. Fellow rook Bobby Sewall fielded a few as well.
Ryan Mouton, Tye Hill, Phillip Morris, Marc Mariani and Bobby Sewall at work on punt coverage.
All photos on this page by Andrew Strickert for Total Titans. Enjoy.
Hill in action as a gunner.
Mariana prepares to jam a gunner.
After the special teams period, the team broke up into position groups and it was good to see Chris Johnson present and accounted for.
Craig Johnson ran some similar stuff as the previous RB coach, Earnest Byner. Richie Wessman, the offensive quality control coach and a former QB, handled the handoffs as usual and the backs ran between 55-gallon plastic/rubber composite garbage cans used to designate where the holes were. The backs looked good for the most part in a pass-catching drill.
LeGarrette Blount looks like a guy who can run with authority when going downhill. Stafon Johnson flashed some smoothness. Those were my initial impressions of the rooks.
Javon Ringer, Stafon Johnson, new RB coach Craig Johnson, Chris Johnson and LeGarrette Blount.
Alvin Pearman, Ringer, Ahmard Hall and CJ.
Blount and Ringer watch CJ in a drill. Note the size difference; Ringer is listed at 207 pounds, 40 less than Blount. CJ is a whopping 191.
The seven on sevens, and later, eleven on elevens followed and I didn't have a great vantage point. I saw enough, though, to see that none of the QBs were particularly accurate and there were a few downright terrible passes. They did not have a good day overall.
Rusty Smith's arm was as advertised, he's got more than enough arm strength to make it at the NFL level. Chris Simms' arm was noticeably stronger than it used to be.
New QB coach Dowell Loggains and Rusty Smith.
The receivers made a good showing of themselves and there were quite a few good catches that made me want to ask, "Where was that when we needed it last year?"
Dominique Edison leapt high for a catch on a deep ball and had several other good catches. Kenny Britt also made a leaping catch and on another play showed some open field ability with some shake and bake after a crossing route.
Bobby Sewall and Paul Williams, (!?) in chess notation, each showed good hands reaching above their heads to make a catch on the run. 
Day Two:
Sunday afternoon I was behind the end zone of the second field to watch the defensive linemen in action. Well, some of them were in action some of the time. Tony Brown is on PUP and Derrick Morgan didn't last long.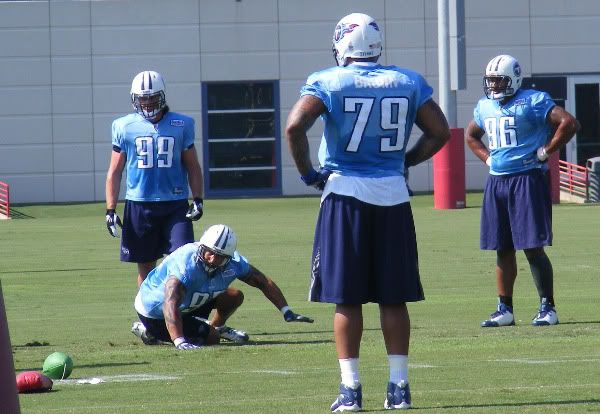 Eric Bakhtiari, Kareem Brown and Derrick Morgan watch Jason Babin roll on the ground in a drill.
It wasn't long before Morgan aggravated his calf and spent the rest of the afternoon watching and listening to d-line coach Jim Washburn.
So much for a look at our first-round draft pick.
As for the other guys, William Hayes is a little slimmed down from training camp last summer, although he's heavier than he was at the end of the season. I didn't notice any difference in the other returning d-linemen.
I do have a few first impressions on the new guys.
The new veteran defensive ends, Jason Babin and Eric Bakhtiari, are both lean and show some promise as rushers off the edge. Physically, the best comparison I can make for Titans fans is to Travis LaBoy.
Seventh-round draft pick DT David Howard looks well-built and UDFA DT Joe Joseph is stout. If the Titans are looking for someone with size to replace Kevin Vickerson, Joseph is the biggest DT they've got.
UDFA Marcus Howard is the smallest DE I've seen in years. None of the rooks showed much, not that you'd expect to see much in just one day.
Washburn gets close to his players instructing them.
In this drill, the d-linemen hold a ball in each hand while running an obstacle course. The players must use their feet, swivel their hips and dip their shoulders to make the turns without using their hands.
Washburn prepares to jerk the string on his green football while Brown, William Hayes, Joe Joseph, Marcus Howard, Dave Ball and Bakhtiari watch Babin take his turn at a drill.
While the d-line was taking a break, I was able to get this shot of the specialists. Rob Bironas was pretty accurate during the time I was watching him.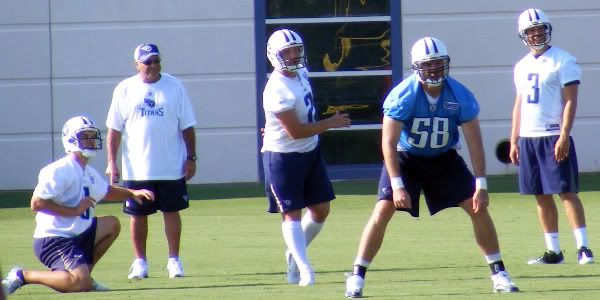 Brett Kern, special teams coach Alan Lowry, Rob Bironas, Ken Amato and Ricky Schmitt watch a long field goal attempt by Bironas.
My vantage point for the seven on sevens and eleven on elevens was even worse than Saturday so I have nothing worthwhile to say about that.
I'll continue to have more throughout the duration of camp.