New DT Shaun Smith is a very large man.
Although I arrived 40 minutes prior to the start of practice, earlier arrivals had already lined the fence along the first field all the way down to the other end zone. Not a big problem, though, as I had intended anyway to go down to the defensive line practice area. It would, however, prevent me from seeing much of the action which would occur on the first field.
New d-line coach Tracy Rocker walked down to the d-line area and was joined briefly by new DC Jerry Gray. Rocker also chatted a little with Bruce Matthews, who was preparing the nearby o-line practice area. Although I wasn't able to see him up close, Bruce looked pretty good. I'll have to watch him and his troops in the next few days.

After the usual stretching, practice began with special teams work, with Marc Mariani, Damian Williams, Yamon Figurs and rookie James Kirkendall fielding punts. Figurs muffed one chance.

When the players broke up into position groups, I got to see Shaun Smith. The Titans haven't had a man this large since Fat Albert was here and I've got to say Smith is pretty darn close to Albert's "normal" size, although not nearly as large as Albert got to be at times.


Jovan Haye is also quite a bit larger than last year. I didn't get a suitable photo of him this evening but will get one later. Jurrell Casey is a bit larger than I thought he would be.

Rocker ran his players through some interesting drills, which focused on footwork, bending at the waist, and staying low to the ground.

In one drill, he threw a football in front of each player's feet as they came out of their stance, instructing them to stay low and scoop the ball.

Rocker used something which looked like a 4½ foot tall trampoline as a prop in another drill, having his players line up underneath it, then fire out of their stances at the snap. I think a 3 foot trampoline would have worked better, but the players seemed to get the point of the drill.




By the way, if you've ever been to camp in previous years, you probably noticed Washburn used a green football attached to a rope. Rocker also uses a green ball, but his is attached to a stick.

Another comparison which I'm sure will be of interest to many is their language. Rocker can cuss, but he's not as colorful or as loud as Washburn was. However, he is loud enough that you shouldn't bring young children to the d-line practice area.

In another drill, Rocker used a very short one-man blocking sled, about 2 or 2½ feet tall.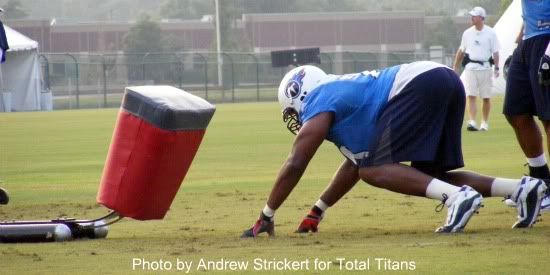 It was interesting watching these large men trying to stay low enough to push that sled across the ground.

I don't know if these drills focusing on keeping low will be staples or just occasional. Will keep you posted.

When the team re-gathered after their position work, it was for some 11 on 11 and because it was on the next field, I didn't see much. Chris Hope laid out for a potential interception on a deep ball way overthrown by Locker. I have no idea who Locker was trying to throw to, Hope was the only man in the area.

Locker was with the first unit, Rusty Smith with the second and Brett Ratliff with the third team. Since Locker's only been with the coaches for a few days now, it's understandable that he has a long way to go. As you'd expect, the defense was far ahead of the offense, especially in the passing game.

Not too much else happened that was noteworthy that I was able to see from my vantage point. Tomorrow's practice will be in the afternoon and not nearly as crowded as tonight's was. I should be able to have a better view and give a better report on that practice.