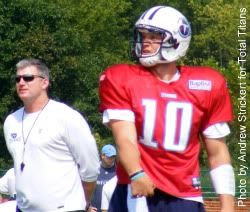 Today's practice didn't have nearly as many spectators as yesterday's, so I had a good view of things on the third field, where most of the work took place. I spent most of the practice observing the offense, and the quarterbacks and receivers in particular. Helmets, shoulder pads and shorts were the uniform of the day.

Practice started out again with special teams, this time on kickoffs and kick returns. Marc Mariani, Yamon Figurs and Lavelle Hawkins each returned a few kicks. Kevin Matthews drew praise for his blocking on several returns.

New receivers coach Dave Ragone ran his players through several drills where he fired balls at them from close range. Good thing he wasn't throwing bricks, like one of his predecessors did.
Jake Locker was the #1 QB again and was erratic. A few of his passes were downright ugly. The most accurate passer of the day was Brett Ratliff, who's been in the league a couple of years and has a chance to win the #3 spot ahead of Rusty Smith. Assuming the Titans keep three QBs, of course.
Ratliff completed several passes to Mariani, who had a very good day. One completion was a bomb and though Mariani was pretty well covered (it looked like Mouton) he came up with the ball. I believe he may have wrested it away from Mouton. Another Ratliff to Mariani completion was made in traffic. Mariani really has good hands. He displayed them for the first two weeks of training camp last year and is now doing the same again.

Nate Washington made a highlight reel catch of his own, reaching over his head and snagging the ball with one hand.

The Titans worked on their running game for a while then in 11 on 11 work. Chris Hope really popped Javon Ringer on one play, leveling him. Several observations on the running backs – Stafon Johnson looks a little bigger than I remember from last year and rookie Jamie Harper looks a bit smaller than his listed weight of 233. I'll be sure to get pictures of all the RBs when I watch their position drills.

Fernando Velasco took Leroy Harris' spot at LG and will probably stay there until Harris is allowed to practice again. If you're interested, the second line consisted of LT Troy Kropog, LG Thomas Gray, C Kevin Matthews, RG Ryan Durand and RT Byron Stingily. We'll see if Velasco goes to G or C once he's back with the second line. Either way, it would appear that Gray will go to the third string. I'm not sure why Mike Otto wasn't practicing, he must have been held out for some reason. Or perhaps he was just taking a break at the time. I'll try to look for hin next time.

Matt Hasselbeck was an observer, since he's not allowed to practice until Thursday. He was paying plenty of attention, though. Notice his wristband with the plays on it in this picture. He's also holding a sheet of paper with a lot of writing on it.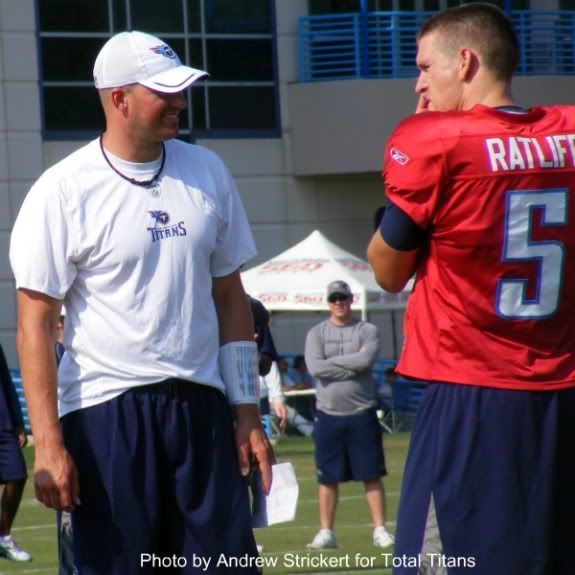 Shaun Smith and Leroy Harris were also observers, likewise not yet eligible to practice. I did not notice either Daniel Graham or Barrett Ruud on the field, though I didn't look for them either. Ditto for Ahmard Hall, Dave Ball and Jacob Ford, who were all re-signed today. I did see a tight end named Graham and did a double take before realizing it was rookie UDFA Cameron Graham.

Kenny Britt and Sen'Derrick Marks were present but did not practice. Someone else who was on the field was Mike Reinfeldt. I would have felt better about it if he had been in his office making some phone calls.
Other notes: I watched Michael Roos in pass protection vs Jason Jones for a few plays. Roos did a solid job containing him but JJ was able to bat down a pass attempt. Given time, I think Jones will be all right at his new position. He certainly looks good physically and I look forward to watching him more.

The Titans have passed out copies of the roster at both practices, as they normally do, but there's one difference this year. At the bottom of the page, there's a section for "Contracts Expired". It even lists the players' jersey numbers, along with their other personal info, just like the players on the active roster. The players in that section are, in jersey # sequence, Chris Simms, Donnie Nickey, Rod Hood, Ahmard Hall, Jamie Winborn, Jacob Ford, Bo Scaife, Randy Moss, Dave Ball and Marques Douglas.

The jersey numbers of Nickey, Hood, Winborn, Scaife, Moss and Douglas have all been reassigned to rookies, which seems to be a pretty good indication that they won't be back.