The Titans were in full pads for tonight's practice.
I'll just post some quick notes for now, then go over my photos and add a few of them, before finishing up with more thoughts.
As he's done for the previous two practices, Mike Munchak started things off with special teams work. The focus tonight was on kickoff coverage, with Yamon Figurs and Javon Ringer fielding and "returning" the kicks.
For the second straight practice, I watched the receivers in their positional work. WR coach Dave Ragone once again focused on throwing short, quick passes with a lot of zip on them. Very short, some only 10 to 15 feet. In a few of those drills, the receivers' backs were to Ragone with the ball in the air, then they turned around to find the ball right on them.
Three of them – UDFAs Michael Preston, Owen Spencer and Joseph Hills – don't show signs of being anything more than camp bodies. They've all struggled in drills so far. James Kirkendoll, a rookie from Texas, is ahead of his fellow UDFA WRs at this early point in camp.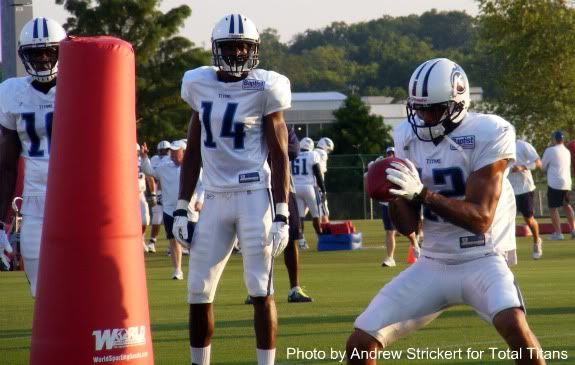 Justin Gage caught several long passes tonight in 11 on 11 and skeleton work. Nate Washington outraced the coverage once but dropped what would have been a touchdown pass from Jake Locker. Locker struggled with his accuracy again tonight. I have definitely not been impressed with him so far and am hoping Matt Hasselbeck will start 16 games this year.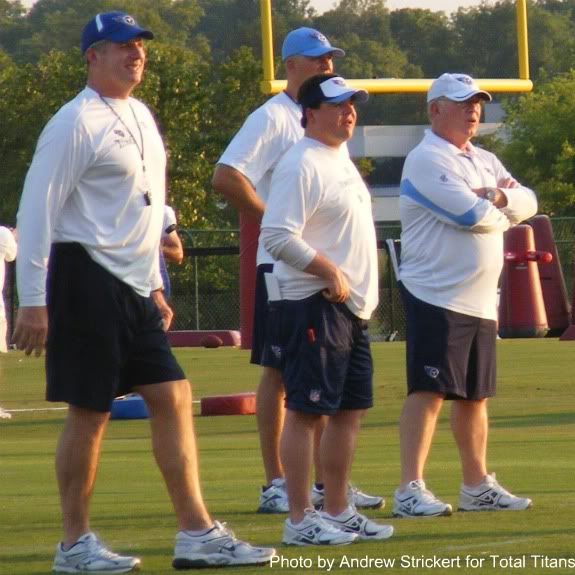 Mike Munchak, Dowell Loggains and Chris Palmer grimace at a poorly thrown pass. Matt Hasselbeck's grimace not pictured.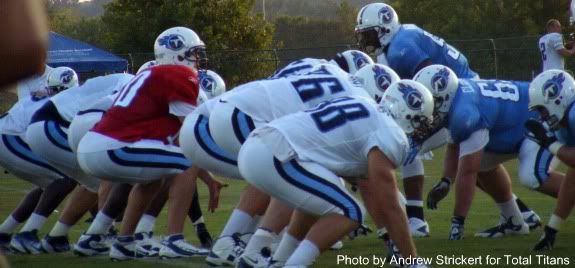 I paid some attention tonight to some personnel groups. Jason Jones and William Hayes flipped a few times but JJ was mostly at RDE and Hayes at LDE. Hayes looks like he's added a few pounds.

The Titans are thin at DT right now. Tony Brown is gone, JJ has moved out to DE and Sen'Derrick Marks is being held out of practice. Rookies Jurrell Casey, Karl Klug and Zach Clayton received the bulk of the work, ahead of Jovan Haye. Things will look better when Shaun Smith is able to practice and Marks returns.

Will Witherspoon has been at Mike, with Akeem Ayers at Sam and Gerald McRath at Will. Ayers left the field in nickel, leaving Spoon and McRath in. It will be interesting to see how this shakes out when Barrett Ruud begins practice.
The defense spent a lot of time in nickel tonight, with Jason McCourty at LCB, Alterraun Verner at RCB and Cortland Finnegan at nickel, where he blitzed an awfully lot.
The second team o-line was shuffled a lttle bit from yesterday.
Yesterday – LT Troy Kropog, LG Thomas Gray, C Kevin Matthews, RG Ryan Durand and RT Byron Stingily.
Tonight – LT Byron Stingily, LG Anquez Jackson, C Kevin Matthews, RG Thomas Gray, RT Ryan Durand.
Later, Matthews and Gray switched positions. Interesting that Gray can play both G and C. That makes five who can – Amano, Harris, Velasco, Matthews and Gray.
No Michael Otto sighting tonight. I also missed seeing Kropog.
Ryan Mouton in press coverage against Nate Washington. Mouton would be injured just before the end of practice and early reports don't look good.