It rained pretty hard in Nashville earlier today and remained overcast, which cooled things off for this afternoon's practice. The uniform of the day was helmets, shoulder pads and shorts.
The Titans spent a little time on run blocking vs. run defense at one end of the field while the WRs, TEs, and DBs worked on passing and pass defense at the other end. Two QBs were at each end of the field, with Matt Hasselbeck and Jake Locker passing the ball on one end and Rusty Smith and Brett Ratliff handing off on the other. I spent most of this time watching the running game.
One thing I liked was the pace. The run offense and run defense each split into two groups, one on each set of hash marks. While one play was being run on one side of the field, the players on the other side were huddling, which allowed for twice as much action in the same period of time. As soon as one play ended, another one was ready to start on the other hash marks.
Usually, there would be a center, guard and tackle on the line, with a QB taking the snap and handing off to the RB. The defense consisted of a DT, DE and LB. Overall, the defense, especially the defensive tackles, outplayed the offense. That was significant, I thought, since there were three rookies at DT who held their own, and sometimes better. Does that say more about the guards and centers or the rookie DTs?
None of the guards or centers were able to move Shaun Smith. I wrote the other day that Smith is nearly as big as Albert was. One difference I didn't mention is their height – Smith is several inches shorter than Albert and looks more like a fireplug.

Not participating were Michael Roos and Sen'Derrick Marks. Mike Otto filled in for Roos today on the first team o-line.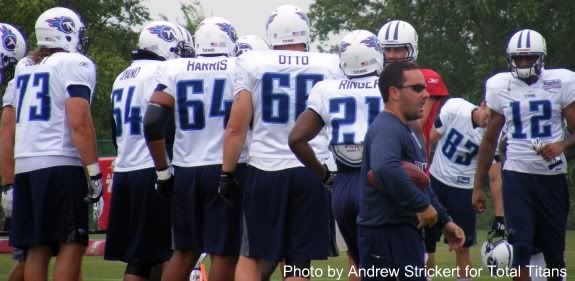 This was the first time I saw Leroy Harris, Dave Ball and Jacob Ford in this summer's camp. Harris and Ford look about the same as last year, and Ball looks like he's a little bigger, as reported.
The Titans then spent a lot of time in 11 on 11. Hasselbeck displayed a decent arm, throwing up to 30 yards downfield, and was generally accurate. He did have to put some air under the ball on the 25-yard out patterns. Not that I expected him to throw it on a rope. Locker was more accurate today than I have seen so far in camp, which was encouraging. He also showed his scrambling ability on several occasions.
I got to see Daniel Graham up close for the first time and was impressed – he's got a thick, muscular build. I can see why he's got a reputation as a good blocker, he's got the tools for it. He also looks like he could run over some people after catching the ball.
I also saw Barrett Ruud for the first time, though not up close. He was the first team MLB and already calling the defensive signals. Although he's listed at 241, he looks smaller than Stephen Tulloch did, who was listed at 235. (I think Tulloch was really about 245 and Ruud is probably closer to 235.) Ruud looked pretty comfortable out there, moving around without any signs of hesitation or confusion, especially in pass defense.
Will Witherspoon moved back from Mike, where he was when camp opened, to Will, where he alternated with Gerald McRath. Akeem Ayers was the first team Sam again and he's a good looking athlete for a man of his size. He's definitely the largest Titans linebacker I can remember.
Once again, William Hayes and Jason Jones switched ends a few times.
Derrick Morgan didn't seem to get as many snaps as Jones or Hayes, though he appears to be fully recovered from his ACL injury.

DTs Zach Clayton and Karl Klug got a lot of reps with the first team D again today.
Alterraun Verner was the first team left corner today, with Cortland Finnegan on the right. As they did a few days ago, the offense used a lot of 3-WR sets with the defense in nickel and Finnegan as the nickel back. As he also did a few days ago, Finnegan blitzed several times from the slot. Jason McCourty was the other corner when the defense was in nickel.
Frank Walker and Tommie Campbell were the second team corners today.
Jordan Babineaux leapfrogged the other safeties to the second string, playing strong with Vinnie Fuller at free. Looking at them standing side by side, Babineaux definitely is stouter, with more of a SS body, while Fuller is slimmer, more of a FS type. Several times, Babineaux lined up in the box but quickly and fluidly dropped deep into cover-2. Looks like he can be decent in coverage.
Yes, there are questions about whether the Titans are going back to right and left safeties, instead of free and strong. Most of what I saw today, and in earlier practices, is still free and strong, especially in the initial looks.
Robert Johnson was held out of practice and the third team safeties were Myron Rolle at strong and Nick Schommer at free.
I'm listing all of this for those of you interested in the pecking order and who stands where on the unofficial depth chart, as well as trying to give you an idea on the body types and who is doing what.
One other thing I should mention – Chris Palmer has been calling a lot of WR screens and bubble screens in the practices I've attended. Hasselbeck looked particularly good throwing those today. I wouldn't be surprised to see those become a regular feature in the offense this year.

WR/KR/PR Yamon Figurs chats with one of the zebras who participated in today's practice.