A lot of today's camp consisted of positional work at first, followed by some quarterbacks passing to receivers going one on one versus defensive backs. I'll recap the latter first, before going over the defensive line position work, which I observed today and have some good pictures to share.

As you would expect, without a pass rush and having all day to throw the ball, the quarterbacks were at an advantage against the DBs. A few of the noteable plays were as follows, after the jump.
Nate Washington beat Alterraun Verner deep, which shouldn't be a surprise, though the ball was overthrown. Nate can beat just about anybody deep and Verner was been beaten frequently in camp last year. Fortunately, it didn't carry over much into games.

Myron Rolle broke up a bomb attempt to Michael Preston. Maybe Rolle is a little faster than I give him credit for.
Marc Mariani had quite a few catches today, including one where he beat Jordan Babineaux deep.
Rookie UDFA James Kirkendoll also had a few grabs. I like what I see from him so far, though he'll have a tough time making the final roster. I can see him making the practice squad though.
Verner jumped in front of UDFA Owen Spencer to get a pick, one of the few highlights for the defense. Rolle was in a position to make a pick, but couldn't make the catch.
Yamon Figurs got behind the defense twice, once beating Jason McCourty and the other time beating Cortland Finnegan. Each time, though, the ball was overthrown. Figurs is a fast little guy who's also been getting some work in camp returning punts and kicks. He's another guy like Kirkendoll who will compete for the last WR spot on the roster.
And now some photos for your enjoyment.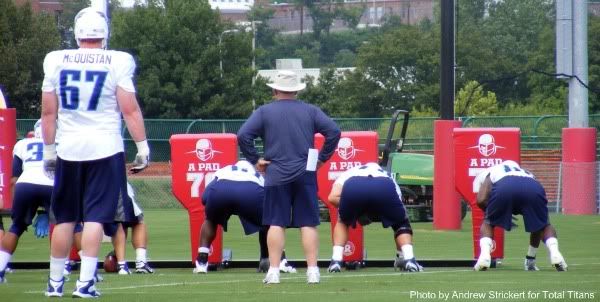 RB Herb Donaldson prepares to run behind the blocks of Fernando Velasco, Troy Kropog and Jared Cook.



Defensive line coach Tracy Rocker had a new drill today, using a medicine ball.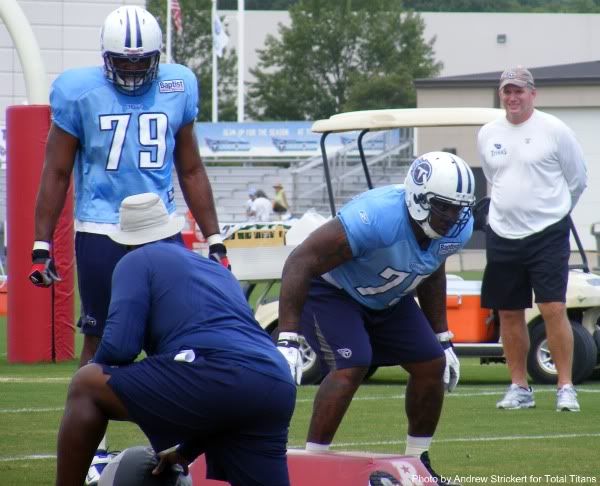 Jovan Haye is going to slide to his right at Rocker's command, then reach down to fend off a cut block from the beach ball, before charging forward. Note Mike Munchak observing in the background. In all my years of attending Titans training camp, I do not remember Jeff Fisher ever coming down to the end of the field where the lines practice. I asked a friend at camp today and he couldn't remember Fisher doing that either.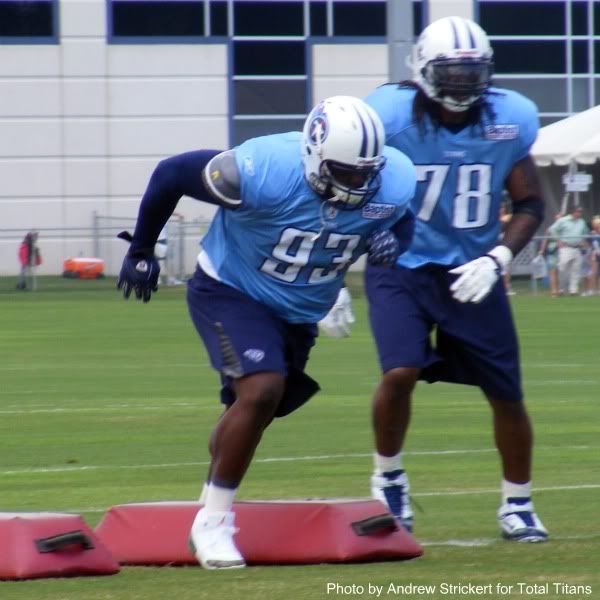 Big Shaun Smith shows off his footwork to Jacob Ford.



Rookies Zach Clayton and Karl Klug practice their footwork.



Rocker had his men working on the short sled again today, with Jason Jones pictured above. Big Shaun wasn't eligible to practice when Rocker had them pushing the sled around last week, so today was his first crack at it. Smith didn't get low enough to get much leverage and as a result, the largest man was the one who pushed the sled the shortest distance. I commented to my friend that Smith probably won't be making a push into opposing backfields too often this year, though he should be able to occupy his own space, which is considerable.



Cortland Finnegan showed up for practice today. For a while, he practiced kicking the ball up in the air soccer-style to himself.



Titans new MLB Barrett Ruud is not as stout as Stephen Tulloch, though he is listed as three inches taller.



Third-round draft pick Jurrell Casey fills out a uniform.