Another fully padded practice today. As usual, it started with special teams, with punt coverage the focus today. Brett Kern kicked a few Craig Hentrich knuckleballs.
Very little time was spent in position groups for the QBs, WRs, TEs and RBs today. After their short positional periods, they got together to run patterns against air. The o-line and defensive groups continued with their positional work.
More team morale-building by Munchak followed, with one on one pass rushing/protection. The entire defense would cheer when a pass rusher beat his blocker and the offense would cheer every time the o-lineman, TE or RB successfully blocked the pass rusher. The pass rushers were judged to be victorious in this session, so the entire offense did up/downs, to the delight of the defense.
On to red zone work. Jake Locker threw a touchdown pass to Justin Gage. New o-lineman Pat McQuistan was in action. He's been in camp a few days but this was the first time I saw him at work. He's listed on the roster as a tackle, but worked at right guard today. McQuistan is a big fellow, listed as 6'6″ and 319 pounds. His build is more like Michael Roos' than David Stewart's. More on him later.
There was some hitting going on in the next period, which was 11 on 11. Akeem Ayers popped Craig Stevens on a short pass reception, knocking him down. Stevens held on to the ball. The same happened a few minutes later with Anthony Smith and Justin Gage. Ahmard Hall didn't have much trouble blocking Barrett Ruud on a sweep, which is troubling. The defense out-hit the offense again. The offense wasn't able to run the ball inside at all, which is becoming the norm. They were able to get some running room outside.
Back to 11 on 11 again after a break for walkthroughs on assignments. Karl Klug was with the first team again today, at DT. He's been getting a lot of work with the ones throughout camp. Today's first team D was:
LDE William Hayes, LDT Klug, RDT Shaun Smith, RDE Jason Jones
SLB Ayers, MLB Barrett Ruud, WLB Will Witherspoon
LCB Alterraun Verner, RCB Cortland Finnegan, SS Chris Hope, FS Michael Griffin
The second unit was:
LDE David Ball, LDT Jurrell Casey, RDT Jovan Haye, RDE Jacob Ford
SLB Patrick Bailey, MLB Colin McCarthy, WLB Gerald McRath
LCB Jason McCourty, RCB Frank Walker, SS Jordan Babineaux, FS Vince Fuller
CBs Verner and McCourty have been alternating taking reps with the first team, as have LBs Witherspoon and McRath, throughout camp so far.
More pass rush work. In most cases, one o-lineman would go against one d-lineman for two reps. All were from regular positions, you didn't have guards out at tackle, or DEs in at DT, etc. Here are some matchups which weren't stalemates. Leroy Harris blocked Smith (when I say blocked, it means twice successfully, unless otherwise noted.) Fernando Velasco blocked Casey. Kevin Matthews held Zach Clayton, then blocked him on the second attempt. Malcolm Sheppard got a good rush against Ryan Durand twice. Michael Otto blocked Jacob Ford. Rookie Byron Stingily blocked Hall Davis. McQuistan blocked Sheppard. Julian Hartsell got a good rush against Durand. Not a good period for Durand. Stingily held off Morgan and Ball on successive plays. Soon afterward, Stingily had to get his right ankle taped. Probably just a minor sprain.

Klug beat Jake Scott. Then some 3 vs 2, with Roos, Harris and Amano vs Jones and Casey. The O did their jobs on the first two plays ( the second was a stunt) but Casey got a good push up the middle on the next two, nearly splitting the Harris and Amano blocks.
Back to more 11 v 11. The D showed one look with Morgan at LDE and Jones rushing from LDT. Klug and Ball the other two pass rushers.
For the second or third time, Rennie Curran was on the field in pass defense. Curran looked out of place last year and even more so this year, with bigger bodies around him. Seeing him trying to cover a big tight end is not a pleasant sight. Curran's listed at 5'11" but looks more like 5'9″ or 5'8″. Shortly after making a note on that, Craig Stevens caught a pass on Curran.
A little later, Stevens made a diving catch for a TD. Despite his reputation as just a blocker, Stevens does have decent hands. He catches just about everything thrown straight to him and occasionally will make a catch out of frame too.
Munchak whistled a halt to practice after a bomb from Rusty Smith to Marc Mariani. And now, some photos from today's practice.

Michael Griffin converses with Cortland Finnegan.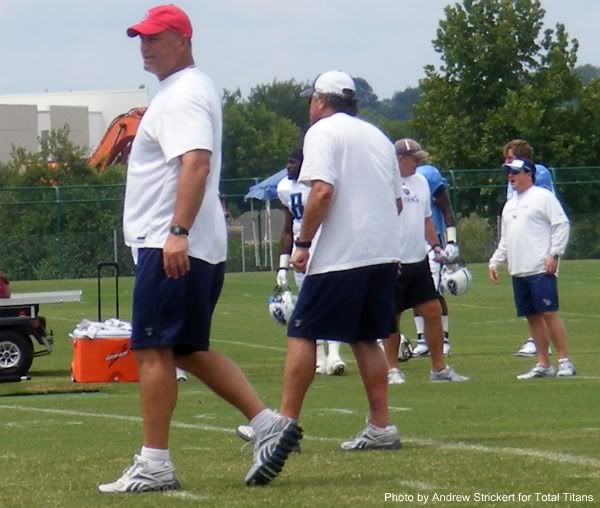 Special teams coaches Chet Parlavecchio (asst) and Alan Lowry.



Justin Gage manuevers around a tackling dummy to catch a pass from WR coach Dave Ragone.



Leroy Harris pulls to lead a sweep.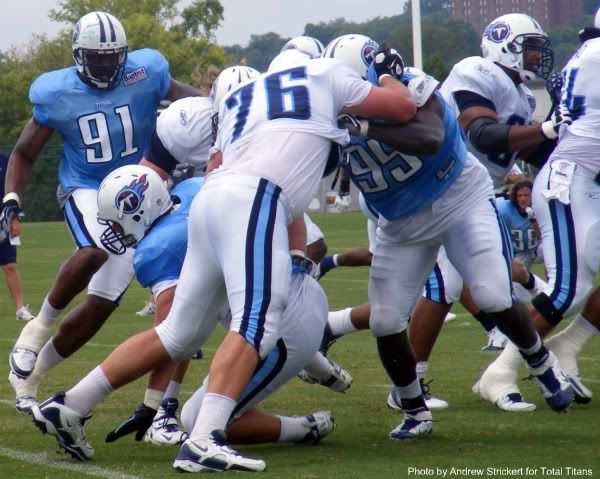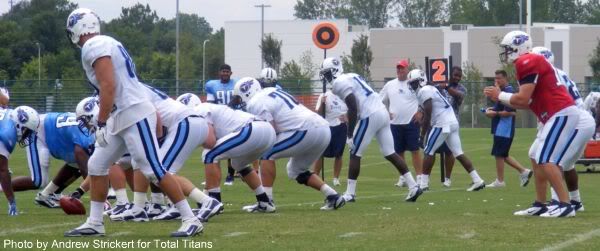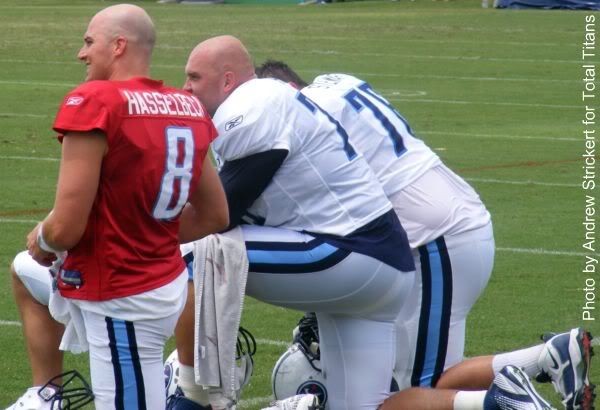 Matt Hasselbeck takes a knee with Michael Roos and David Stewart.



Jake Locker builds rapport with Damian Williams and Kenny Britt.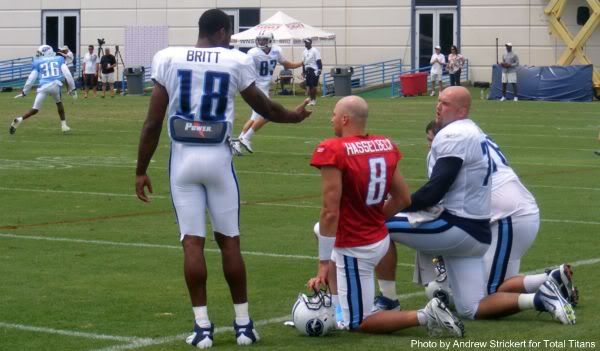 Britt joins Hasselbeck, Roos and Stewart. Note Marc Mariani uncovered in the background.