One good thing about training camp this year is the newness of many facets. Jeff Fisher training camps were, for the most part, the same year after year. You seldom saw anything new in drills and practices. The new assistant coaches have brought some fresh new ideas to their drills, as I've written about Dave Ragone and Tracy Rocker. Today, assistant special teams coach Chet Parlavecchio introduced beachballs into kick return practice.
Returners had to hurdle and dodge beachballs rolled at them by Parlavecchio and thrown at them by Michael Griffin. I have absolutely no idea if this will help Marc Mariani return kicks. This happened as I was arriving and ended just as I was getting my camera out, so I missed getting pictures of it.
James Kirkendoll, one of the rookie UDFA WRs who's making an impression, was one of the returners, along with Mariani and Yamon Figurs.
A couple of other WR UDFAs didn't fare as well today. Michael Preston and Owen Spencer both dropped passes today they should have caught. Each has also had problems catching the ball in some of Ragone's drills over the last two weeks. Preston had a couple of TDs in the "simulated game" but I have Kirkendoll ahead of him. Local hopeful Joseph Hills, from Tennessee State here in Nashville, practiced today but he's missed more practices than he's participated in, or so it seems.
Something good to report on Jared Cook. The other day I wrote about him being used in the slot. Today, Cook was split out wide on several occasions and in several settings. Typically, he dropped one pass that hit him in the hands, but he made 4 or 5 catches downfield today. He also reached down below his knees to catch a ball while running a little out route. If the first two weeks of camp is any indication, the Titans are going to throw the ball to Cook a lot this year.
Some other notes on individuals today: Figurs made a great catch in traffic with CB Frank Walker covering him very tightly.
Rusty Smith made an extremely accurate pass early in practice. The ball went straight to safety Anthony Smith. All of the quarterbacks have been inconsistent in camp, but Smith has probably been the most inconsistent.
Pat McQuistan, who was at RG yesterday, worked at RT with the second team a couple of times today. When he was the o-line coach, Mike Munchak used to have a habit of moving his non-starters all over the line, working them at multiple positions. Bruce Matthews has been doing the same and I'd like to see where else McQuistan is used. He can supposedly play all the spots except center. That reminds me, sixth-round draft pick Byron Stingily has been at both tackle positions in camp but I haven't noticed him at guard.
Justin Gage dropped a TD pass playing against air.
CB Lequan Lewis had great coverage on Mariani on a deep route. Lewis was in better position to make the catch and Mariani had to play DB to break the pass up.
Kenny Britt made two leaping catches over his head.
Lavelle Hawkins made a nice catch, extending to catch the ball out of bounds while getting both feet down in bounds.
There were a few more WR screens and end arounds today. I think we'll see a lot of WR screens this year and a few end arounds.
The offense also practiced Hail Marys and believe it or not, practiced quarterback sneaks and drawing the defense offside while practicing against air.
Munchak concluded practice with gassers, the first time he's done that in camp.
Once again, here are some photos from today's practice for your viewing pleasure.

Yamon Figurs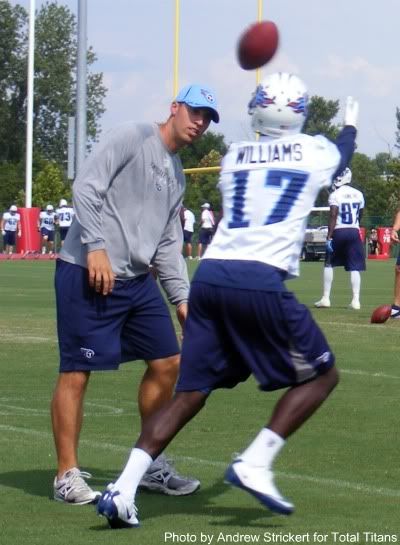 WR coach Dave Ragone and Damian Williams



Jake Locker

Daniel Graham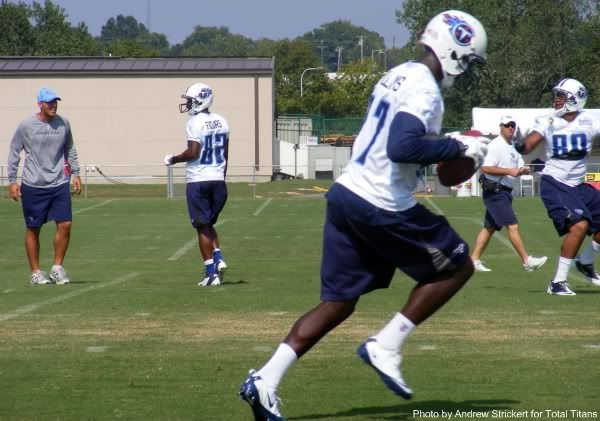 Damian Williams



A new concept! Our linebackers may no longer allow opposing tight ends to get a free release off the line of scrimmage.



Marc Mariani mugs Lequan Lewis knocks the ball away to break up an interception.



Will Witherspoon and Shaun Smith hustle.



Jason McCourty and Alterraun Verner run wind sprints.