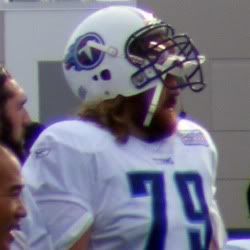 #79, the Titans' new OT, Adam Terry
Another nice day, weather-wise, at camp this afternoon, only about 90 degrees, or perhaps even in the high 80s, with a slight breeze. I didn't arrive for the start of practice, but don't believe I missed much, as I caught most of the position group period watching the o-line.
David Stewart, who had a hamstring tweak or pull Saturday night, didn't practice and Mike Otto got the first-team reps in his place. I don't read much into that, since Troy Kropog was the man who replaced him Saturday night.
Later in the afternoon, I noticed a new lineman, #79, who was not there during the positional drills. Jim Wyatt tweeted that the Titans had signed Adam Terry today, so that must have been him. #79 fit Wyatt's description of Terry, at 6'8″ and 335 pounds, with a beard to rival Jake Scott's. He's the largest Titans' o-lineman I recall, taller than Roos and bigger than Stewart.
I only saw #79 in action for two plays, so not much of a read on him today.
Besides Stewart being out, Sen'Derrick Marks and Javon Ringer were also not dressed out. Kenny Britt and Robert Johnson, who both missed Saturday night's game, practiced today, though I didn't notice Britt taking part in any hitting. He did catch some passes in non-contact work.
The main thing I took away from this afternoon's practice was the safety play. We've speculated several times before about how Jerry Gray will be using the safeties. Today, there was an awfully lot of the players we view as strong safeties back as single high safeties, while the free safeties were stacking the box.
This was true not only with the starters, but also for the second and third unit defenses. Vince Fuller, who's always been a nickelback and backup free safety was frequently near the line as a traditional strong safety, while his partner, Jordan Babineaux, who's been both a strong and free safety, and is presumably a SS with the Titans, was roaming centerfield.
Even Myron Rolle, the #3 SS today, took reps at free while Anthony Smith played the role of strong.
There was also another period of one on one blocking today, similar to the one a few days ago. Each o-lineman took two snaps pass-blocking a d-lineman. As before, it was players lining up at their regular positions, LT vs RDE, LG vs RDT, etc. The offense did a much better job today, with none of them being beaten badly, if at all. The closest a d-lineman came to making a 'sack' or getting pressure was Jacob Ford at RDE on his first rush against LT Byron Stingily.
The matchups today were:
LT Roos vs RDE Jones
LG Harris vs RDT Haye
C Amano vs NTs Smith and Casey
RG McQuistan vs LDT Klug
RT Otto vs LDE Hayes
LT Stingily vs RDE Ford
LG Velasco vs RDT Sheppard
C Matthews vs NT Clayton
RG McQuistan vs LDT Casey
RT Durand vs LDE Ball
RT #79 Terry(?) vs LDEs Davis and Egboh
LT Stingily vs RDE Morgan, one snap, Stingily could have been called for a hand in Morgan's grill.
Davis and Egboh are nothing more than camp bodies, so #79 was supposed to block them. It would have been a bad sign if he didn't. It was the only time I noticed #79 in action today. If that was Terry, and I suspect it was, he's been around the league with four teams and keeps getting cut, so I'm not viewing him as anything more than depth.
One thing I wonder about though, is how much faith Mike Munchak has in Otto and Kropog. McQuistan came in last week, and now Terry, to provide depth at tackle. It doesn't seem to me that Munch has that much confidence in either Otto or Kropog if he has to bring in two journeymen. That's my take, anyway. Stingily seems likely to be a project who will be a gameday inactive every week, if he makes the final cut.
Only a couple of noteworthy items from the 11 on 11s which I was able to see. Daniel Graham made a fine catch, extending to catch a ball downfield. Stafon Johnson fumbled, and although he recovered, it's never a good sign for a RB who has an already slim chance to get a roster spot.
And now, some photos from this afternoon's practice.

Bruce Matthews and Michael Roos, with Mike Munchak, background right.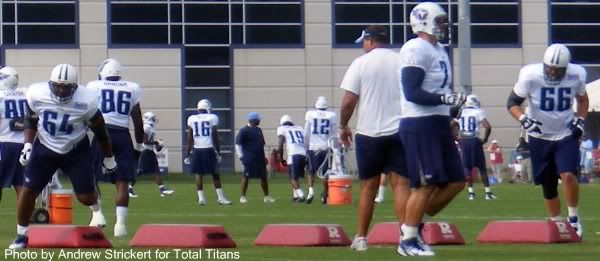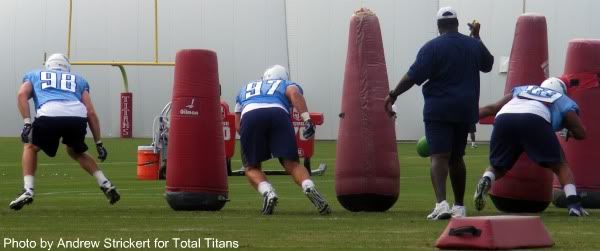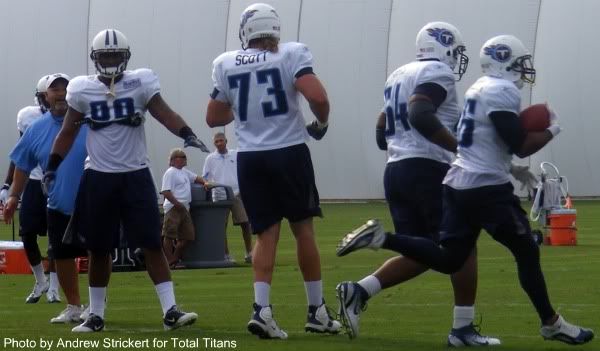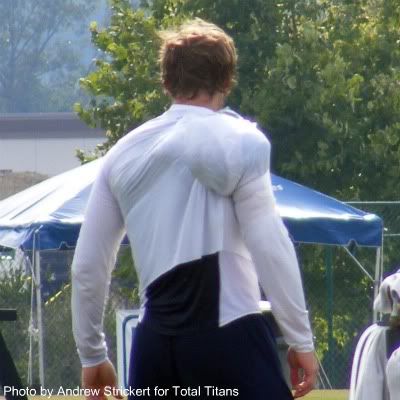 Barrett Ruud had a bag of ice taped to his back and shoulder. He did not return to practice but it didn't appear to be serious.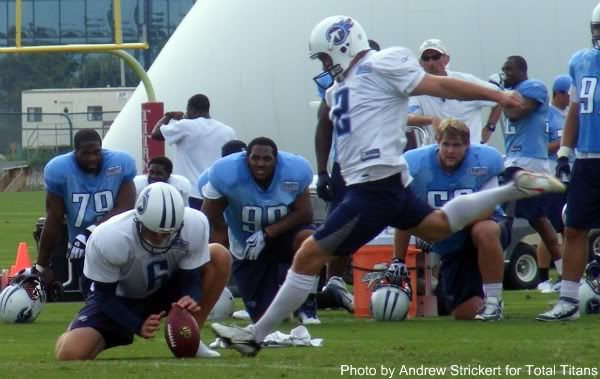 A lot of time was spent practicing field goals today. Note the coil in Rob Bironas' leg, which probably generates a lot of torque.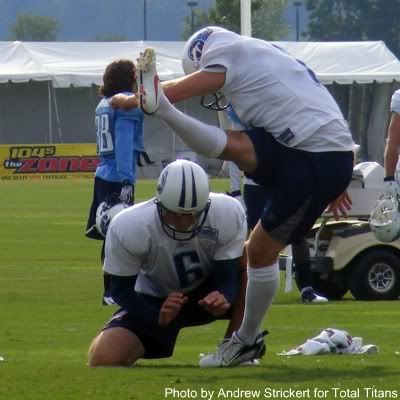 Note also Bironas' follow-through. Punter Brett Kern is the holder.

After being blocked by Eugene Amano, Shaun Smith gets some pass-rushing advice from DL coach Tracy Rocker. Meanwhile, Pat McQuistan prepares to block Karl Klug.

McQuistan blocks Klug, who does get a good push.