David Stewart, Barrett Ruud and Javon Ringer did not practice today. Troy Kropog was also out after having a knee scoped and should remain out for a while. Sen'Derrick Marks dressed out today, but I didn't notice him doing much physical work. Still, it was good to see him getting eased back into the flow of things.
Rudy Kalis and a Channel 4 cameraman were down in the o-line area at the start of practice. It was the first time in a year any mainstream media were down there, and that was at the nearby d-line area for Derrick Morgan's first day of camp last year. Rudy told me they were doing a piece on Bruce and Kevin Matthews but I forgot to ask him if that was for the 6 o'clock or 10 o'clock news, or even the Sunday night sports weekend special. It doesn't matter to me, but I thought I'd throw that out there for any Bruce fans who might be interested.
Helmets, shoulder pads and shorts were the order of the day. The temperature was probably in the low 90s and there was a breeze coming off the duck pond.

Tracy Rocker had another interesting drill for the d-linemen today. One by one, they had to push the short sled a few feet, then charge at and club a tackling dummy, then hurdle and/or fend off with their hands a large pad which Rocker threw at their legs, then scoop a football, all without breaking stride.
Meanwhile, Bruce had the o-linemen hitting the 7-man sled for a while before they joined the d-linemen for some work. The best thing I saw in that period was a double team by Pat McQuistan and Adam Terry, who drove Jovan Haye about 5 yards sideways and 10 yards backwards. According to the roster, that was 654 pounds vs 277, though Haye is now over 300 this year.
After the position work, all the groups got together for team action, though I wasn't able to see much. Jason McCourty made a solid breakup of a high pass for Kenny Britt in the end zone.

Following that, everyone removed their shoulder pads and would keep them off for the remainder of practice. That's something I never saw in a Jeff Fisher practice, but it makes sense. Why wear pads when you don't need to? Fisher had a reputation as a players' coach, but he was a CB/PR. I'll bet Munchak and his fellow linemen back in the day would have appreciated not wearing pads every now and then, when they weren't necessary.
Walkthroughs followed for half an hour or so, with both the offense and defense working on their own.
11 on 11s followed, still without pads. The first units today were as follows:
Offense (3 WRs) – QB Hasselbeck, RB Harper, WRs Washington, Williams, Britt, TE Cook
O-line L to R Roos, Harris, Amano, Scott, Otto
Defense (nickel) – D-line L to R Jones, Haye, Smith, Morgan
LBs Witherspoon, McRath
CBs McCourty, Verner, NB Finnegan
S Hope, Griffin
A couple of notable plays: Hasselbeck hit Cook straight down the middle for about 20 yards. Great to see that for the O, not so good for the D.
Mariani beat Campbell on a slant. Campbell had no help at all so Mariani had a big gain.
Locker threw an ill-advised pass on an out to Gage, which was undercut by Robert Johnson. Should have been an easy pick, right in his hands, but he dropped it.
On to more field goal work, though not as long as Tuesday's session, followed by 7 on 7 at one end of the field with the o-line and d-line working at the other end.
The 7 on 7 period was also a red zone session. A few notable plays from it included an over the head one-hand grab for a TD by Justin Gage, who went above Jason McCourty, then got his feet down in bounds. Gage is having a very good camp. We know Gage isn't going to get any better, he has no further upside and he has a contract that's too large, yet he's still pushing for a roster spot behind Britt, Washington, Williams, Mariani and Hawkins.

There was another end-around and I'm convinced we'll see a few of these in the regular season, or maybe even a fake off of one.
Michael Preston caught a short pass over the middle for a TD but I think he's still got a long ways to go to pass Gage, Figurs and Kirkendoll on the depth chart. It doesn't help that he's dropped too many passes in the WR position drills.
Rusty Smith threw a TD pass to reserve TE/FB Riar Geer. You can guess who was in coverage, because someone yelled, "arms too short" and someone else responded, "genetics there." Sad but true.
Munchak ended practice with three sets of gassers. A little bit of extra conditioning, perhaps, after he had eased up on them earlier by letting them take their pads off.
And now, as promised, here are some photos from today's practice.

Jurrell Casey, Tracy Rocker and Dave Ball.

DE Hall Davis runs through Rocker's obstacle course after Ball has taken his turn. Note the quarterbacks in the left background, receivers in the middle background and tight ends to the right rear. The Titans usually work in seven position groups, not including the specialists, and most days I wish there was seven of me, so I could watch each group at once.

Another d-lineman runs Rocker's drill.

Adam Terry is a big man.

Jordan Babineaux, Myron Rolle, Robert Johnson and Vincent Fuller.

Gerald McRath

Jerry Gray, right, walks the defense through some plays.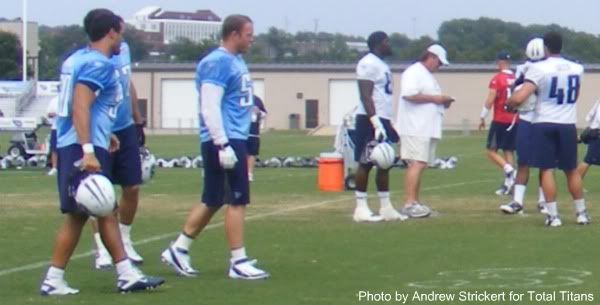 A lot of players were probably very happy to discard their shoulder pads, which are lined up in the background.

UDFA rookie CB Lequan Lewis strolls in front of the camera.