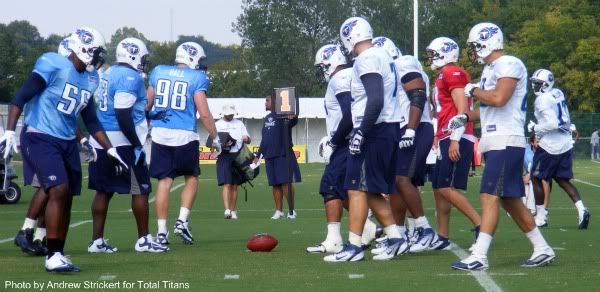 Plenty of players did not practice today because of injuries. The list includes Matt Hasselbeck, David Stewart, Kenny Britt, Javon Ringer, Troy Kropog, Kevin Matthews, Jason Jones, Derrick Morgan and Pannel Egboh.
I'm not sure if Barrett Ruud started practice or not, but about halfway through, the first time I noticed him, he had a bag of ice taped to his shoulder. It doesn't seem logical that he'd need ice if he hadn't practiced at all.
The receivers were once again the group I watched for the positional periods. Dave Ragone had his guys catching passes while navigating their way through traffic cones.
The far field, where I was today, then had Jake Locker throwing to the tight ends on one end of the field, while Rusty Smith and Brett Ratliff threw to the receivers. It was a rare chance for Smith and Ratliff, who have been used for handing off in running drills more often than throwing the ball in passing drills. Although he wasn't practicing, Hasselbeck still wore a wristband with the plays on it.
In their positional work, the RBs practiced their pass protection, with each of them taking turns blitzing while another tried to block him. Later they got to do it against the LBs and DBs, for a truer test and for the most part, the RBs did their job. Ahmard Hall had a devastating block on Anthony Smith, which lifted Smith off his feet and planted him on his back. Michael Griffin and Akeem Ayers had the best pass rushes for the defensive participants.
Chris Hope dropped a would-be interception in 11 on 11s. The safeties once again showed interchangeable looks, with the free safeties frequently in the box, sometimes dropping back into coverage and sometimes not. This was true not only for Michael Griffin but the backups as well, even the thin as a rail Robert Johnson, who was in the box while SS Nick Schommer stayed high.
Jordan Babineaux was used both at strong and free, and later on was also in the slot as a nickel. It looks like a pretty safe bet that he'll make the 53-man. Now that I think about it, I don't recall Vincent Fuller used as a nickelback at all during this camp, only as a safety.
Mike Otto filled in for Stewart at RT again with the first team o-line. The second line today was, left to right, Byron Stingily, Pat McQuistan, Thomas Gray, Ryan Durand and Adam Terry. I'm not sure why Fernando Velasco wasn't in there at center, because he was dressed out and practiced earlier in the afternoon.
The highlight of 7 on 7s was a pass to Jared Cook right down the middle. The coverage was not bad, but Cook made an over the head catch in traffic.
Meanwhile, at the other end of the field, it was time for more o-line vs. d-line one on one pass blocking vs. pass rushing. Although I wasn't in position to get any good pictures, I was able to see it fairly well, when not being distracted by the 7 on 7 on the other half of the field. The most notable thing from the o-line/d-line session was Karl Klug beating Leroy Harris, despite a 25 or 30-pound weight difference. Not to mention Harris is a fairly powerful lineman, probably a lot stronger than Klug.
Back to more 11 v 11 and an interesting formation on the first play. Two TEs and two WRs, which is not unusual, except that it had Justin Gage split left with Damian Williams in the slot, while Craig Stevens was set on the right with Jared Cook split wide right.
A little more diversity two plays later, with Williams split left and Cook tight on the right, with Washington in the slot and Lavelle Hawkins flanking him. Unfortunately, I was unable to tell what all the routes and combinations were, but it was interesting enough that I wanted to note it here.
Yamon Figurs showed his speed again, beating Alterraun Verner deep on a go route, and also getting behind Smith who didn't get there in time to help out. The pass was overthrown but it was still a good play by Figurs, who needs more plays like that to make the roster.
A big surprise came at the end of the practice, when Mike Munchak announced he was giving the players the day off tomorrow, which probably means camp is over a day early. The annual dizzy bat race followed, without the bats, and a little rookie hazing.
And now some photos from Monday's practice.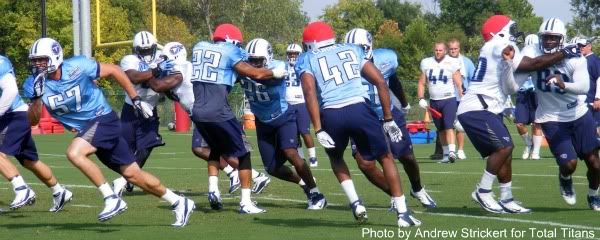 Punt coverage. The players with the red helmet liners over their helmets are on the receiving team, blocking the players covering the punt.

Michael Preston catches a pass from WR coach Dave Ragone.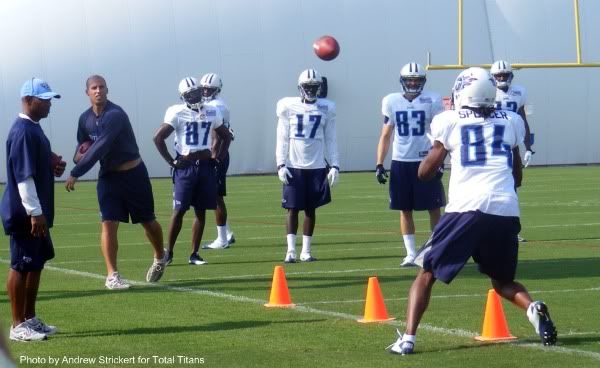 Ragone added traffic cones to his repertoire of props. Here he throws to Owen Spencer.

Justin Gage takes his turn.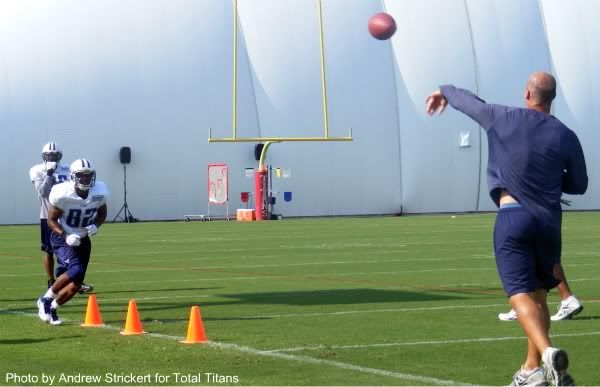 Ragone to Yamon Figurs.

Jake Locker passes to Justin Gage.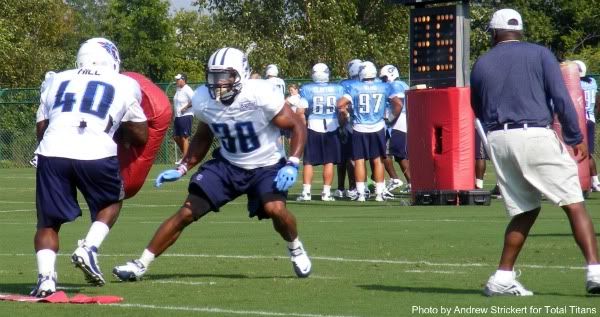 RB coach Jim Skipper conducts a drill with Patrick Hill blocking a blitzing pass rusher.

Ahmard Hall, Skipper and Jamie Harper.

Craig Stevens catches a pass.

Jared Cook is about to catch one.

Michael Griffin blitzes as Jamie Harper gives the old lookout block ("Look out, Jake!")

Brett Ratliff has been handing off a lot more than passing lately.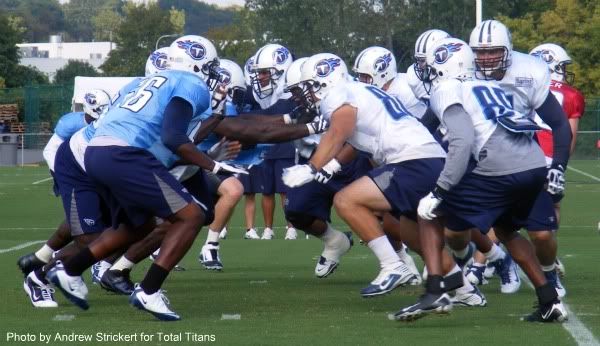 Nate Washington, right, is in strange territory, in there with the big boys.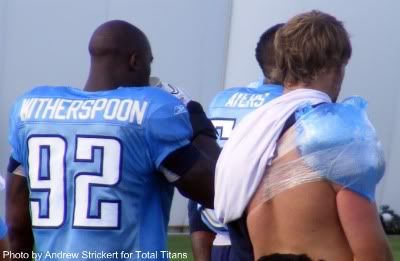 Barrett Ruud had ice on his shoulder again today.

Jerry Gray

Gray's defense is more than just bigger d-linemen who are stout against the run. If Jacob Ford, left, makes the team, it will be for his ability as an edge rusher.

Looks like a blitz is coming.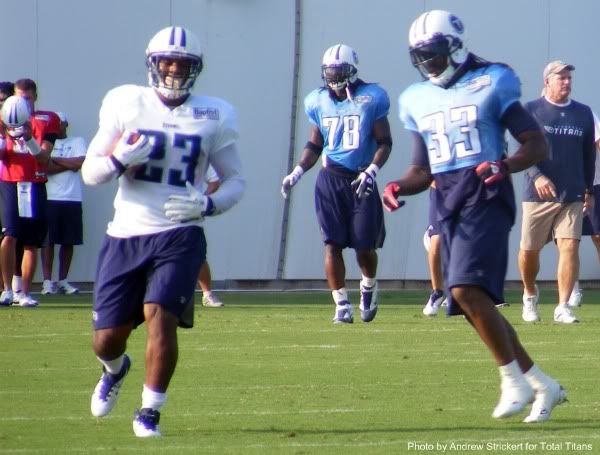 Jamie Harper

Colin McCarthy tries to fend off a block from Ryan Durand.

LB coach Frank Bush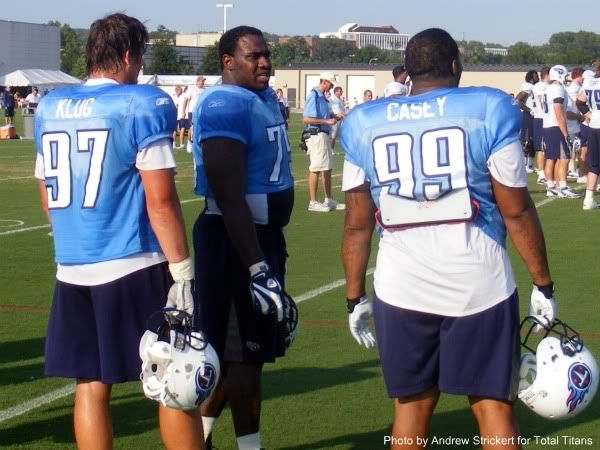 When Karl Klug came off the field after one play, Jovan Haye called him over and gave him some helpful words of advice. Jurrell Casey came by a moment later and Haye offered him advice too, even though the two of them are competing for his job. I was fortunate enough to be close enough to hear Haye and thought it was very unselfish of him to help make them better players, even though it will likely be at his expense.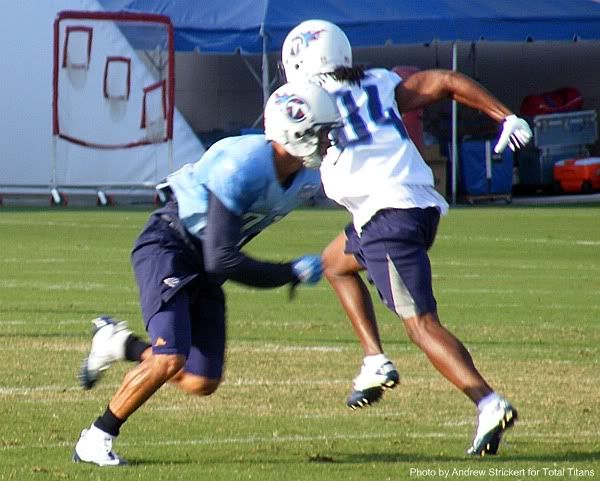 Cortland Finnegan blitzes from the slot again.

The team ran gassers just before the end of practice. Anthony Smith and Myron Rolle are pictured here.

Marcus Robertson