This afternoon the Titans were in full pads and worked on a lot of things – kickoff returns, more QBs and WRs vs CBs, two-minute offense, no huddle offense, goal line work and third down work.
Stafon Johnson returned a few kicks, the first time I recall seeing him do that. I don't put much into that, since Marc Mariani will be the return man, but it's good to know there are several fallback options. Michael Griffin can still return kicks, for that matter.
Kenny Britt did some positional work but I didn't notice him participating in any full contact work. He's gradually easing back into the flow of things and I hope to see him play against the Vikings on Saturday.
I saw one thing some people will like. After the QBs & WRs vs CBs session, it was determined the defense had somehow "won" so the offense did pushups while the defense cheered.
Jared Cook had another good day. He got some work with the first unit at various times today and caught a touchdown pass. He was also used in the slot during 7 on 7s, which I hope to see more of during the season.
The quarterbacks made a few horrendous throws in the 7 on 7 session. Jason McCourty picked Matt Hasselbeck, Jordan Babineaux picked Jake Locker and little-used Chris Hawkins picked Rusty Smith, who was also picked by a guy in his first day on the job.
That pick was made by a new safety on the field, Anthony Smith, formerly of the Packers and Jaguars. I don't trust a safety who wasn't good enough for the Jaguars, but Nick Schommer and Robert Johnson have been nicked up and even when healthy, the Titans have little skill in their safety depth. Smith has been assigned the blue #36 jersey, as opposed to the white #36, which belongs to RB Herb Donaldson.
I didn't see a lot of holes for the RBs to run through today. Even if Chris Johnson had been there, he wouldn't have gained many yards. It may be another brutal season for the o-line. I'm hoping they start to gel by opening day, but I'm not blindly optimistic.
And now, some pictures from today's practice for your viewing pleasure. I hope you enjoy them.

Jamie Harper, Javon Ringer, Stafon Johnson and Ahmard Hall



Reserve defensive backs Anthony Smith, Chris Hawkins, Lequan Lewis and Pete Ittersagen

The defense is happy that Lavelle Hawkins didn't make a play.

Dave Ball, Akeem Ayers and Barrett Ruud

Two tight ends named Graham. #80 is rookie UDFA Cameron Graham, #86 is veteran Daniel Graham.

Shaun Smith makes 207-pound Javon Ringer look tiny.

Kenny Britt jokes around with Jamie Harper.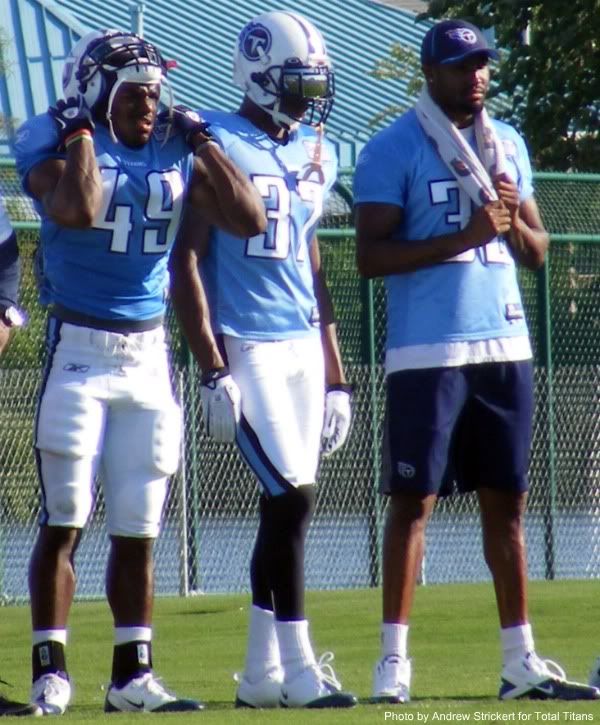 CB Lequan Lewis, CB Tommie Campbell and FS Robert Johnson. Campbell and Johnson are nearly identical in size. I've heard the Titans would like to look at Campbell as a FS but so far in camp, he's been exclusively a corner. Now that the Titans have acquired two free agent safeties in Babineaux and Smith, it doesn't seem to me they're ready to look at Campbell at safety.

Jordan Babineaux had another pick today.



Matt Hasselbeck consults his wristband.

Barrett Ruud, Will Witherspoon and Akeem Ayers may be the starting linebacker corps this season.