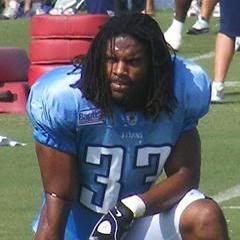 The 2000-2009 decade was certainly a topsy-turvy one for Titans' free safeties. It started out great with Marcus Robertson, declined with Perry Phenix, was OK with Lance Schulters and was terrible with Lamont Thompson.
One thing I will always remember about Lamont was the number of times the Titans' secondary gave up touchdown passes, followed by finger-pointing among various members of the secondary. Although it was sometimes impossible to tell which player had botched his assignment and blew the coverage, there seemed to be one constant. Thompson was almost always one of the two players involved. Sometimes it was Lamont and Pacman Jones, other times it was Lamont and Tank Williams, but Lamont was almost always included.
It was telling that Lamont lost his job to an ineffective Calvin Lowry, who in turn lost it to rookie Michael Griffin. (Thompson played in only six NFL games since then and has been out of the league for two years. Lowry was with the Broncos and Jaguars in 2008 and out of the league in 2009.)
Before the 2009 season started, I believe most non-biased AFC South observers would have agreed that Michael Griffin was the best free safety in the division. Now that the regular season is over, I believe they would unanimously agree Griffin was the worst. (Reggie Nelson had a less than mediocre season so Antoine Bethea, or possibly Eugene Wilson, was the best by default.)
I don't know what Griffin's problem was. He had some off the field personal problems but that shouldn't have affected his play. Most of us have worked with people who have had personal problems but didn't let them affect their job performance. Griffin also had some issues with a shoulder injury. That might have affected his run support but shouldn't have affected his cover skills.
There may not have been any displays of finger-pointing this past season, but Griffin was involved (or not involved enough) in far too many big plays for Titans' opponents. Nick Harper received a lot of deserved criticism for his play in 2009, but he wasn't nearly as bad as Griffin, in my opinion. How bad was Griffin? He was the Titans' worst defender in 2009.
His play was so bad, you have to include him with Lamont in the same conversation about bad safety play.
Who was worse, Griffin or Thompson?
In my opinion, that question can be answered in two different ways. Griffin was probably worse in 2009 than Thompson was in any of his seasons in Tennessee. On the other hand, Griffin has had an overall better career with a 2008 Pro Bowl selection as a replacement player.
Griffin or Thompson? What do you think? Or is that like asking who was the Titans' worst receiver in the last ten years?