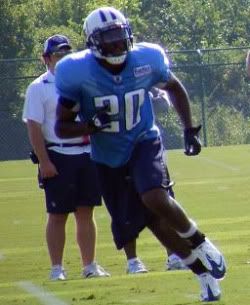 Fourth-round draft pick Alterraun Verner, whom I projected as a potential
third-round target
of the Titans, was one of the great stories of the Titans' 2010 training camp. It seemed like the ball-hawking Verner had several picks every week throughout camp and he added another in prime time on national TV.
Verner supporters can point to his interceptions as evidence he should be the starter at right corner when the season opens September 12. I don't believe Verner will be the starter — yet — and I doubt if Jeff Fisher will select Verner to start the season opener.
What hasn't received as much attention as Verner's interceptions is his weakness in deep coverage. He simply doesn't have great speed. We saw him beaten badly once versus the Panthers, something that occurred too often in camp.
Kenny Britt , Nate Washington and Justin Gage all beat Verner for "touchdowns" in training camp, not only in seven on sevens, but also in eleven on elevens, when the quarterbacks had rushers to contend with and a limited field of vision. (Britt beat Verner several times on bombs and Washington and Gage each beat him deep at least once that I recall.)
McCourty, on the other hand, has much better speed and can run stride for stride with opposing wideouts. While he doesn't have the ball skills or awareness Verner possesses, he doesn't give up as many big plays either.
I give McCourty the edge in run defense, though not by a large margin. Both players are adequate tacklers.
Overall, I believe there are three reasons why McCourty will win the battle.
1) Experience — we know how Fisher feels about rookies.
2) Run support — we also know that Fisher values tackling (see Nick Harper vs Rod Hood last year.)
3) He won't give up the big play. Or rather, he won't give up as many big plays as Verner. This, I believe, is the most important factor.
Although I think Verner has more potential than McCourty, and will eventually become the starter, it won't happen now. Maybe later in the season, maybe not until next year, but almost certainly not in Week One.
That's my take on the cornerback battle. What's yours?