This week:
The UConn Huskies will host the Iowa State Cyclones from the Big 12 Friday night at 8 p.m. at Rentschler Field in East Hartford, CT.
Here are the rosters for the Huskies and the Cyclones.
The Line/Prediction:
According to Rivals.com odds, the Huskies are 4.5 point favorites. The over/under is 44.
My prediction is UConn 24 Iowa State 21 on a late field goal.
Tickets:
According to Ticketmaster.com, there are plenty of seats available for the game.
Getting To The Game:
Here is link for the weather report. Here is all the parking info you will need for the game, this link includes directions to Rentschler Field. Here is a Rentschler Field seating chart and here is some general information for Rentschler Field.
The parking lots will open up 4 hours before kickoff. Here is a list of the tailgating rules at the Rent.
At UConn home games, FanFest takes place starting four hours before kickoff up until 30 minutes before the game. This year, it moves to between Gates A and B outside the stadium gates.
The offerings change each game, but activities typically include inflatable games for children, live bands, promotional vehicles and UConn student-athletes from various team signing autographs.
The "Husky Walk" is a chance for fans to welcome the UConn teams as they get off the team buses and head to the stadium. That takes place at approximately two hours and 15 minutes before kickoff between Gates A and B.
Starting this season at the end of home games, the UConn team will sing the "UConn Husky" fight song in front of the student section at Rentschler Field.
Friday night's game will be Green Awareness Night at Rentschler Field. The annual event is part of the "Husky Honor" program that promotes sportsmanship as well as sustainability and environmental responsibility at UConn athletic events. UConn was recently ranked No. 16 in the country in the Sierra Club's annual ranking of the nation's "greenest" universities. EcoHusky student volunteers will be on site Friday night to help fans recycle bottes and cans and to raise awareness about what the University and Rentschler Field are doing to reduce waste and minimize the carbon footprint at a UConn game.
BROADCAST INFORMATION
Television:
Friday's game will be televised nationally by ESPN2. Mike Gleason is on play-by-play while John Congemi is on color.
The game will also be replayed on SNY in a condensed mode on the "Husky Power Hour" on Saturday, Sept. 17 at 7:00 a.m. and 12 p.m. The game will be replayed in its entirity on Saturday, Sept. 17 at 4:00 p.m.
Radio:
For the 20th consecutive season, WTIC 1080-AM in Hartford serves as the flagship station for the UConn Radio Network. WTIC is the state's only 50,000 watt signal and can be heard in 23 states and parts of Canada.
Veteran UConn announcers Joe D'Ambrosio (play-by-play) and Wayne Norman (color commentary) return to call the action with Kevin Nathan on the sidelines.
The UConn pregame show begins 90 minutes prior to kickoff, while home games, the UConn Tailgate Show will air two and a half hours prior to the game with Arnold Dean.
UConn football games are also broadcast over the internet at WTIC.com. Here is a full list of stations on the WTIC/UCONN radio network.
Iowa State Radio:
John Walters (play-by-play), Eric Heft (color) and Ben Burns (sideline) will have the call on the Cyclone Radio Network. The game is also available online on Cyclones.com. The Iowa State feed will also be available on XM 85 and Siruius 85.
To continue reading the Iowa State Cyclones @ UConn Huskies preview, click on the read more button below if you're on the home page.
Last Week:
The Huskies fell 24-21 to the Vanderbilt Commodores. The Cyclones beat their in-state rival the Iowa Hawkeyes 44-41 in triple overtime.
History:
Friday's game marks just the second meeting between UConn and Iowa State with the Huskies holding a 1-0 series edge. UConn won a game in Ames on November, 23, 2002 by a score of 37-20.
Connections:
There are no players on the UConn roster from the state of Iowa and no players from Connecticut on the ISU roster.
ISU head coach Paul Rhoads faced UConn as defensive coordinator at Pittsburgh from 2004-07 when the Huskies first joined the BIG EAST. UConn was 3-1 vs. the Panthers during that period.
UConn QB coach Joe Moorhead was on the same staff at Akron as ISU assistant head coach Bill Bleil from 2005-08.
ISU DC Wally Burnham had the same positon at USF in 2008 when the Bulls beat the Huskies.
ISU DL coach Curtis Bray also coached at Pitt during UConn's first three years in the BIG EAST.
Other UConn News:
If you're attending the game, be sure to wear something blue as UConn is doing a "Blue Out"
Here are the quotes from Paul Pasqualoni's press conference. Also included in there are quotes from defensive coordinator Don Brown and various players. You can also watch Pasqualoni's press conference if you want.
Get to know UConn defensive coordinator Don Brown.
Here is UConn's depth chart for the game.
Connecticut has an overall record of 3-1 against the current members of the Big 12 Conference. It's last game against the Big 12 was the 2011 Tostitos Fiesta Bowl as it lost to Oklahoma by a 48-20 score.
With the Sept. 3 win vs. Fordham, Pasqualoni is now tied for first in league history in overall wins with 108 and as Beamer also has 108.
Connecticut boasts a 41-19 record against non-conference opponents
in the regular season since making the move to the FBS in
2002.
The Huskies have won 16 of their last 22 regular season non-league games overall with the only blemishes coming via a one-point loss at Virginia (17-16) in 2007, losses to North Carolina in 2008 and '09, Michigan and Temple in '10 and Vanderbilt in '11.
UConn has posted the following records in non-conference regular season games: 6-6 (2002), 9-3 (2003), 4-1 (2004), 3-1 (2005), 3-2 (2006), 4-1 (2007), 4-1 (2008), 4-1 (2009), 3-2 (2010) and 1-1 (2011).
A number of members of the 2011 Huskies were named to preseason "Watch Lists" for 2011. They are:
Sophomore Tight End Ryan Griffin (Londonberry, N.H.)


John Mackey Award Watch List

Senior Kicker Dave Teggart (Northborough, Mass.)


Lou Groza Collegiate Placekicker Award

Senior Defensive Tackle Kendall Reyes (Nashua, N.H.)


Outland Trophy, given to the best interior lineman in the country
Bronko Nagurski Trophy, given to the best defensive player in the country;
Lombardi Award, given to the best offensive or defensive lineman in the country.

Senior center Moe Petrus (St. Laurent, Que.)


Outland Trophy
Lombardi Award

Senior offensive tackle Mike Ryan (Tamaqua, Pa.)

Here are the categories where UConn is ranked in the top 40 in the 2011 NCAA statistics.
Rushing Defense – 19th at 69.00 (First in BIG EAST)
Pass. Eff. Defense – 15th at 88.07 (First in BIG EAST)
Total Defense – 10th at 214.00 (First in BIG EAST)
Scoring Defense – t22nd at 13.50 (Third in BIG EAST)
Pass Defense – 20th at 145.00 (First in BIG EAST)
Sacks – 14th at 4.00 (Second in BIG EAST)
Tackles For Loss – 9th at 9.00 (Second in BIG EAST
Individual leaders:
Rushing – Lyle McCombs, 12th at 129.50 (2nd in BIG EAST)
Scoring – Lyle McCombs, t15th at 12.00 (t2nd in BIG EAST)
Sacks – Sio Moore, t6th at 1.75 (First in BIG EAST)
TFL – Teddy Jennings, t6th at 2.50 (First in BIG EAST)
UConn is 26-15 in games following a loss since Oct. 26, 2002.
Dave Teggart's 105 extra points is tied for second in school history while Matt Nuzie had 124 from 2003-06. His 266 career points is first in school history and he topped that record on Saturday night vs. Vanderbilt.
UConn has now won ten consecutive games at Rentschler Field.
UConn presently stands at 40-12 all-time at Rentschler Field including a 23-4 mark in non-conference games.
Notes from this week's opponent Iowa State:

Here's video from Iowa State head coach Paul Rhoads' press conference on the game. Here's video from DB Leonard Johnson and P Kirby Van Der Kamp and RB James White, WR Josh Lenz, WR Darius Reynolds. Here's transcripts of interviews from RB James White, WR Josh Lenz, WR Darius Reynolds and LB Jake Knott, LB AJ Klein, DB Leonard Johnson.
If you're an Iowa State alum planning on attending the game, there is a pregame tailgate being held.
The Cyclones return 16 starters (6 offense, 7 defense, 3 specialists) from the 2010 team that finished 5-7 overall and 3-5 in the Big 12.
For the second consecutive season, Iowa State's schedule will rank among the nation's toughest. According to Phil Steele's 2011 College Football Preview, Iowa State's schedule ranks sixth in difficulty.
Iowa State is 12-1 under head coach Paul Rhoads when holding teams under 24 points and 2-12 when allowing more than 24 points. The 52-38 win over Texas Tech in 2010 broke the mold.
CYCLONES ON WATCH LISTS
Jake Knott
Butkus Award (Most Outstanding LB)
Rotary Lombardi Award (Most Outstanding Lineman)
Nagurski Award (Nation's Best Def. Player)
Bednarik Award (Nation's Top Def. Player)
Kelechi Osemele
Rotary Lombardi Award (Most Outstanding Lineman)
Outland Trophy (Nation's Best Interior Lineman)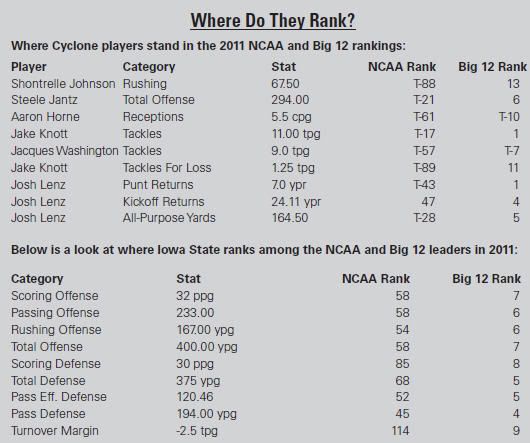 Thursday UConn Football Links:
Big East mailblog [Andrea Adelson – ESPN.com]
Thoughts, Prayers And Get-Well-Soon Wishes To Marcus Easley [Desmond Conner – Hartford Courant]
Pasqualoni Presser Notes And Updates Leading Into Iowa State [Desmond Conner – Hartford Courant]
Catching up on the week [Joe Perez – Norwich Bulletin]
An update from Coach P: 3 QB's still 'ready' [Neill Ostrout – CT Post]
Game Preview – Connecticut vs. Iowa State [BigEast.org]
UConn vs. Iowa State: Who has the edge? [CT Post]
Pasqualoni Still Plans On 3 QBs Against Iowa State [Hartford Courant]
Expecting Moore [Journal Inquirer]
West Haven resident, UConn grad Donald Thomas signs with New England [New Haven Register]
Cyclones must avoid Cy-Hawk hangover at Connecticut [Times-Republican.com]
This won't be a typical Friday night for Rhoads family [Des Moines Register]
Next Week:
The Huskies will head to Buffalo, NY to take on the Buffalo Bulls next Saturday night (9/24) at 6 p.m.
Follow Ian on Twitter @soxanddawgs. And be sure to like us on Facebook as well.