The No. 1 UConn Huskies women's basketball team may be in Cancun right now enjoying some fun and sun. But when it comes to the game of basketball they are all business.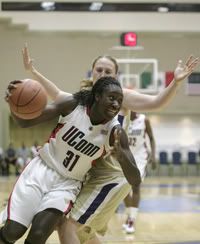 Behind the hot hands of Tina Charles and Maya Moore, UConn rolled to an easy 109-51 victory over the Washington Huskies in the Caribbean Classic at the Moon Palace Resort in Cancun. The win for UConn raises their record to 8-0 while Washington drops to 3-4.
Charles had a great night from the floor for UConn as she hit her first 11 baskets and finished shooting 13-of-15 for 29 points. She also pulled down 8 rebounds. Maya Moore had another double-double, her 4th of the season, with 23 points and 14 rebounds. Tahirah Williams came off the bench to score 13 points and pull down 8 rebounds while Tiffany Hayes had 10 points. Renee Montgomery added 9 points and 6 assists while Kaili McLaren had a good all-around game with 8 points, 9 rebounds and 5 assists.
Washington was led by Sara Moisman who had 11 points. Laura McLellan was the only other player for Washington in double digits with 10 points. Heidi McNeill pulled down a team-high 5 rebounds while adding 5 points.
This game was pretty much over after tip-off as UConn rolled out to a big early behind the play of Charles who just demanded the ball down in the post. Her teammates got her the ball often to help put Washington out of their misery.
Next up for UConn is a date with the Northern Colorado Bears tomorrow night in the Carribbean Classic. Tip-off is scheduled for 7 PM and the game will be televised locally on CPTV. By the way, former UConn Husky Paige Sauer is an assistant coach with the Bears.
Notes and musings:
Washington Huskies vs UConn Huskies  Caribbean Challenge 12.18.08 box score
The starters were Renee Montgomery, Caroline Doty, Kalana Greene, Maya Moore and Tina Charles.
Through no fault of their own, WTIC-1080 AM had some problems with the radio broadcast. The issues were on the Caribbean Classic's end. For a while, Bob Joyce and Kara Wolters were calling through phones.
UConn was without Meghan Gardler today because of the head injury she suffered in practice yesterday.
This was the first time in 316 games that a UConn women's game wasn't televised either locally, regionally or nationally.
After shooting 70% percent in the first half, UConn finished the game shooting 64.2% (43-of-67). Washington had a rough go of things shooting just 26.3% (20-of-76).
Both teams were horrendous from behind the arc. UConn was 3-of-15 (20%). Washington was 3-of-21 (14.3%).
UConn was 2o-of-27 (74.1%)  from the charity stripe.
UConn scored 30 points off of 15 Washington turnovers. They committed 14 of their own.
UConn won the battle of the boards 56-30.
UConn outscored Washington 64-22 in the paint.