This is crazy. Two weeks in a row now I've ran into some cool dudes who actually wanted to talk, WITH ME!, about Vikings football! Of course, these were guys just fishing for page views, but hey, so am I. Last week we talked with the Bloguin writer from Saints Nation about how everyone in the world thinks the Saints are terrible people. This week, I discussed some finer points about American Football with the writer from Phins Phocus (punny name!) over several cordial e-mails back and forth to each other, while we were both eating braised duck and sipped port out of decanters our wives have managed. This time, we just shot five questions each back and forth to each other covering match-ups, Jennifer Lopez, Greg Camarillo, and many other items. So get to reading, and stop by their site to give them hell this weekend …
Phins Phocus: From an outsider's prospective, Brett Favre looked a little rusty against the Saints. Do you fear that he's finally about to fall off, or do you think his struggles had more to do with the Saints' blitz happy defense, or Sydney Rice being out of the lineup? Do you see Favre and company bouncing back in a big way against the Dolphins' secondary?
Purple Jesus Diaries: Do the Dolphins have a secondary? Didn't they draft Vontae Davis who may be eligible to receive Social Security Disability because of his IQ? Regardless, yes, Favre looked like garbage. I don't think it had anything to do with Sidney Rice, though. Favre apparently always starts off slow over the first two weeks then picks things up. That's not an excuse though. If he knew this, and knew the Vikings offense was in flux, he should have shown up earlier if he was SERIOUS about winning a Super Bowl this year. I think they'll try to get the passing offense rolling this week if the Dolphins pass D is weak, but I think with what we saw from Adrian Peterson that Childress would be smarter to run him all game long. Of course, Childress is an idiot too …
What is Dolphin lands general feeling about Chad Henne? Is he really the answer at QB for you guys? Can he get the ball to Brandon Marshall? Or is he victim of not enough offensive weapons?
PP: I don't think the excuse "not having enough offensive weapons" can still apply here. I mean what more does the guy need. A top five rushing attack and one of the league's best young wide receivers should be enough support to get the job done. With all the pieces in place, he's either going to emerge as a franchise quarterback, or he isn't. I'm not going to say this is his make or break year, but if he hasn't became a top 10 quarterback by the end of next season, he hasn't lived up to expectations. He has the physical tools to do it, most notably elite arm strength, but he can't get caught locking onto targets anymore, and needs to develop a little touch on the short to intermediate throws. Fans are beginning to become a little restless after a conservative outing against the Bills, but considering that you have to air it out to beat the Vikings, we should get our best indicator of how much improved Henne is in year two as the starter on Sunday.
This will be the Dolphins' first game against Adrian Peterson. They held Buffalo's trio of backs to a mere 50 yards last week, but AP is obviously a different animal. With the passing game struggling a little bit, do you expect the Vikings to try and get it going, or turn to increasing Peterson's workload? Do you believe his fumbling problems are a thing of the past, or something the Vikings will just have to deal with?
PJD: I don't put any stock into Peterson's fumbling. People make a big deal out of it, but it's something he'll correct. It's kind of like when you get with a hot chick for the first time and you're REAAALLLLY trying not to be premature … the more you think about it, the more likely it'll happen, so I think Peterson is pretty nonchalant about it and doesn't worry about it. Nor will I. As said, the Vikes SHOULD run him more this week, but I bet they'll feel confident with Favre at home and be split pretty 50-50, which of course will make it a close game in the end.
The Dolphins and Vikings made a big trade recently with Benny Sapp going to Miami for Greg Camarillo. Anything you can tell us about Camarillo as someone who has watched him for a while?
PP: Camarillo is a classic case of over achievement. He isn't as physically gifted as most NFL receivers, but comes to work every game, is a fundamentally sound route-runner, catches everything in his vicinity, and is as reliable as they come on third down. The guy didn't drop a ball last year. 50 receptions, zero drops. Oh, and if you ever find yourself winless in December, he's going to save the day, your season, and any pride your franchise might have left with a 64-yard game winning touchdown in overtime.
Everybody knows that the Vikings have had one of the better run defenses in the league for years now. If you were the Dolphins, how exactly would you go about trying to get Ronnie Brown and Ricky Williams going? We know the Williams brothers make up a brick wall in the middle. Do offenses ever have success testing the edge?
PJD: While the Vikes have been stout against the run in years past, I think they are starting to taper off. The Saints showed that with a hefty offensive line that you can run straight up the middle. A lot of this is Pat Williams getting older than Moses, and EJ Henderson still a bit timid at linebacker after his thigh got busted up last year. I think these are things the Vikings D coordinator, Leslie Frazier, will correct as time goes on, but defensive line is one of the Vikings deepest positions. If anything, they're more susceptible to counters, the WildCat and things like that, as the D ends like to rush the passer. Get them out of their assignments and the Dolphins could run effectively.
With Sparano and The Tuna running the show in South Beach, I am assuming the Miami defense is, and has, always been rather stout. I remember the last time the Vikings played in Miami they were made to look a fool. What are the D's strengths and weaknesses in your opinion?
PP: Actually, the defense as a whole was pretty mediocre last year, and the secondary was awful. Sparano and Parcells have emphasized defense since their arrival, but the addition of Mike Nolan as defensive coordinator finally has fans thinking the Dolphins are ready to emerge as one the top defenses in the league. Nolan took a Broncos' defense that finished a putrid 29th overall in 2008, and transformed them into the 7th overall unit a year ago. His exotic scheme makes all the difference. The pressure is going to come from everywhere, and your going to get all sorts of different looks. Nolan's scheme also tends to work better towards the beginning of the year, as teams don't have much film on it and don't quite know how to prepare for it. Dolphin fans are in the same boat. We saw it for one game, against an offense led by Trent Edwards. The Bills do have a pretty solid running game, though, and the Dolphins completely shut it down. I'm pretty confident that the run defense is legit. But the secondary still has something to prove. Maybe the pressure generated by the exotic blitz packages will be able to mask some of the deficiencies back there, but if I was an offensive coordinator I would test them early and often.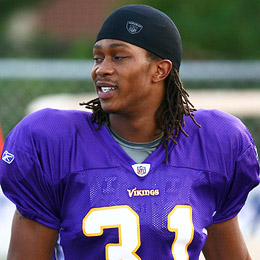 Many perceive that the only real weakness the Vikings have is their secondary. It's obviously hard to see much progress against an elite passing attack like the Saints, but do you think they will improve any this season? Would you abandon the run like the Saints did in the first-half Thursday night, if you were the Dolphins?
PJD: I wouldn't. I think things are starting to change a bit for the Vikings. The passing D is always so easy to piss on for the Vikings, but Winfield is healthy and a heavy hitter, Asher Allen is coming up, and they have a veteran in Lito Shepperd who isn't GREAT, but certainly serviceable. As the year goes on, they'll have 2010 2nd round pick Chris Cook come back (he was already practicing this week), who looks to be a tall, strong, stud ala Hugh Jackman (what?) as well as last year's starter Cedric Griffin. If people stay healthy, by year's end, the CBs may be the Vikings strength. The Safety position is another matter though, as all the team's safeties couldn't pass a standardized reading test. Strikes down the middle of the field could work.
The Dolphins are also known for running the Wild Cat. Is that something you see them trying to take advantage of this week, or are NFL defenses starting to prep to much for that gimmick and the Dolphins are just running the ball effectively now-a-days?
PP: There's that word again. You can call it a gimmick all you want, but they're going to line up and smack you in the mouth with it. A gimmick is something you do to deceive your opponent. There's really no secret at what the Dolphins are trying to do with the Wildcat. It's a power running formation, and nothing more. Sure, they throw out of it every once in a blue moon just to keep the defense honest, but 99% of the time it's either going to be Ronnie with the keeper, or Ricky taking the sweep to the edge. Will defenses begin to stop it consistently this year? Well, defensive coordinators had a whole offseason to study it last year, and it was just as good in 09′ as it was in 08′. That's before Ronnie was hurt I will add. That's because Ronnie makes the thing work. He has the perfect blend of athleticism and power to make plays out of nothing, and his patience and vision always allow him to determine where the hole is going to be. Defenses can prep all they want for it, but at the end of the day, it's going to come down to the individual battles at the line of scrimmage and the defense's ability to diagnose the play as it happens, not as a reaction to whoever has the ball. As for Sunday, because it's difficult to just line up and run on the Vikings' front seven, we may see a little more of the Wildcat than we saw last week. Getting the ball in Ricky's hands on the sweep is a good way to attack the perimeter, and the misdirection may free up some lanes on the inside for Ronnie to work with.
Finally, who do you see winning this game and why?
PJD: I find it hard to imagine a Vikings team this talented, this ready for a Super Bowl, is going to lose back to back games, with one of them being a home opener. The Metrodome, aka, Zygi's Hood, is a tough place to play regardless (They didn't lose there last season), and I don't see them losing the opener. I predict a 27-17 win for the Vikings, largely because I don't know how great the Dolphins offense really can be against the Vikings, on the road, in the second week of the season. Maybe I just don't trust Henne that much. Of course, this all goes out the window if Childress starts calling plays like he was last week. It could end up being a nail biter real quick.
Finally for me, feelings on J-Lo as part owner? Oh, and your game prediction, too.
PP: Hey, if she can somehow get the Latino culture in Miami interested in football, I'm all for it. Make fun all you want, but she's way hotter than that Zygi dude. As for the game, I have a feeling the Dolphins' defense is going to begin to surprise some people, but the Metrodome is just too tough of a place to play. I might go with the upset if this game was in Miami, but there's no way the Vikings are dropping to 0-2 on their home turf. In the end, I see the Vikings benefiting from a couple Dolphins' turnovers, and pulling away in the fourth.
Vikings 24 Dolphins 10
—–
Exciting stuff! Was this one asshole-ish enough for you soulless drones? Leave your takes on this week's Acting Cordial in the comments.