Once again, Purple Jesus Diaries is happy to work with a Bloguin NFL blog where we preview the upcoming Minnesota Viking football game through the eyes of an opponent. This week we talk with Buffalo Wins, a Buffalo Bills blog that is just as cursed as a Vikings fan blog. There's going to be lots of crying in this Q&A session. Make sure to visit their site at Buffalo Wins to read the questions I answered for them, which included a lot of Favre, Childress, and sucking defense talk. Today, I ask Buffalo Wins about their uniforms, QB play, and how much we all love Pat Williams and Antoine Winfield. On to being cordial!



Purple Jesus Diaries: There are a lot of similarities between the Bills and the Vikings. We're both in bone chilling cities, north of the pansy sun states, all love Winfield and Pat Williams, and have been Super Bowl snake bitten in the absolute worst ways. Could we potentially combine our teams to form a super team that could win a bunch of games, or do you think even then we'd still be like, third best in the AFC East? I'm not sure if combined we'd have a viable QB anywhere.
Buffalo Wins: So, the love boat meets Lake Erie, huh? I actually think our teams would fair pretty well if combined. Favre to Stevie Johnson might work. Frazier runs the defense and Gailey runs the offense. Then, if you add Kyle Williams to your front line, you are talking about a new age of purple people eaters. However, what would we do about the uniforms? I don't think purple and red would mix. However, as cold weather fans, we would have to play our home games outside at the Ralph. Oh, and lastly, Brett Favre must not be allowed to speak and ESPN would not be allowed to cover our team. [Ed. Note – These are all terms I can agree with.]
PJD: The Bills had probably the worst five game stretch to start the season in a while. Ever since you played the Ravens though, things have been looking up. What's been the reason for the turn around, in your opinion? Schedule, QB play from Fitzpatrick, coaching philosophy changes?

BW:

I think most of the credit has to go to Coach Gailey. When the Bills hired him in January, it was met with a collective groan from the Bills masses (Me included). However, the guy knows how to devise an offensive game plan. He called a great game last week against the Steelers, by spreading the field and relying on quick releases to slow down the Steelers pass rush. Plus, he's gotten so much out of Fitzpatrick, who really struggled last year for the Bills. This year, Fitzpatrick looks like a totally different QB. Yes, he throws some wounded ducks, but when he's on, he's really good. Fitzpatrick is on pace to pass for the 2nd most touchdowns in a single season for the Bills.

PJD: How do you feel about the current uniforms? Clearly the throwbacks you guys wear are superior to anything else in the league. Doesn't it break your heart you don't wear those all the time?

BW:

Honestly, I'm the wrong person to ask about uniforms. Frankly, the topic in Buffalo gets so much pub, that it makes me wonder if the majority of fans are writers for Vogue or In Style magazine [Ed. Note – Alright, settle down, homophobe!]. Because of the overkill on the topic, I kind of ignore it. However, I do believe that the old-school jerseys are way better than the clown outfits.
PJD: What happened with Trent Edwards? His fall and lack of success really was spectacular. And kind of sad. Do you think Fitzpatrick has a future with the Bills, or will you be drafting Andrew Luck when the clock turns to the Bills?

BW:

Trent was a byproduct of being over-hyped during a 6-game stretch against bad teams (5-1 start in 2008). Once defenses caught up to his short passing game, it became easy to defend him because he rarely took chances down the field. He was terrible and should not have been the starter on opening day. He sucks! As for Fitzpatrick, worst case: He's the perfect bridge-gap QB to the next guy. I think if the Bills actually gave him some players on defense, they could be a playoff team. As far as Andrew Luck goes, I don't think the Bills are going to get the top pick, but if they did, they would be stupid to not select him. I think the bottom line in all of this is that the Bills are rebuilding and are about two years away from really being a contender. If they don't think there's a franchise QB out there in the offseason, then they should just stick with Fitzpatrick. The Bills shouldn't have to overplay their hand and reach for a QB, because they have so many other glaring needs.

PJD: The Bills also had coaching changes this last off season, yes? Despite the record, how are the fans feeling about the new coach and direction?

BW:

Fans are really excited about Gailey. You have understand, the Bills offense has been terrible over the last 8 seasons. They haven't ranked higher than 25th in the NFL in total offense since 2003. Before this season, the last time a QB threw for 20 touchdowns in a season was Drew Bledsoe in 2002. So, it's been terrible to watch this offense over the years. I think fans feel that Gailey just needs a couple more parts (IE: Defensive ends or LBs) to really get this thing turned around.
PJD: What are the Bills strengths and weaknesses? Specifically, my understanding is that the offensive line has always been hurting (or at least for some years now) and the defense has always been pretty stout. Do those perceptions hold true, or are there other team concerns as a fan?
BW: The offensive line has actually played better as of late. Last week, Fitzpatrick dropped back to pass 45 times against the Steelers furious pass rush, yet, he only got sacked twice. I think the team's biggest weaknesses are the linebacking core and the inability to stop the run. The Bills are ranked 32nd in rush defense and I'm sure the Vikings running backs are licking their chops at the bit to run through the Bills defense. I think the reasoning for the Bills inability to stop the run has to do with the linebackers. If you look at the linebacking core, the majority of them are journeymen or low round draft picks. The guys just aren't fast enough to make plays in the backfield and shoot the gaps. I think the Bills biggest strength is that their secondary can hold its own against the pass. Currently, they rank 11th against the pass and really have some decent depth at defensive back. I also think the Bills have a lot of heart, as they could have easily packed it in against the Steelers and Bengals, when they were outplayed in 1st half of both of those games [Ed. Note – I'm surprised they aren't Peter King's favorite team!].
PJD: I really hope Steve Johnson takes some time to find God again. Crap, that kid was wrecked after last week's drop. What a heart breaker.

BW:
Um, yeah. That loss hurt…A LOT. However, Stevie is a good kid, who many believe has a good head on his shoulders. He will be back and whatever doesn't kill you, will make you stronger. BTW, the whole God thing on twitter was totally overblown. All the guy did was ask God "why?" He didn't blame the guy upstairs, as I'm sure God had better things to do than watch the Bills game.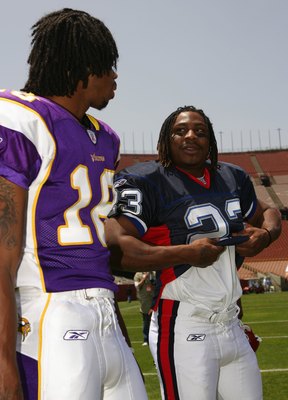 PJD: What's your prediction for the game?

BW:

I think the Vikings being at home, which happens to be the first home game under Leslie Frazier will be a huge factor. I'm sure the team is going to be pretty amped up. I think the key to this game is all about line play. Like I said earlier, the Bills are terrible against the run and the Vikings have an all-world offensive line that can open up truck size holes [Ed. Note – Erm, wat?]. On the flip side, the Vikings defensive line consists of the whose who of defensive players. I think the Vikings win because their lines are better than the Bills.
Vikings 26
Bills 20
—–
Thanks again to Buffalo Wins for answering the big Qs this week, and remember to head over there to chastise him for calling the Vikings offensive line all-world. I hope the Buffalo coaches think that too!