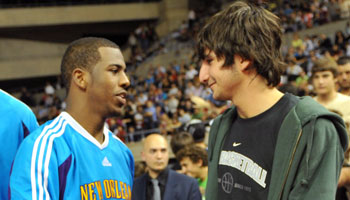 It'll make sense, trust me …
NFL fans, and sports fans in general, like to compare athletes to each other in a variety of ways. Hey, was Babe Ruth a better player than Barry Bonds? Do you think Kevin Love could out-rebound George Mikan? Who was the worse safety, Tyrell Johnson or Brian Russell? Well, there are also other ways to debate athletes, even athletes who play completely different positions on the same team and aren't even comparable … except for looking at the tail they pull.
PJD Presents … WHO YA GOT – ATHLETE TAIL EDITION!
Well, sorry to break the news to you, but we're actually just comparing Minnesota Vikings safety Eric Frampton and "offensive tackle" Bryant McKinnie by looking at women they have been seen with. I'll present the visual evidence for you, make some remarks, and then let you decide:
ERIC FRAMPTON (The whitest name for a black guy?): Image pulled from his Twitter account, BTW, LOL!
BRYANT MCKINNIE:
GAH! WHAT THE HELL MAN!
OK, to be fair, McKinnie has been seen with some attractive fem bots before, but don't let that fool you. They're are all clearly high maintenance women with a whole lot of crazy behind their eyes. Honestly, I just wanted to post this because I saw Eric Frampton's Twitter picture and was like DAMN! HE LOOKS NORMAL! And his lady friend is pretty smokin' too. Kind of looks like a younger Audra McDonald from that show "Private Practice." How do I know about that show? Fuck you, that's how.
Anyway, what are your thoughts, outside of McKinnie clearly sucks at football. Wouldn't you think for a guy who pines himself as a celebrity this much that he would pull hotter tail? Maybe the women are all on to him … Not in that way, though … on to him, like, they know he sucks too … …. or whatever. Nevermind.