Camp Wrap-Up Conclusions:
With the first preseason game in the books, my time covering Vikings training camp for PJD has come to an end. I did, however, promise one more wrap-up post… So what I've done is I've taken my observations throughout my week at camp and tied in how each player performed Friday night to come up with some conclusions and predictions for the 53 man roster.
QB: Christian Ponder, Matt Cassel, (Webb)
Explanation: The first two spots are a lock (not that I'm happy about it). The interesting dilemma that has been tossed around here is keeping Webb as a wide receiver, but also the back-up quarterback. I don't think Bethel McLeod Thompson did himself any favors in Friday's game. He was 4-9 for 26 yards.
RB: Adrian Peterson, Toby Gerhart
Explanation: I'm going out on a limb on this prediction too. Yes, I'm high on Zach Line after Friday's run, but is there really a need to keep 3 RB's when one of them is AP? I think Zach Line poses himself as a hybrid RB/FB combination. Plus, we really need more blocking than back-ups.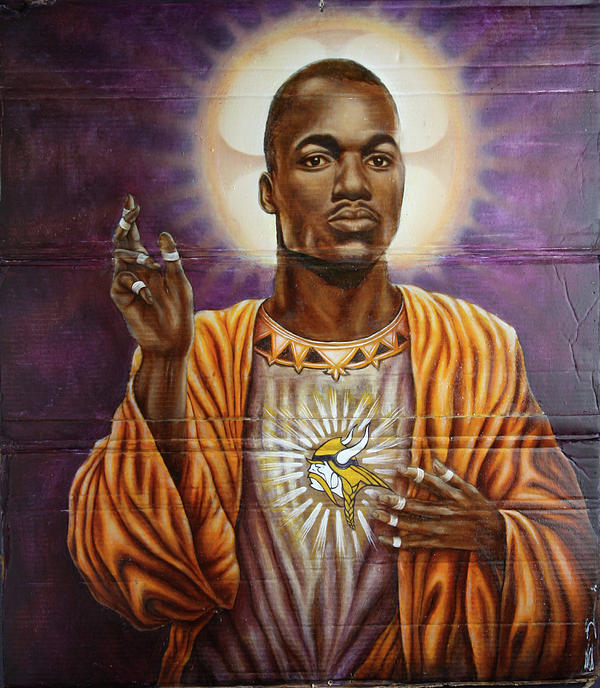 FB: Jerome Felton, Zach Line
Explanation: Felton is a pro-bowler, Line is just added protection.
SE: Greg Jennings, Jarius Wright, Joe Webb
Explanation: I'm going to keep Joe in this prediction… for now. I think that could rapidly change dependent on the next three preseason games. He had an average night on Friday, catching 2 passes for 11 yards.
FL: Jerome Simpson, Cordarelle Patterson, Stephen Burton
Explanation: I wasn't expecting Burton to make the team this year, prior to checking him out at training camp and in game coverage. However, Burton has impressed me. I've heard that Burton tends to practice better than he plays. But, he proved himself in the first preseason game, hence he's here.
TE: Kyle Rudolph, John Carlson, Rhett Ellison
Explanation: These three are solid locks. No explanation needed. Rhett has more to his passing game than you'd expect.
LT: Matt Kalil, Troy Kropog
LG: Charlie Johnson, Travis Bond
C: John Sullivan, Joe Berger
RG: Brandon Fusco, Jeff Baca
RT: Phil Loadholt, DeMarcus Love
Explanation O-Line: I didn't want to include DeMarcus Love. However, when looking at the other potential options, he was really my only choice. Hope for no injuries this year, because our back-up line options are terrible. You might have noticed that Friday night, as I did.
DT: Kevin Williams, Sharrif Floyd
NT: Letroy Guion, Fred Evans
LDE: Brian Robison, Everson Griffen
RDE: Jared Allen, Christian Ballard
Explanation D-Line: I actually think the spot behind Allen is wide open. Reed has the speed and youth that the coaches are looking for. However, he never really stood out in practice or in game tape to me. I think Christian Ballard locks up that spot. I don't pay constant attention to his game, but he makes small plays here and there that add up to a solid performance.
(Don't You Miss These Days?)
WLB: Desmond Bishop, Marvin Mitchell
SLB: Chad Greenway, Gerald Hodges
MLB: Erin Henderson, Michael Mauti, Audie Cole
Explanation Linebackers: This was the toughest group for me. Will Desmond take a snap? And if he doesn't… what then? I had to cut a few names that I actually like better than the rookies. However, rookie potential tends to be favored over vets or 2-3 year players. Watch out for Larry Dean… he had one of the best camp performances to me. I don't like Audie Cole on the team (I don't like his hair cut either), I might like to substitute him for Tyrone McKenzie.
LCB: Xavier Rhodes, Josh Robinson, Marcus Sherels
RCB: Chris Cook, AJ Jefferson, Bobby Felder
Explanation Cornerbacks: I had this list down to 5 cornerbacks. However, I just can't keep Bobby Felder off of it. I think, after his stand-out camp performance, he should be given the opportunity this year. It would be help if he had return ability. Sherels has it, and that might bump Felder off the roster.
SS: Jamarca Sanford, Mistral Raymond
FS: Harrison Smith, Robert Blanton
Explanation Safeties: I like Sanford to start all year round. Although, Raymond was much more of a vocal leader than you'd imagine at camp. The media has been relatively quiet on covering him this year. He seems motivated to win the starting job back. On the other hand, Blanton has been speculated to overtake Sanford and win the starting job. I doubt that. He is no where near ready to compete for that. He's not the second coming of Harrison Smith, as many assume.
K: Blair Walsh
P: Jeff Locke
LS: Cullen Loeffler
PUP: Greg Childs
Instead of writing out a long exhaustive summary of my analysis of the team as a whole, I decided to take a few questions that the readers sent me via email and answer them for you. If you have further questions, send me a note and I'll add them to the article (Cbrusoewriter@gmail.com). Thanks again and hopefully you can continue to follow me at @Cbrusoewriter and onwards as I continue my struggle as a freelance sports junkie. I heard a Vikings Coverage position just opened up at the Strib?
Fan Mailbag:
Q: "… Cristy – lovin' your stuff on PJD …
Ok, maybe you can help me out – when I see the upgrades at most areas on the team (hey, don't ruin my delusions – yes upgrades) I get really excited about this season – and living in the Chicago area and having to deal with the Bear fans I need all the excitement I can get – oh yeah, back to you helping me out. When I see the upgrades I eventually? always? get to Ponder and I have to temper my enthusiasm. What do you recommend me adding to my purple kool-aid so I can drink freely and not come to the conclusion that he will be the one thing that will hold the team back and I will have to – once again – go to that dark corner in my house and sob uncontrollably?"
My Take: Hey Peter… I appreciate the note! Seriously, feedback keeps me going! And I'm so sorry about living in Chicago… I'm not a huge fan of the city or the Bears for that matter. To be honest… I see Ponder as not having reached his limits yet. With that said, I'm not sure how high his ceiling is. I was a huge fan of him coming out of college. In fact, I recall writing an article for Bleacher Report before his NFL draft, citing how I thought he was the perfect fit for the Vikings. And low-and-behold… he was drafted by them. I believe what we see of Ponder the first few games of this year… will be it. By that I mean, he is what he is. And although I think he will be better this year (his decision making will be better), I'm not sure he will ever be a franchise quarterback. With that said (to keep things optimistic)… unlike many others… I never saw Joe Flacco as a franchise quarterback either. In fact, I think he's got a very similar skillset as Ponder. When you have AP, decent wide receivers that are apparently replaceable (Boldin) and one hell of a defense/special teams… do you really need a Franchise QB? I question that. Hopefully that helps. If not, let me know, and I'll go on and on about my love of Matt Cassel and him being our savior 😉
—–
Q: "Hi Cristy, is Patterson a better hands catcher than originally thought?"
My Take: I think that question was answered vs. Houston. I noticed it in camp, but wasn't sure how well it would translate to a game situation where DB's were in his face. So far… it looks like it translated well. With his high flying ability, the only thing to worry about with Patterson (similar to Jerome Simpson) is risk of injury.
—–
Q: "Do we have the best special teams in the league?"
My Take: Yes… I would like to believe that, as would the rest of the Vikings fans. I haven't had a chance to look at other team's special teams units. I do know this, we've statistically had some of the best special teams units since Priefer joined as coach. I can also tell you that they spend a significant time (hour or 2) a day on special teams drills. Is that normal in other team's camps… that I don't know.
—–
Q: "Maybe Cole starts at LB this year? Or, am I a complete homer? He has to play this year. LOL."
My Take: I'm not a huge believer in Audie. I really liked the look of him last year, but something tells me he's too much of a mix between LB/DE… meaning… he's slower than our system allows for. I think he'd be better suited on a 3-4 defense. Although, I had in the 53 man roster and with the thinness of our linebacker group, yes there's probably a very good chance he gets playing time this year.
—–
Q: "Who was your favorite player to watch at camp? Who was the coolest dude you met?"
My Take: I enjoyed watching Bobby Felder (wrote a feature on him one of the days). He is faster in person and I'm secretly (or not so secretly) rooting for him to make the team. The nicest guy I met was Joe Banyard. I spoke to him twice, both times he greeted me, looked me in the eyes and asked me how I was. That's pretty rare for those guys, who are hot and tired and not really in the mood to talk to fans after a 2-3 hour practice. Chris Cook was the most surprising cool dude. He clearly has an eye for the ladies 🙂