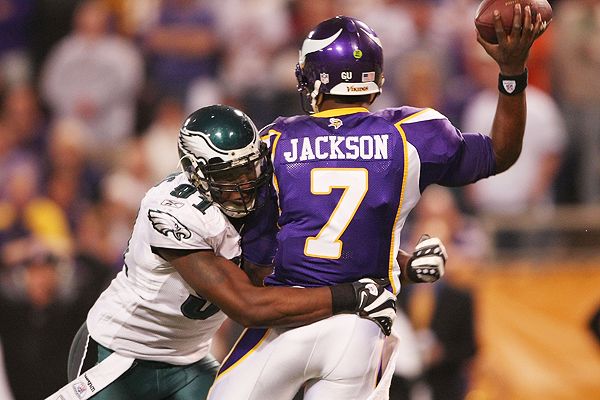 I was catching up on my daily Minnesota Vikings news, Dunkin' Donuts coffee in hand, other hand down my pants, when I came across this list at the Star Tribune of the entire collection of players who were and were not tendered under the old CBA rules which, again, probably won't mean jack once the players slap fight with owners for more money, or vice versa. The entire article here was about the tragic fall of our favorite TarVar: The Last Jump-Passer, but truly, his upcoming dismissal from the team isn't even the greatest news. Does your little eye see what my little eye sees?!?
"Here's a look at the tender offers the Vikings placed on a group of players who may or may not be restricted free agents under a new CBA:
S Husain Abdullah (three years experience): Second-round tender, $1.835 million
WR Hank Baskett (five years experience): Did not receive a tender and will be a free agent
OL Ryan Cook … [More no-name players that led us to six fucking wins – Ed.]
FB Naufahu Tahi (five years experience): Did not receive a tender and will be a free agent
RB Albert Young (two years experience): Did not receive an exclusive rights tender and will be a free agent"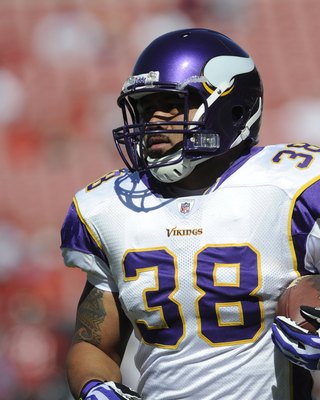 That's right jackwads, our long national nightmare is over! Naufahu Tahi will not be returning to the Vikings next year! I am just … I'm don't even know what to say. I never thought this day would come. Think of what this means:
No more third down and short plays to him out in the flat where he falls over Shiancoe's dick before getting the first down.
No more 12th man on the field!!!
No more blown blocking assignments forcing Purple Jesus to look like a bag of assholes because his blocking fullback doesn't know how to do his god damn job.
The Vikings will potentially be drafting a Hawaiian or trading for Troy Polomalu because we have to have a Polynesian on the team.
I would be lying to you if I said I didn't kind of get a bit teary thinking about how he'll never be seen in purple again. I think out of all the worthless players the Vikings had in 2010, and really beyond over the past several years, he's been so very high up my list, right next to Ryan Cook (who actually dropped back down to a zero rating or indifference this past year for some reason), , McKinnie, Tyrell Johnson and Hank Baskett. Bouncing him and TarVar to the curb are just wonderful, amazing signs that the Vikings are cleaning shop and getting rid of Childress approved players. This, of course, means we may have a chance to win in the future!

And while I also admit I have a tinge of regret seeing TarVar go, I know truly deep down that I can't wait to not have my one ticket purchase every five years go towards paying his salary. With that being said, I will also never forget his jump passes, his mouth full of marbles, his injury propensity, and this amazing, amazing feat of ineptitude:
lhVS13WNTtk[/youtube]
God speed, assholes!