They count for like a half in the North Division, right? You know, I was driving down 5th street the other day and taking that weird weave off of 94, past the Dome where after the put the lightrail in you have to make a snap decision about if you want to head on Portland in the left lane or not, and I hit that stop sign right by the Vikings Party Zone Lightrail stop or whatever it is. It's a nice little location because it's by the juvenile detention building, so you can occasionally catch some shit head teenagers looking like goofs walking around it, but it also has the Metrodome billboard and advertising sign (which hilariously pales in comparison to the Xcel's …). They show the details for the next Vikings home game always on there, and it flashed "Giants" as the next home opponent and I was like FINALLY! I was wondering when we were going to face our semi-division rival next, because we literally have played these assholes almost every year since 2000. Nine out of ten, at least. Through those years, they've had the upper hand in breaking our hearts (41-0! Tiki Barber being a dick!) and we've had some good times producing classic Manning face over the years (Darren Sharper with three interceptions!). All in all, I think this qualifies the Giants as being a division rival. However, rivals usually mean that there is some equality between the two teams, and while we've batted around regular season victors like a couple of kittens playing with pointless yarn, I'd say they have the upper hand with Super Bowl wins. But seriously, THIS weekend, this weekend man, this regular season game means EVERYTHING. …. OK, it doesn't, but really, if the Vikings lose they are mathematically eliminated from the playoffs then, assuming a couple things here and there, so that counts for something, yes? Hurray, meaningless football!
Thanks to DraftSeason from Rube Chat for another great game day graphic!

Will he or won't he start? All week long the talk has been whether or not Brett Favre will start for the Vikings after he hasn't been able to practice all week with it. Questions abound! Will his consecutive start streak end?! Will he never reach 300 consecutive starts?! Does he hate the OL for making this happen?! Is this a conspiracy to cover up a league suspension?! Well, no, that's most definitely not true, but Favre is in more jeopardy to start than I really gave this talk any credit for. It sounds like his arm is seriously fucked up, but I think all of us Vikings fans know that it's just more shovel loads of bullshit to give him attention. I have no doubt in my mind his flashing cock will start on the field, if only just to hand off a couple of times and throw some short passes to make it look like he really tried to give it the old college try. He just wanted to have fun out there, and when he couldn't have fun, he wanted to let TarVar jump around while passing the ball, but not after Favre got the start of course. Sure, sure, both Favre and Frazier have said that they wouldn't just start Favre just to start him, but come on. What are they supposed to say? "Yeah, we're just going to do everything we can to get Favre on that field so he can get the start, even though it'll be a meaningless start and we're just giving a big middle finger to the authenticity of a record." Not that I really care, I guess. Let him start and let the Giants' pass rush kill him. Then there will be no questions about it head into next week, unless they do the whole Weekend at Bernie's thing.

NFC North check in: I'm not going to really talk about the Lions, because whatever, but the Bears have an absolute brutal schedule coming up where I hope they get their shit packed so hard they have to eat nothing but fiber bars for two weeks. This weekend you know they're going to get blasted by the Patriots, and then next week they face a RESURGENT Vikings team on Monday night in the Zygi Dome, and then after that they play the Jets and the Packers, Packers on the road. Fuck that schedule. I am just WAITING for the Bears to be exposed as a bunch of shit heals. I don't know why this always happens, but any time the Bears do well it's usually in spite of themselves. When they went to the Super Bowl most recently? A ridiculous fluke. This year? They are the worst looking team I've seen since whatever was the last team that I played on by accident in gym class. What a disaster. And the Packers have to play the Lions (Meh), Patriots, Giants, and Bears. That's not easy either. I know playoffs or any type of success for the Vikings in 2010 is now a super dooper long shot, but it would make me a bit happy if either of these teams ended up sucking. Just for the record.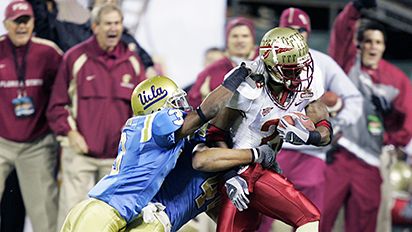 The Vikings signed something called a Lorenzo Booker: Lorenzo Booker signed with the Vikings this week after pouting about a $150,000 buyout from the UFL to join an NFL squad after that silly four game UFL season was over anyway. Eventually, the buyout/transfer fee was lowered to $25,000 which Booker apparently paid for by himself. That's like pocket jangle change to him and like three year's salary to me that your mom pays me to dig her out. Regardless, I suppose we have to look into Lorenzo now. First, know that Lorenzo is a pretty awesome name. Second, know that he is effectively taking the spot of Albert Young who was released, then not waived, but then put on IR by the Vikings this week after much hubbub about nothing. The Vikings have said you'll most likely see Booker as a third down specialist, which also means that Toby Gerhart can go die in an alley way. Fucking white guys. Also? Booker is only 26 years old. It seems like he's been around for ever. I don't know why. I remember him at Florida State, and peripherally remember him playing for the Eagles, but he also apparently was drafted by the Dolphins. Either way, his NFL time seems really short lived and yet now, here we are, with another former Eagle as a Viking. Jesus Christ. Let's hope he can at least chip on a blitz.

Meme of the week: The meme of the week is a failing little section we do in the weekly preview where we look at the best and brightest of internet toilet bowl humor and try to relate it to football and the Vikings in tired and lame ways. Since this started, you have met Bachelor Frog, Rich Raven, Politically Neutral Dog, Philosoraptor, Sexually Oblivious Rhino, Courage Wolf, Photobombing Daniel Craig, Conspiracy Psyduck, the Hitler video, Disaster Girl, Successful Black Guy, "Deal with it", and last week's Favre photoshop job of "Dat Ass." I enjoyed that one. This week we're going with Victory Baby. Victory Baby is KIND OF like Courage Wolf in that he's totally awesome and always successful, but with Victory Baby it's more of like stumbling into success. Like "Rufi girl? Shares drink with friend." That kind of success. Which also kind of reminds me of Brett Favre and his consecutive start streak, which is where the above image then comes in. Victory Baby is happy as shit that he just tricked the head coach into handing off the ball. Here comes 300, baby! Pun intended.

Scotch of the week: This week we're continuing with the more peaty tasting scotches. As an aside, afer I introduced the Highland Park 12 last week, I went out and bought a bottle of it randomly. It's really a fair scotch for the price. I got it for like $35, so if you're considering one, that's still on the table. This week, however, we're highlighting the Benromach 10 year from Speyside Highland. For people who need a bit of a weaker peat scotch to get introduced to the peaty bursts, this is a good one to start with. Scotch wise, it's nothing that will make your pants milk, but it's still nice. It's going to be a pale gold color and have hints of more of the forresty, smokey, peat than the heather and floral of the Highland Park. It also has buttery hints and is a bit sweet. Taste wise, it's very light, a little bit salty, and you can pick up on more of the sweet notes due to it being aged in a sherry cask. It's weak, though, as the finish doesn't really linger long. However, this also means that you can probably drink a whole lot of it and not even notice. Victory baby time??!

A dame from Nuevo York: See that picture above? It's a lie! The Giants don't actually have cheerleaders! Now, I'm usually very astute about photoshops and things, and while I can't really tell if this is photoshopped or not, it does at the very least look like a very, very, very shitty costume job, so terrible that the person who created it should probably be fired from their hobby. In fast, he's probably going about this all wrong. Clearly he's a terrible costume maker, but he apparently knows some attractive women who are hungry for portfolio items, so why isn't he just taking photos of women? What an idiot. Also, that ladies belly button is freaking me out, as are her veins on her hips. Those are like man veins, like steroid man veins. I'm going to go run now and masturbate in a closet.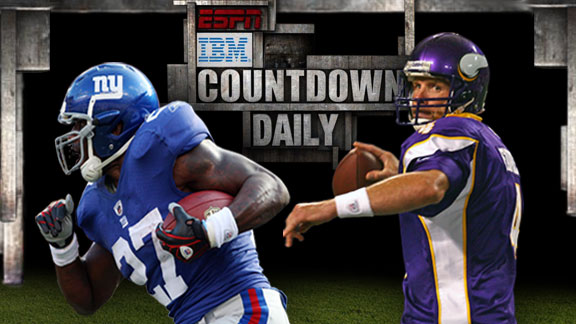 Waning season predictions: So we have to make a prediction on this game, as is customary, but it's really starting to become pointless. Oh we win and lose out on draft position, hurray. That's my general feelings right now on what is becoming a pointless season. However, the Giants are the first halfway decently put together team in what seems like weeks since we've last played one, so seeing how Frazier coaches against a said team should provide some interest. As I stated in Ultimate NYG's Q&A session this week, I think this game is just going to come down to health and the trenches. Health wise, the Vikings need Percy Harvin to run the underneath routes and probably need Favre as quarterback, although that may not matter as much with as shitty as he's been. On the other side, the Giants need their returning receivers to be in top notch health so they can play patty cake all day long against a weak group of Vikings defensive backs. Tied into this is the health of the Giants offensive line, which is down two starters, and how well the Vikings offensive line will play against a strong Giants rush defense. My guess is that they won't play well, which will obviously lead to Favre being killed on the field, which will be awesome. I expect to see TarVar in this game, and I don't expect Eli to have any issues with our safety play this time around. When Sunday settles, I fully anticipate another Vikings loss and the official end to the season, as the Giants win something like 31-24.
So … I guess that's kind of depressing, but uh … Enjoy the game regardless! And remember to follow us on Twitter as we post throughout the games, fan us on Facebook as we pop questions down over there, and always feel free to e-mail us photos of your sister after you've been spying on her. Which is creepy, dude, so I'll hold the evidence for you. Otherwise, enjoy the games, as the season is horribly winding down. See you Monday.