I for one, am excited…: Honestly, I an ecstatic for this game. In a season where we've sent three scruffy douche bags to Mississippi to stiff arm a 41 year old to come play QB for our team, where we got bamboozled by the Patriots for a third round pick to get one of the greatest Vikings ever to come back to our team only to release him, got our coach fired, maybe killed the 41 year old for good, and in which Purple Jesus hasn't fumbled the football once, why NOT add a little bit of novelty to the rest of the season (especially after being eliminated from post season play) and play a football game in Minnesota outside when we're threatened to get four to eight inches of snow? That sounds fucking awesome, and I for one am very excited about this. I mean, really, when was the last time entertaining football of this caliber was even ever played in TCF Bank Stadium? Against the University of South Dakota? "TOUCHDOWN, YOTES!" Football in the elements, snow on the field, unusual circumstances for an NFL game … I'm all for it. And if ANY of you readers want ME to attend the game with you (after you save a seat for me and such) I will not only PAY the equivalent upper level face value of your ticket, but I will also smuggle in a flask of expensive scotch and share it with you in the stands. Also, FYI if you're going, word on the street is that if you wear insulated boots and put bubble wrap between your feet and the ground, you actually stay pretty warm since the thing that gets you coldest is standing for prolonged periods of time on the concrete, not the actual air temp around you. I share this, and potentially scotch with you, as this, just, RIDICULOUS, Minnesota Vikings football season come to it's only logical conclusion;
Someone's death on the frozen field from a neck injury.
Special thanks to sharkjohnson on Rube Chat for another game day preview graphic!

… Even though someone is sure to die: Yeah, it's going to happen. Chris Kluwe was pretty visceral about this on Sunday as the Vikings went to TCF Bank and did a walk through on the field. Up until the walk through the Vikings apparently had a heating tarp covering the field since Friday, and they were PUMPING heat under the tarp to keep the thing from freezing. Within an hour and a half (or the equivalent of two quarters of televised football), the field apparently froze up again and turned to concrete. During a walk through. Now, I'm not scientist or anything, but my understanding that when the air temperature is below freezing that things can freeze, and often times freeze quickly. On top of that, I hear that frozen field turf can feel like concrete, and when some moving fast and with a lot of mass hits concrete in a bad way, someone dies. Sure, this could VERY LIKELY be the scenario tonight, and yes I'm crossing my fingers that Tahi slips at some point, but I really don't see it happening. You think that with the collective bargaining agreement up in the air, with the media and public all pussy farting about concussions, and with the Vikings already out of the playoffs, that ANYONE is going to be hitting hard enough to drop someone to this ice sheath for a concussion? Hell no. People are going to be fair catching on jump ball in the endzone. Purple Jesus will be taking a knee at the line of scrimmage when his blocks don't develop (if he even plays). Brett Favre is going to watch from the coaches box. No one cares. No one is going to get hurt, and I wish these assholes would just take their millions, shut up, and put on a god damn show for me so I don't have to watch manlier actors across the river at the Guthrie. FUCK.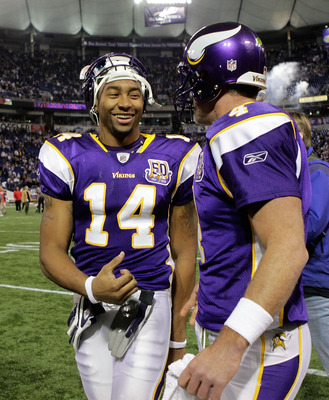 So let's see what Joe Webb has, I guess: I mean, why not, right? Spergeon Wynn style, here we go. I'm KIND of excited about Webb, but also know after years of vast experience that I shouldn't be. I mean, let's be honest here, the kid is no Matt Flynn, amirite gais?!! Sure, he's shown flashes of exciting plays in his short, four month professional career. His touchdown run in the preseason was spectacular (against third stringers), and his spot duty against the Giants last week was short but left us wanting more (like your small penis, you see). His deep pass to Rice was better than anything I've seen TarVar throw, and his action with his feet was enticing. Hell, even his opening kickoff return against the Bills looked amazing! It'll just be nice to see him on the field with an almost full complement of weapons at his disposal (Harvin has returned!). Of course, he's playing against the Bears defense this week who have just been annoyingly decent this year, and it's really been pissing me off. This Bears team sucks, they know it, and yet they're going to win this shit hole division because they get to play us and the Lions twice. Maybe Webb will have enough pocket presence to escape from a speeding Julius Peppers, but I imagine if anyone is going to get a concussion, it's going to be Webb from getting sacked after our abortion of an offensive line decides it's too cold to extend their arms to block a rusher. So good luck, sweet prince, but I won't hold out much hope for you.

This is all to honor the 50 greatest Vikings, BTW: The interesting niche for this game is that it comes during the weekend when the Vikings are honoring their self proclaimed 50 greatest Vikings during their 50 seasons of play. The Star Tribune has the full list here, and I for one am SHOCKED that Brett Favre didn't make the list. I mean, he at least needs an honorary trophy or something, right? Maybe shaped like a shoe? Even a Croc perhaps? There are lots of noticeable names if you've been damned long enough to enjoy this franchise. Personal favorites that jump out include Anthony Carter, Daunte, Cris Carter, Moss, Randle, and Winfield. Surprised Chuck Foreman isn't there, though. Other names I would have giggled over if they were included on this list include:
– Fred Smoot
– Wasswa Serwanga
– Ken Irvin
– Brian Russell
– Byron Chamberlain
– Kelly Campbell
– Jermaine Wiggins
– Chris Hovan
– Moe Williams
– Korey Stringer
Is this just a list of random Vikings I for some reason got kind of attached to that actually had fairly disappointing (or lethal!) careers? Yes, it is. Does that diminish the importance of their contributions to the Vikings organizations? ……… Kind of. Regardless, I'm sure you have some of your favorite Vikings that didn't make it on the official list as well. Feel free to add yours in the comments and then we can all ridicule each other. Fun times!

Meme of the week: The meme of the week is a failing little section we do in the weekly preview where we look at the best and brightest of internet toilet bowl humor and try to relate it to football and the Vikings in tired and lame ways. Since this started, you have met Bachelor Frog, Rich Raven, Politically Neutral Dog, Philosoraptor, Sexually Oblivious Rhino, Courage Wolf, Photobombing Daniel Craig, Conspiracy Psyduck, the Hitler video, Disaster Girl, Successful Black Guy, "Deal with it", "Dat Ass" and last week's crowd favorite Victory Baby. This week, we're turning a a classier meme called Joseph Ducreux and alternatively known as Archaic Rap. There are some fine (and classic) examples shown in the link, but some of my favorite Ducreux memes have been when people turn any kind of pop cultural phrase into some of his trademark sayings, as I did above for what should be a familiar Favre reference. If you're not laughing at this meme, I can only assume that your sensibilities are not as refined and that you are more a fan of poop and pee jokes. How sickly …. Kidding, kidding. Keep talking about wang bones, people.
Scotch of the week: This week's scotch is another one from the collection of peaty scotches throughout the month. As a reminder for you inbreds out there with a short attention span, peat is typically that smokey, salty flavor you get in earthier scotches. There are three kinds; 1. a heather, floral peat 2. a salty, briny sea water peat and 3. a smokey, campfire and foresty kind of peat. The scotch we're highlighting today is the smokey campfire peat, perfect to make it feel like you're belching fire while freezing your testicles off while watching a shitty Vikings game outside. It is the Bruichladich Peat from Islay, a younger distillery that has put together a collection of young scotches to sell early and make that cash, bitch. Because of this, this scotch doesn't get sold with an age on it, and also doesn't have a long, lingering finish. It hits you hard right away with that campfire taste, but then dissipated quickly because it's so young. …. I'm trying really hard at the same time to think of and not make a pedophile joke here, so if you got something about underaged banging and young scotch, feel free to add it in the comments. If not, purchase this scotch and stay warm at the game.

Frozen totties: Here is a picture of a Minnesota Vikings cheerleader firing a gun out in the cold while wearing a miniskirt with what I am assuming have to be some type of insulating tights as well. I have no idea why this is happening or where this is at (anyone recognize the billboard in the distance?) but chicks and guns can either go one of two ways; totally awesome or frighteningly wrong. If it's wrong, it's usually because it's bad porn where some tatted up body builder chick is finger banging herself with a loaded hand gun with the safety off. Hey, I don't make this shit up, I just disappoint my self by coming across it on the internet. Luckily, that is not happening here. My guess is that she's either taking aim at clay pigeons with Madieu Williams' face on it, or she's trying to shoot the Vikings flag down that is still hanging from Childress' house. Either way, I approve, but only wish that her poor soul would put on some kind of sweat pants perhaps so her who-ha doesn't freeze shut like a young clam in the depths of the sea.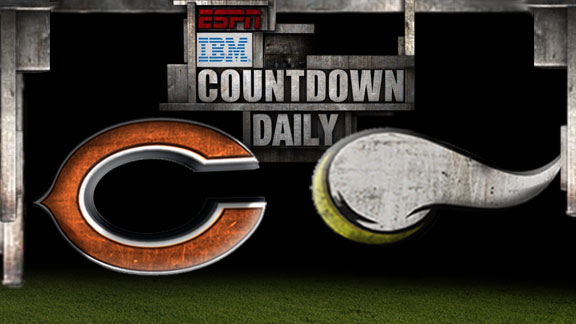 Ball freezing predictions: I've alluded to this already, but I'm pretty sure this is going to be a horrible game to watch both for the nation in primetime and also for the poor souls that end up actually attending the game. The Vikings absolutely do not care what happens in this game, and will fully play like it with the concerns over the frozen turf and all the distractions that have been going on this year. If I were any of these guys, I would be promising under table hand jobs to Frazier if he'd just forfeit the game so they didn't have to play it. That's pretty much the exact opposite of what I am expecting the Bears are going through, as they need to win this game to push the Packers further down the playoff ladder and keep pace with the Eagles for the potential number two seed in the playoffs. Fuck. These Bears are a two seed? That's how you know this season in the NFL sucks. Add all of this together with the fact that the Vikings are banged up at every position on the team, the Bears are getting healthy, are used to these conditions, have something to play for, and are playing against a rookie wide receiver quarterback getting his first NFL start, and on paper you are lined up for a shit show. However … I might just be stupid enough today to call a Vikings upset. Why? Because the Bears are going to overlook this game, Harvin is playing again which will make a world of difference, the playbook will be simplified for the rookie making the entire offense better, Purple Jesus is a Bear killer, and 50 odd years ago when the Vikings played their first NFL game, it was against a heavily favored Bears team that they ended up beating at the old Met Stadium. MAY HISTORY REPEAT???!!! Probably not. Bears win a slap fight, 28-13.
Enjoy the game folks, whether you're going or not. If you are going I would honestly love to have your recap of the atmosphere and ecperience to feature on PJD. And honestly, if you have an extra ticket I am not fucking joking around when I say I'd love to go with you in exchange for money and scotch. E-mail me those if you're so inclined, your invitations, or anything else you find of interest. As usual, find us on Twitter making fun of the Bears tonight, and check in on Facebook where we make random comments and people get all pissy too. Should be a good time. See you Tuesday for a recap.