I found out the hard way that "Family Fun Day" at Vikings Training Camp isn't the most ideal day for coverage. Saturday was also scrimmage day for the fans. I attended both walk through and the nightly scrimmage. I'm not sure if it was record breaking, but I heard that nearly 12,000 people attended last night's events. With that said, some expected players stood out and other unexpected players were the stars of last night's scrimmage.
Walk Through:
I stood in a line, 10 minutes long, to get into walk through. That should have been sign number one that it was going to be a jam packed day. Here is a quick recap of the highlights from yesterday's walk through session:
-The three musketeers sat out of today's activities: Raymond, Rhodes, and Bishop.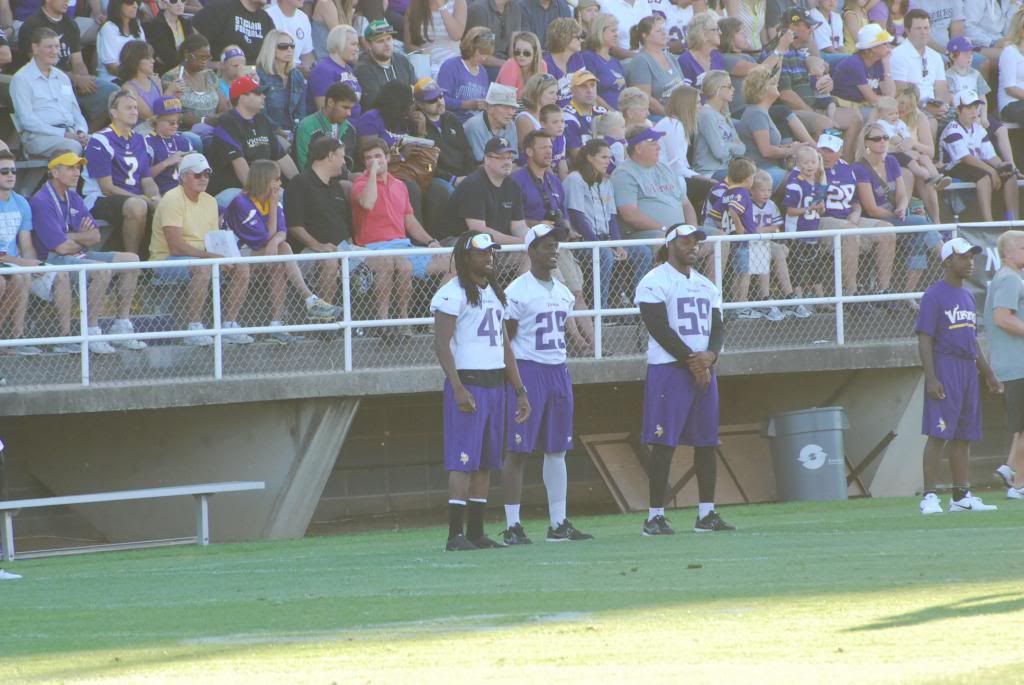 – Rhodes appeared to be favoring his right leg when appearing on the field. I was told later that he has had a hamstring issue. It's really nothing to be concerned about. He wasn't limping or having problems putting weight on it. He should be back on the field in a few days. Plus you know Eric Sugarman is taking care of him, hence the tweet about rehabbing player injuries before the morning session:
– I found the most entertaining thing about the morning walk through was Josh Robinson and Jamarca Sanford arguing with one another about who was taller. Both tried to inch the other out, but with Brandon Burton as judge… Robinson won out.
– It was the first time I noticed Michael Mauti out walking through things with the rest of the special teams group.
– AP and others arrived later into the session. Although no one got more applause than Jared Allen when he entered onto the field.
– Speaking of AP… he was rocking the old school purple Vikings hat when he walked onto the field. Everyone else was wearing a white hat.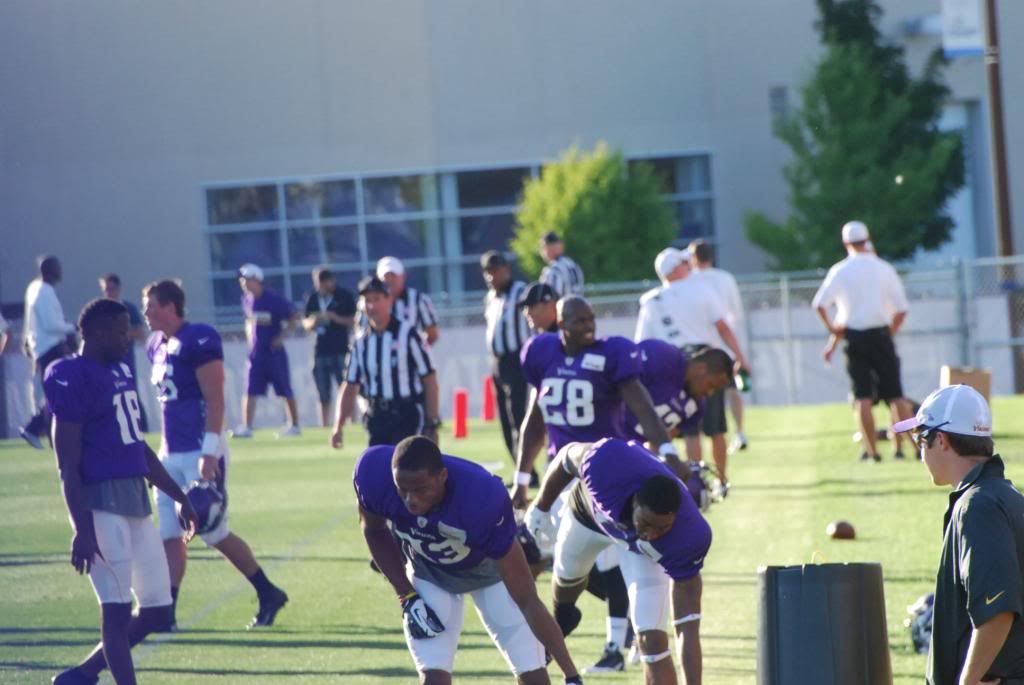 – Cordarrelle Patterson was noticeably, mostly for his highlighted dreads, but also his aqua blue shoes and socks.
– I got autographs from Harrison Smith and Chris Cook. Smith was silent and Cook was very friendly and great with the kids. I didn't expect that out of him, especially knowing his history. He was one of the players that took the most time to sign for everyone.
Scrimmage: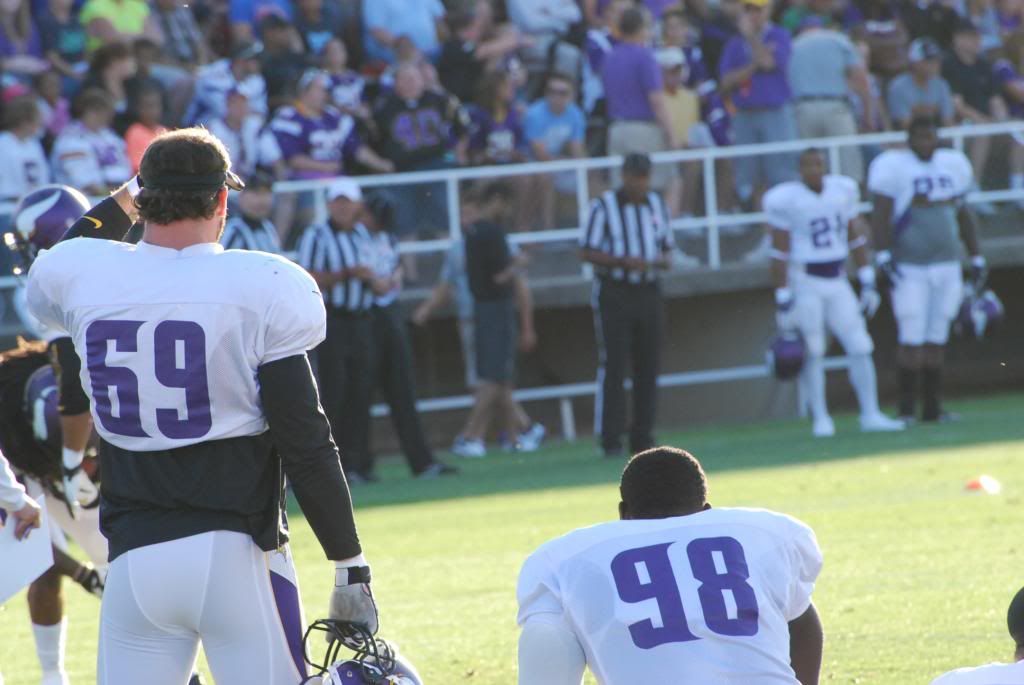 – The first hour of the night practice was spent warming up and working in position groups. Highlights are included below:
– Stephen Burton hasn't impressed me at all (in the return game) during the past week I've covered camp. He is quickly wrapped up and doesn't show a great change of direction.
– Bobby Felder on the other hand, does. Although I don't see Priefer taking advantage of that. Felder hasn't gotten many snaps as a returner and I'm not really sure why that is… as I stated on Twitter… he has shifty feet and quickness that isn't duplicated by anyone other than maybe AP.
– Jeff Locke had an outstanding punt that pinned Patterson within the 5 yard line.
– The highlight of the first hour of practice was the bunny that appeared on the field near the linebackers position drills. The little guy looked scared and unsure of where to go, hopping from one stand to another. Erin Henderson tried chasing him off, but the bunny hopped past him, causing the crowd to pop. The bunny got some of the loudest cheers of the night. We might need to try him out as back up running back…
GO BUNNY GO!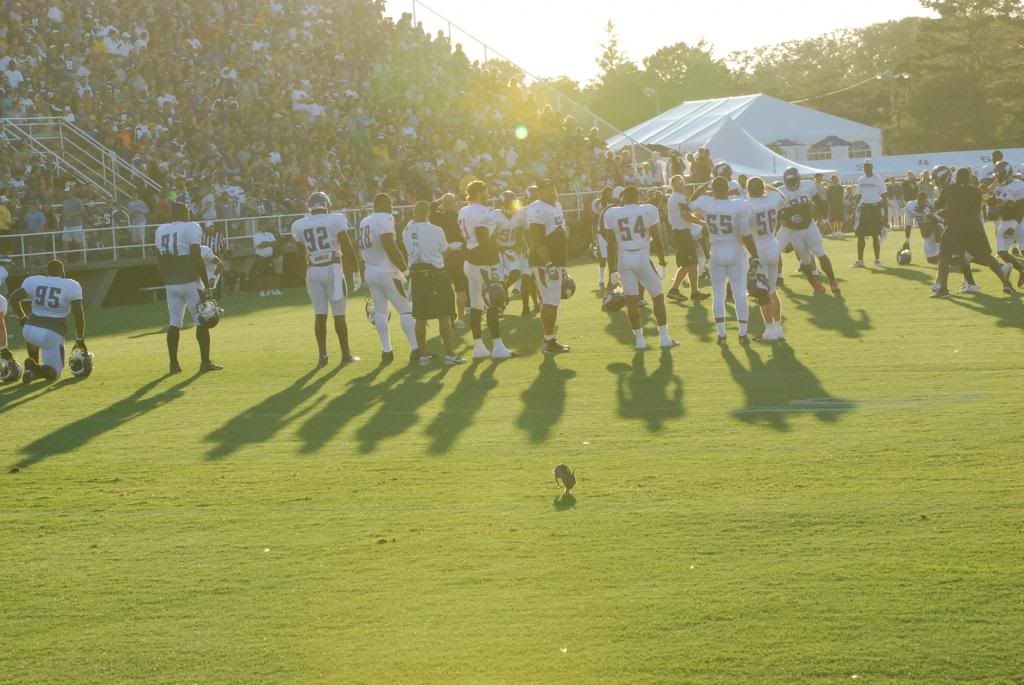 – When the actual scrimmage started, Toby solidified his place as a pass catching running back, taking a 3 yard pass from Ponder and turning it into 10 solid yards.
– Jennings had an overthrown pass by Ponder, fall off his fingers.
– This scrimmage made Cassel look slow. He was sacked and when he tried to scramble, he went no where.
– Joe Webb didn't really do himself any favors. He mishandled two catches that were pretty easy catches against a 2nd/3rd string defense.
– Bradley Randle had the play of the night. He took an outside handoff around the left side and ran down the sideline 60+ yards until he was finally pushed out of bounds around the 5. Randle showed straight-line speed.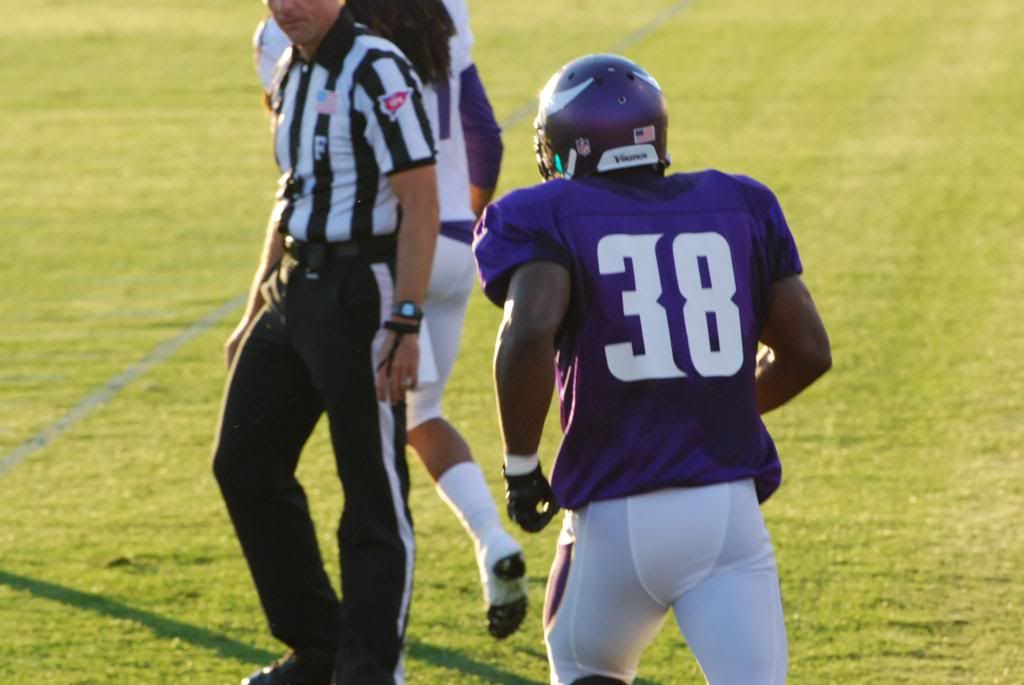 – Phil Loadholdt came up limping after one play. But, he went right back into the lineup the very next play.
– Kids who were far back behind the field goal posts were catching Blair Walsh's kicks. Walsh had an unusually shaky night. Although, hitting a 60 yarder helps solidify that foundation for you. He was 7/10.
– After a missed opportunity with Simpson the first time around, Ponder completed a 50 yard bomb to him to highlight his night.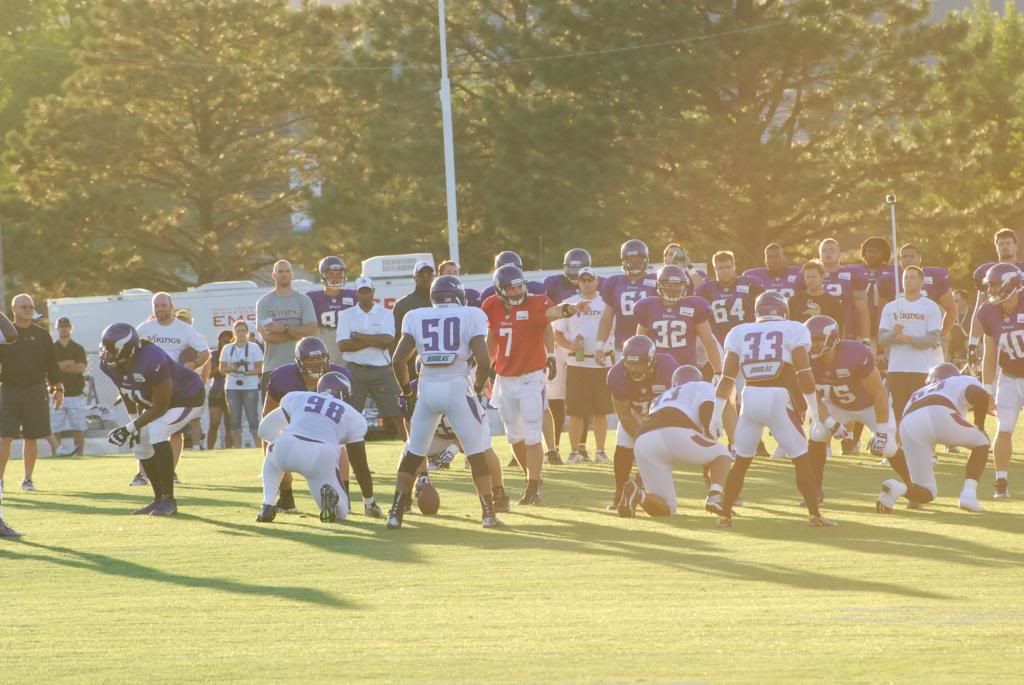 -Little known Lawrence Jackson, a free agent signing from the Lions, had a touch sack on Matt Cassel.
– The scrimmage ended with an interception by … Marcus Sherels. Sherels needs plays like that to make this team. His punt returning has looked excellent in comparison to the others. He better hope Patterson learns to drop a few.
Make My Day:
After the scrimmage at 1:30 A.M. Christian and Sam Ponder ordered up some pizza… upon arrival the pizza man asked him, "Are you Carson Palmer, the Vikings QB?" Let's hope not…
Take a look at more photos of today's practice at: http://s1280.photobucket.com/user/pjdtrainingcamp/library/Scrimmage?sort=3&page=1
That's it from me. I'm hoping to write a wrap up review of my overall thoughts from Vikings Training Camp. That might be coming within the next week, after a preseason game. Thank you for the opportunity, the feedback and the encouragement. I've had a blast writing for you all.