Good Evening, I just wrapped up my first day of Vikings Training Camp after thinking I might not even make it because of food poisoning. However, I pulled through and have some updates for you! I find that posting them as I go is much more informative. So, if you're looking for my observations as training camp was going on… check my Twitter out at @Cbrusoewriter.
Here are a few of the top bullet points that I've plucked out of practice for you today:
Rookie Alert:
– Gerald Hodges showed his rookie mentality, he had several false starts in position drills.
– Gerald Hodges and Michael Mauti, two of the new linebackers from Penn State, spent time working together after practice.
– Cordarrelle Patterson and Jarius Wright spent a lot of time talking and joking around on the sidelines in-between plays. They seem to be very buddy buddy (as noted by the pictures on my Twitter).
– Xavier Rhodes is more vocal than you'd image. I heard his voice amongst the defensive corps several times. Including once when he dropped an easy tipped interception.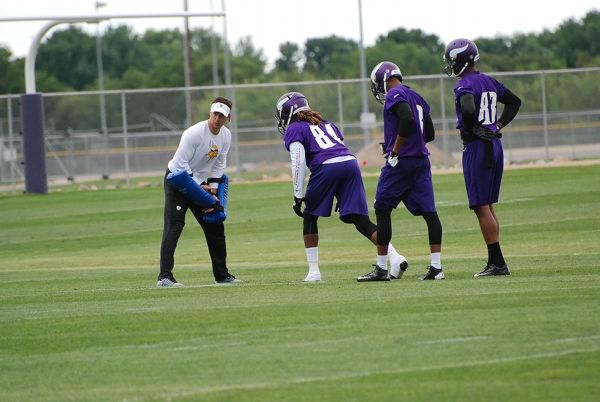 #ShirtlessVikingsUpdate:
It was way too cold and windy for that today. However, Christian Ponder was the only quarterback bearing the weather in shorts for today's practice.
Pointless Play of the Day:
During 7 x 7 drills, Matt Cassel stepped back and threw a 2-3 yard pass to Toby Gerhart. There must have been some momentum behind that throw, because once Toby caught it, he fell straight backwards onto his butt. Only to end up fumbling the ball to the defense.
Purple Jesus:
– AP spent the early part of practice warming up on his own along the sidelines, as the rest of the team started position drills.
– All Day took it All The Way in one 11-on-11 team session. It caused the crowd to make noise and was easily the most impressive play of the day.
Noticables:
– Greg Jennings led the way in all of the wide receiver drills. He embarrassed Chris Cook several times in practice, once juking him and causing him to fall on the ground, another time tripping him and finally burning him down the center of the field. Cook stayed after the drill to speak with coach Joe Woods on his hand positioning.
– Speaking of Coach Woods… he is by far the loudest coach on the field. I could hear him screaming two fields over.
– Chase Ford had a one handed catch that didn't look easy during a QB to TE drill.
– Stephen Burton had the shoes of the day – Bright Neon Yellow.
Un-Noticables:
– Whichever wide receiver was wearing #8 (Can't find him on the roster page), spent the entire day going last in every drill.
– The entire defense… spent most of the day on field 2 (hard to see).
Stand Up/Stand Out:
– Bobby Felder quietly put together a solid day. In special team drills, he had quick, shifty feet and was running the defenders in circles. They couldn't touch him. He also had an interception on the last play of the game, which he took down for a touchdown. He then proceeded to run it up to the field goal post and slam it over. Instead, it hit the rail and bounced off.
– I went to watch the players walk back into the training facility after practice. Only a few players stopped. One was Jared Allen, who stopped to sign as many as he could (the security guard promoted him to keep moving). He even signed one girl's medical device. Super stand-up guy.
Optimism:
– Nearly half the team stayed after practice to work on skills, mostly the younger players. Matt Cassel worked off to the side on his own, practicing throws.
I have uploaded more pictures that you can view at: http://s1280.photobucket.com/user/pjdtrainingcamp/library/Training%20Camp%20Day%201?sort=3&page=1
No practice tomorrow, but I'll be back at it on Monday. Feedback is always welcome.