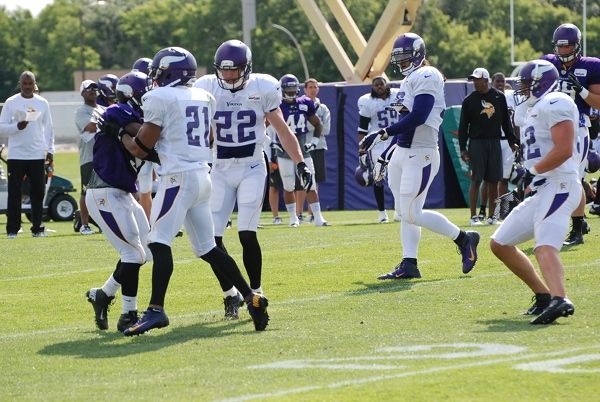 Hey everyone! After a nice day off down in the paradise of Northern Iowa, I'm back at it with Vikings Training Camp coverage. It was actually a pretty uneventful day, although I think that's more of a positive than negative. As always, I have compiled my notes and put together the noteworthy updates for you. If you're looking for more "on the spot" updates, follow my Twitter at @Cbrusoewriter.
Rookie Alert:
– Rodney Smith had a tough day. During a wide receiver drill, he missed the catch twice in a row. Coach George Stewart let him know it by yelling, "Gotta get that big body around Rodney."
– While waiting on the sidelines, Cordarrelle Patterson did 10-15 pushups. Jerome Simpson helped him out by setting a helmet on his back during them.
– Unlike yesterday, I took notice of Sharrif Floyd today (in a big way). With two guys on him, Floyd consistently broke through the line on position drills. Although, he was going up against the second team.
– Jeff Locke punted it within the 5 during the special teams period.
– Xavier Rhodes ripped the ball from the hands of #8 Eric Highsmith (Finally figured out his name). Rhodes continues to be the most aggressive cornerback.
– Fans complimented Mankato-native Adam Thielan's hands throughout practice. And they are right… he's smooth in his routes and looks a Wes Welker type of role player.
– Post practice, rookies were carrying two helmets and shoulder pads into the building.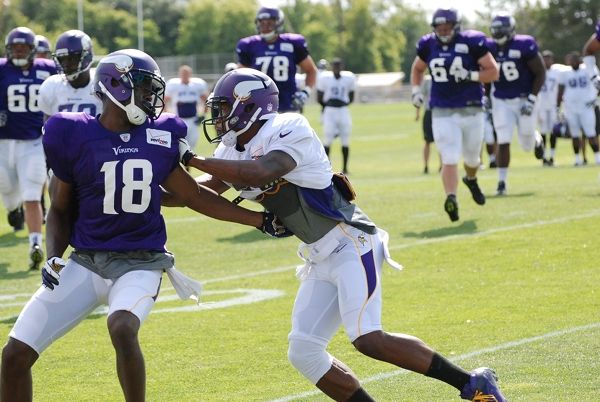 #ShirtlessVikingsUpdate:
– Phil Loadholdt was quick and ready to take off his jersey post-practice on the field. However, a tight shirt was on underneath.
Pointless Play of the Day:
– Sadly this award has to go to Toby Gerhart again today. Cassel stepped back and threw a pass down the right sideline to Toby. The pass was easily broken up by Tyrone McKenzie. He looked slow on this play, although his tempo picked up by the end of practice.
Purple Jesus:
– Greg McCoy kissed the ground courtesy of Adrian. AP caught the ball, trucked through him and kept running until he was finally pushed out of bounds.
– Adrian's bald head kept blinding me via the warm Mankato sun.
Noticables:
– DeMarcus Love, a guy that seemingly HAS to step up this year, stood out to me today. Lineman rarely gain my attention, but he appeared quickest on all the line drills and held his ground against two defensive linemen during O-Line/D-Line drills.
– Andrew Sendejo pushed Rudolph physically to the ground on a 1-on-1 play. Let me remind you, Rudolph is not a small guy. However, Sendejo got burned later by Stephen Burton down the middle of the field. Burton was wide open coming out of slot off of a missed assignment by Sendejo. Burton caught a 20+ yarder off of a Cassel throw and went for a touchdown.
– Jacob Lacey tipped a pass and almost intercepted it during a 7×7 from Matt Cassel. On the very next play, he broke up another pass. I'm going to keep a closer eye on him tomorrow.
– A reverse play was set up three times during team 11×11 drills, twice to Patterson and once to Joe Webb. Seems to be something they might run a lot during the year.
– Patterson was the only one in long sleeves.
Un-Noticables:
– Joe Webb stayed after practice to catch a few passes from Christian Ponder. Webb missed a few easy catches. One in particular was a 5-yard pass that Joe just dropped.
– I thought he might be injured, but instead, Brian Robison ran to the port-o-potty half way through practice.
Stand Up/Stand Out:
– There are 3 clear cut leaders of this year's defense. Kevin Williams is the silent force on the defensive line. Erin Henderson leads the defense in setting up the scheme and making sure everyone is where they need to be. He is also regularly communicating with Kevin Williams and encouraging the young guys. Jamarca Sanford is the voice of the defense. He cheers on all of the defensive backs and will argue with the referees on flagged plays.
– After practice, I overheard Joe Banyard talking with some fans, who were upset that AP didn't come over to sign their gear. Joe made eye contact and greeted each fan before signing autographs. Funny thing is… he agreed with the fans who said AP used to come and sign for everyone when he was a rookie.
Optimism:
– As most of the offense ran inside right after practice, the defensive backs and linebackers stayed on the field and worked together as a unit for a few minutes. This is a fun, lovable group… Each guy took their turn trying to catch a pass thrown at them. The rest of the players stood behind him and egged him on. Chad Greenway was one of the players getting in on the action. I've seen Greenway stay after with the young guys the past two practices. Which probably isn't surprising to most fans. This is the first time I saw the benefit of having a younger core of cornerbacks and safeties. They enjoy working with and being around one another. They are cohesive.
Player Spotlight:
I decided to try out a new feature today. I asked fans on Twitter and FB earlier for some recommendations on a little-known Vikings player to focus on for the day. After consideration, and recalling his strong practice on Saturday, I decided to put my spotlight on Bobby Felder.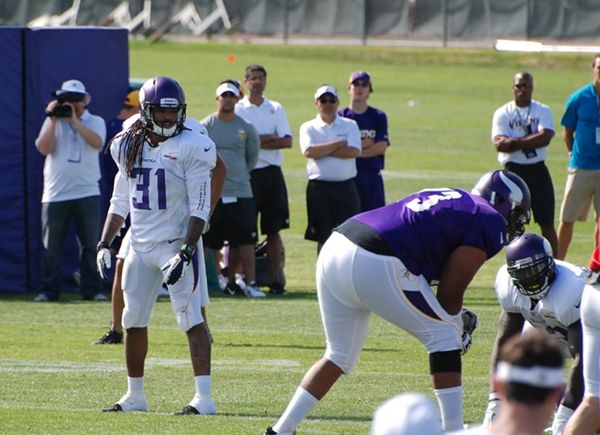 Being that I was keeping a close eye on Felder today, he was – of course – standing around on the sidelines most of the time. Bobby is a second year player who went undrafted out of Nicholls State. He signed with the Vikings in May of 2012 and spent the 2012 season on the Vikings' practice squad. This year, there has been hype that he may indeed make the team and possibly have a spot at the nickel corner spot.
In my observations thus far, I'm not sure I would go so far in agreeing with that. It's not often you see an undrafted guy come in and make the team, let alone start at nickel corner in his second year (Hello Marcus Sherels). However, in saying that, I do think Felder has potential to be the 4th or 5th corner on this year's team. When I tried to think of how to best describe Felder's style of play, the most fitting word that came to mind was "Gnat." And what's more fitting than an annoying gnat in the state of Minnesota. What I mean by that is Bobby is always "around." He is in on every play. He's that annoying player that seems to just "be there" and disrupting the routes and passes. His greatest strength has to be his feet. I hope he can become a great punt returner for the team, seeing as he has the shiftiest feet on the defense. When I have seen him make mistakes on the field, he is always quick to catch up to his man. With that said, my conclusion of Bobby Felder is evolving and inconclusive. What I mean by that is… stay tuned.
Take a look at more photos of camp today at: http://s1280.photobucket.com/user/pjdtrainingcamp/library/Training%20Camp%20Day%202?sort=3&page=1