Welcome to Takeaway Tuesday! That's right, if you didn't hear, today I held a contest on my Twitter (which you should follow if you haven't by now @Cbrusoewriter), asking readers to predict which player(s) would have a takeaway in today's practice.
After thinking we might not get one today, I'm happy to announce that Robert Blanton, with a big smile on his face, happily returned an interception before being pushed out of bounds.
That makes today's winner, Jeff Kramer @captainriptor. Congratulations! Oh and one more thing: I contacted Robert Blanton on Twitter and he said he would be happy to send out an autograph to our winner 🙂 Thank you Robert.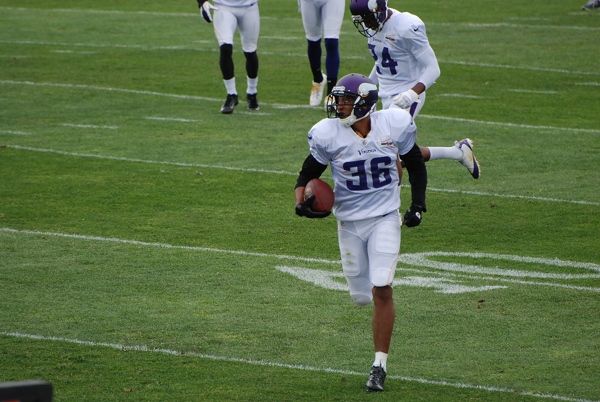 And now… onto the regular practice highlights.
Rookie Alert:
– Cordarrelle Patterson had a low-key day. No reverses, no huge catches downfield. He appeared, to me, tired or maybe sick? He started practice by mishandling a squib kick from Blair Walsh.
– Xavier Rhodes had an agressive day. He broke up a runaway bootleg by John Carlson. There was no safety help and Rhodes dove to tip the ball away from the striding Carlson.
– Lamark Brown nearly had the catch of the day, on a nice deep catch in stride down the right side. Brown responded to my tweet update with, "Thank you, I appreciate it."
#ShirtlessVikingsUpdate:
– Josh Robinson was the closest today. All of the cornerbacks took their pads and jerseys off after practice to work on catching deep balls. Robinson was in his black tank top. Oh so close…
Pointless Play of the Day:
– I promise I'm not a Toby Gerhart hater. For the third day in a row the pointless play of the day award goes to him. Toby was either wrapped up early in his runs today or hit behind the line of scrimmage for a loss. On one particular play, Larry Dean burst through the line and lit Toby up. On the very next play, he had a 2 yard loss.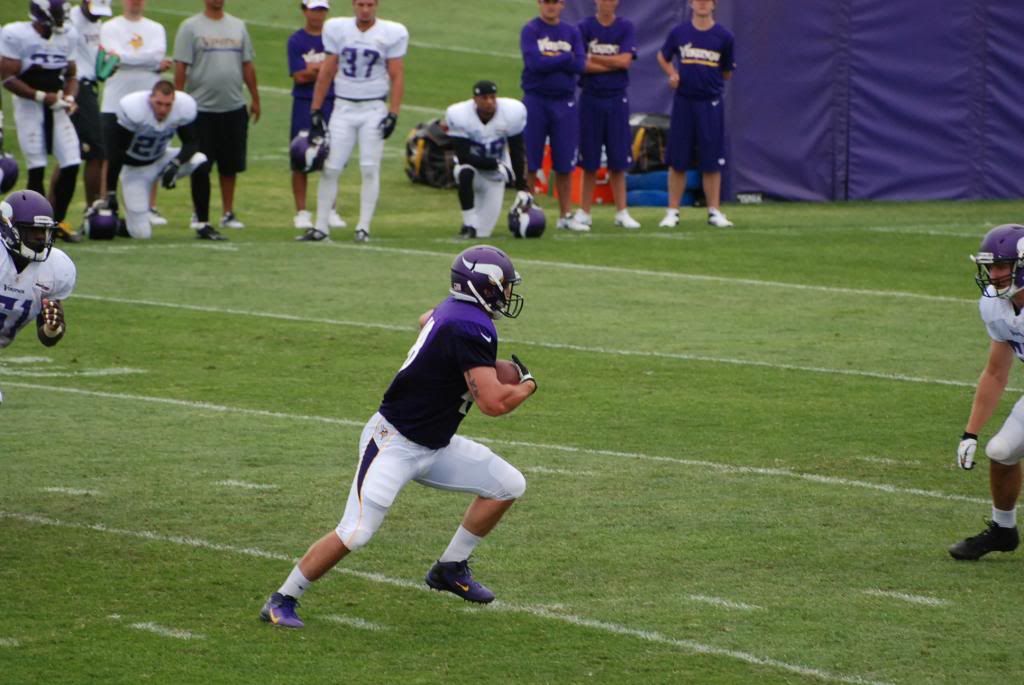 Purple Jesus:
– Adrian and Harrison Smith got into a foot race when Adrian went through the line and down the left sideline. AP won easily, leaving Smith a few steps behind. Although, it's pretty easy to get to the end zone on every play when no one's allowed to hit you.
Noticables:
– Jerome Simpson and Cordarrelle Patterson took turns returning punts. Patterson was expected, but this is the first I've seen Simpson in the rotation. With that said, he looked uneasy back there and never made it past the 15-20 yard line without being touched.
– Everson Griffen had a touch sack on Matt Cassel that was noticeable. The play came to a complete stop and he never got the ball off.
– The first fight of camp happened when D'Aundre Reed and Kevin Murphy got into it. It only lasted a few seconds, before a group rallied around to separate them. On the next play, Sanford let Reed have it by screaming, "All eyes on you now boy."
– Play of the Day goes to Joe Banyard, who got around the edge on a hand off and took it 25 yards. Banyard has speed.
– I can't tell you how many times they ran a bootleg today. Ponder to Rudolph in the back corner of the end zone was the most successful. This is their bread and butter.
– Matt Asiata quietly burst through the line on several run plays. Asiata has the strength and speed to go straight up the middle and gain 5-6 yards.
Un-Noticables:
– Chase Ford was down on the ground for a few seconds near the end of practice. The trainers helped him up and escorted him back inside. The fans gave him a nice round of applause. Glad to see it was nothing too serious.
– The past 3 days I've noticed a handful of Mankato State football players in the crowd watching practice (either that or some huge muscular guys).
– Joe Webb needs to catch the simple passes.
Stand Up/Stand Out:
– We'll give the stand up and stand out player award to Robert Blanton today. Blanton made his presence known, breaking up passes, keeping up with coverage down the field, and intercepting a pass and taking it 40 yards the other way. He put full effort into trying to return it for a touchdown, going full speed down the sideline and laughing as the receivers chased him. He was finally pushed out around the 15-20 yard line. Blanton also took notice of the photos we took of him at practice, intercepting the pass and was very friendly in taking time out of his day to send an autograph to today's winning fan.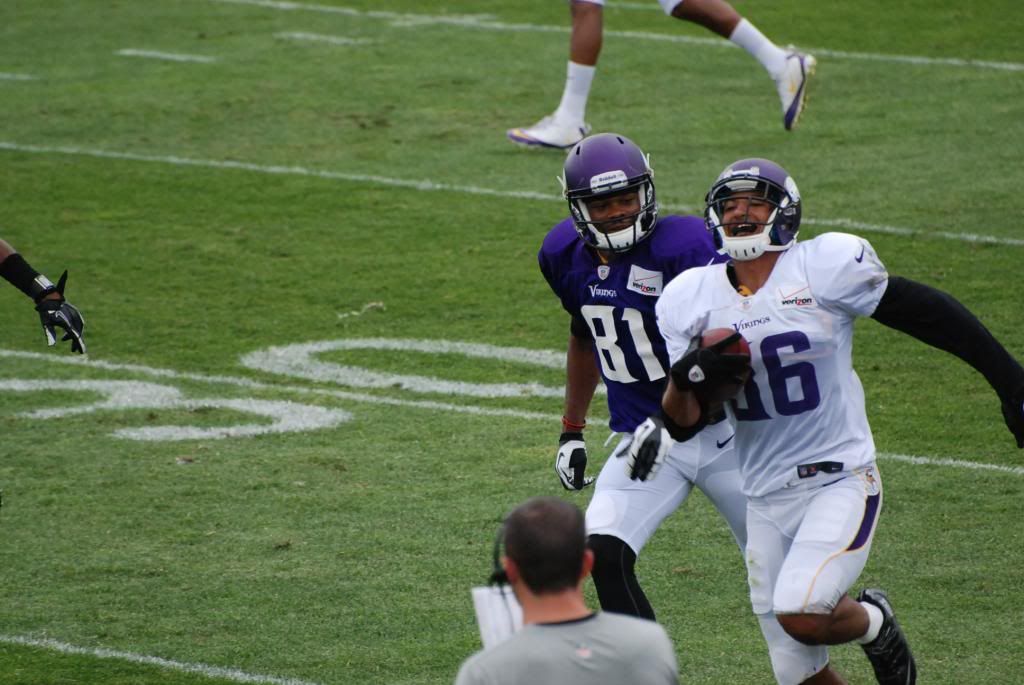 Optimism:
– I also have to mention Larry Dean. If not for Blanton's fantastic spirit, Dean would have been today's stand out player. Dean fired up the defense with his hard hitting attitude and big impact plays. With a linebacking core that appears weak on paper, acknowledging a solid back-up prospect seems like a reason for optimism.
Take a look at more photos of today's practice at: http://s1280.photobucket.com/user/pjdtrainingcamp/library/Training%20Camp%20Day%203?sort=3&page=1
Also, keep an eye out for the videos I'll be uploading at http://www.facebook.com/purplejesusdiaries
That's it from me for now. Check out my Twitter for regular updates throughout the day and to get in on contests like the one I ran earlier. Stay tuned for tomorrow's special edition of camp coverage. I've gotta make it back to the cities by 5, so instead of covering our normal 3-5 session, I'll be making a trip to morning walkthroughs from 10-noon. For the early risers, there might be something in it for ya 😉 Until then… SKOL Vikings!