When El Paso Chihuahuas pitcher Chris Smith first began his interview with a reporter, everything seemed normal. But he never could have predicted the events that would go on behind him as more time passed.
Midway through the interview, pitching coach Mike Cather was standing behind him in the middle of the shot. It was the perfect position for a spectacular videobomb, and he delivered.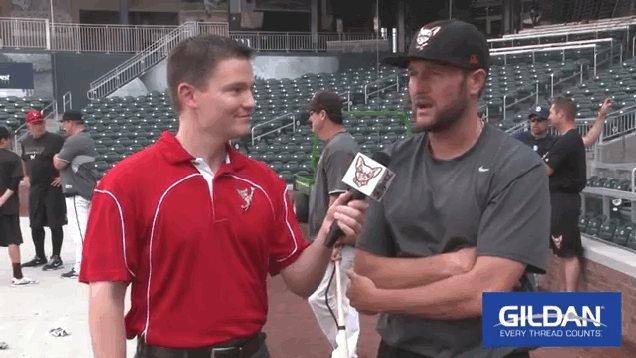 While the interview was taking place, a teammate flew in out of nowhere and pretended to knock Cather out with a running punch. He then jumped around a bit afterward to admire his textbook "knockout."

Reporter Tim Hagerty did his best to keep a straight face throughout the rest of the interview, but it wasn't easy. He cracked a smile a few times and it's pretty clear he was thinking about the epic videobomb during the entire second half of the conversation.
The Chihuahuas are the San Diego Padres' Triple-A affiliate. Maybe the Padres can call up the teammate who fake-punched Cather to provide the team with a much-needed spark.
[Deadspin]