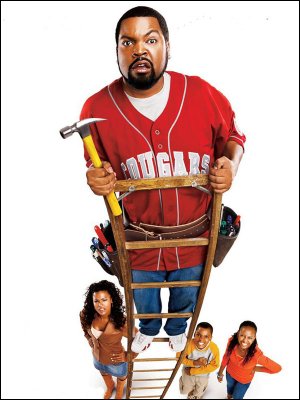 Hello Cougar fans.  Apologies for not really having been around these parts for the last five weeks, let's just say life has been extremely busy.  Hopefully you have enjoyed our new Twitter page, for I am the one who handles the majority of it.
I have always found the cover for the movie Are We Done Yet? humorous.  Not only has one of the founder's of gangster rap turned soft with all these family movies, but how on Earth did Ice Cube wind up sporting a WSU jersey for the cover of the movie?  The film's IMDB page turns up zero clues, nor have I even seen it (except for in various electronic store's bargain bins).
Anyways, I think it is very metaphoric for our Cougars.  Are we done with the losing this season?  Are we not done losing, but losing by 20+ points per game?  Are we done with the large number of injuries?  Are we done with the plethora of academic casualties?  Or are we done with the Paul Wulff experiment yet?  I believe over the next 8 months we will start to see a roadmap to the future of our beloved program!
Continue reading for the list of things I am excited for and concerned for.
Excited For: Youth.  13 Redshirt Freshmen will see their first live action this year.  In the past, WSU has killed themselves by burning redshirts like Ty Willingham did in 2008.  Look for big things from Nolan Washington, Jamal Atofau, Andre Barrington, Casey Locker, Justin Clayton, Darren Markle, as well as incoming Freshmen John Fullington, Aaron Dunn, CJ Mizell, Damante Horton, Kristoff Williams and Bobby Ratliff.  This should be the first time since 2006 that we have had a legitimate 2 Deep!
Concerned For: Youth.  Traditionally, the best WSU teams have featured lots of upperclassmen.  True, this year's team does seem to have a lot of them (I read on the Cougfan Luxury Suites that we have the most of any team in the conference per a report on espn.com).  That being said, I would say the majority of our talented players are only Freshmen, RS Freshmen and Sophomores.  Can the young ones rise to the occasion and truly compete with the rest of the league?
Excited For: Brandon Rankin.  First of all, thanks Brandon for accepting my Friend Request (I promise, I'm not creepy).  The JUCO transfer who busted his butt in the classroom to become eligible was a force to be reckoned with all Spring.  Rankin slid inside to the DT spot, and capped his first Spring Ball with a 2 sack performance in the Annual Crimson & Gray Game.  After hearing about him dominate various O-Linemen, he may be the first player on the WSU front four since Mkristo Bruce that opposing teams truly have to prepare for.  Which leads me to…
Concerned For: Offensive Line.  Injuries to likely starters Andrew Roxas and Zack Williams, coupled with Steven Ayers and Wade Jacobsen missing significant chunks of time, may make this a bit of an inaccurate concern.  The OL appeared to have been outmatched all Spring by their defensive counterparts, but until they prove to be any better, I am sticking by this assessment.
Excited For: The Oklahoma State game.  I don't think there is a more exciting time than the days leading up to the first game of the college football season; it is more anticipated than Sun Dress Day was for Sorority Recruitment while I was in college.  This time usually revolves around me digesting more random information from all of the pre-season publications (but only Phil Steele truly matters), having already played an entire season of NCAA Football on my XBox 360,  talking smack to my friends with different football allegiances,  and of course, with a record of 0-0, there is always hope!
Concerned For: Recruiting.  Just like in 2007, when Doba only had three commits when he stepped down as Coach, I have got to imagine programs we compete for recruits with are going to use Coach Wulff's status against us.  Just like Brinkhater said a few weeks ago, give Wulff year 4 and 5 of his contracts now!  One thing this staff has proven, above all else, is that they can recruit; I think their recruiting classes have been truly remarkable given the on field results.  Eliminate any guess work in the recruiting game now.  If the Wins don't come by the middle of next season, Moos can always buy Wulff out.
Excited For: Aire Justin.  The undersized Cornerback seemed to be making plays all Spring.  I don't remember reading a recap on Cougfan that didn't mention him having an excellent practice.  He capped it all of with an Interception on the first drive in the Crimson & Gray Game.
Concerned For: Offensive threats.  Name one player on our offense that has opposing Defensive Coordinators worried.  Gino Simone could become one.  Chantz Staden, Logwone Mitz or James Montgomery might become one.  Jeff Tuel might become one.  But until proven otherwise, there are blanks in the chamber, and we need some hollow-tips!
Well that is all for today.  Congratulations to Kenny Alfred who signed a Free Agent deal with the Tennesse Titans.  Have a great day.