Greetings Cougs.  Time for a new week of, you guessed it, spring fish wraps!  And with Oklahoma State and Montana State out of the way, it's time for a look at opponent number three, the SMU Mustangs, and check out how they look coming out of spring ball.  How was spring?  What questions remain before fall camp, and of course, the 2010 season?  Click the read more for, you know, more…..
First some history.  You probably don't remember, but we took a hard look at SMU last year in the fish wrap, and included in that hard look was a glance at their recent history.  We're talking death penalties and losing seasons, you know, basically what SMU has been through since the early-80's.  It's ground we've covered already in last year's fish wrap, which you can see here.  But if don't want to click over for yourself, some bullet-point items for you:
There's been a lot of great names to play at SMU – Don Meredith, Doak Walker, the Pony Express backfield of Eric Dickerson and Craig James.  And SMU was super-successful with the Craig James – Eric Dickerson seasons of the early 80's, where they led the Mustangs to at least a share of a national championship in both 1981 AND 1982.   

Big-time players, big-time program.  Everything was going swimmingly in Mustang-land, until….

They got in trouble.  BIG trouble.  Slush funds, booster payments, players getting paid to do their thing, you name it.  Enter the death penalty in 1987.
Then came the losing, as quite frankly, the death penalty worked.  Just one bowl game from 1984 – 2008, with just one winning season.  The cheating ordeal sunk the program.
But, that was then.  This is now, and major progress is being shown down SMU way.  June Jones was reeled in from Hawai'i in 2008, with a five year, $10 million dollar contract.  After a one-win disastrous first year, there were some seriously tough questions being thrown around, such as "who IS this June Jones guy?"  and "what is his buyout??"  But that was SO 2008!  2009 was a whole new deal…
2009: 8-5, 6-2 in Conference USA, including a co-championship of the C-USA western division.  After sputtering to a 3-4 start, the Mustangs would turn things around in a hurry, reeling of wins in five of their last six games, culminating nicely with a 45-10 blowout over Nevada in the Hawai'i Bowl.  Everything turned around for SMU after a big loss to Houston on the road, a 38-15 defeat that saw then-starting QB Bo Levi Mitchell get knocked out with a dislocated shoulder.  June Jones then tapped frosh QB Kyle Padron to be his starter the following week, and the youngster responded by throwing for 354 yards, 2 TD's and zero INT's in his first-ever start, a 27-13 win over Tulsa.  The offense, and the team in general, never looked back.  Yep, that's right – EIGHT wins in the second year of June Jones ball.  Amazing. 
LAST TIME vs. WSU:  It's known as the "Hey, at least we weren't DEFEATED!" game around WSU, but the Mustangs came to Pullman last September and left 30-27 losers in a game that they, well, gave away to the Cougs.  Yes, even a Coug blog can take off the crimson-n-gray glasses and admit something like that.
Bo Levi Mitchell would throw for 424 yards on an amazing 40-for-57 passing line….but along with two TD passes, he would also toss FOUR interceptions, including two "pick-six" TD's.  After SMU opened up a 24-9 lead in the third quarter, Alex Hoffman-Ellis took the first one to the house from 52 yards out, cutting the lead to 24-13 (Grasu missed the extra point).  Then Myron Beck topped Hoffman-Ellis, taking one 67 yards to the end zone, and this time the lead was cut to 27-20.  Marshall Lobbestael would finally lead the team 80 yards in 11 plays, with a TD pass to Jared Karstetter with just 28 seconds left in regulation, sending the game into OT.  Chima Nwachukwu would pick one off on the first play of OT, and Grasu would kick the game-winner, sending the Cougs to their lone win of 2009! 
SMU would outgain WSU 504-276 in total yards, but all that anyone will remember is the outcome, right?  And around Coug Nation, it was the game that saved WSU from joining the short list of Pac-10 "defeateds".  And after the SMU game, that list still consists of just one member…..which we won't mention at this time, as we've been mentioning THAT team far too often lately!
SMU FANS ARE:  Pretty flippin' jacked if you want to know the truth!  To go from the depths of 1-11 to 8-5, plus a bowl win, in year two of what was thought of as a long rebuilding process?  I can't even imagine what their euphoria must feel like after such a great turnaround last year (honestly, I REALLY can't!).  '09 was just the second winning season since 1984 at SMU, so it's been a long time coming.  But they are finally looking like they are digging out of the dark, dank hell-hole of irrelevancy.
PROJECTED RETURNING STARTERS: 15 total starters from both sides of the ball are coming back for 2010, eight on offense and seven on defense.   
OFFENSIVE SYSTEM:  Run-and-shoot, textbook style.  Four WR's and a running back, they throw, throw and throw some more, as they spread you out with a fast-paced, quick-hitting, high-percentage passing attack designed to wear opposing defenses down by chasing their WR's around for four quarters.  It's the bread-n-butter of the June Jones system, and last year once again showed that with the right pieces in place, even in this era of spread-read-option style offenses sweeping the nation, the run-n-shoot system can still work.
OFFENSIVE RATINGS:  44th in the country in total offense, averaging 391.8 yards per game.  Predictably, they did the bulk of their damage through the air, as they finished 16th in the nation with 298.4 yards per game in passing offense.  The flip side is the running game, which traditionally suffers at the expense of all those passing yards in your garden variety run-n-shoot.  SMU would finish with the 98th ranked rushing offense (109.8 yards per game), but still a huge improvement from 2008, where they averaged a lousy 41 yards per game on the ground!
TOP OFFENSIVE PLAYER: Some good offensive players have come through the program in the last couple of years, namely SMU's all-time leading WR Emmanuel Sanders and leading rusher Shawnbrey McNeal.  McNeal led the team in rushing last year with 1,188 yards and 12 rushing TD's.  And Sanders leaves SMU at the top of the record book in catches (285), receiving yards (3,791) and TD's (34).  But the top returning player has to be the new leader of the offense, none other than QB Kyle Padron.
Just a two-star prospect coming out of Southlake, Texas, Pardon absolutely looks like the perfect fit in the June Jones offense.  Good size at 6-4, 210, he has taken the offense by storm, leading the team to a 5-1 record in his starts.  His numbers are awfully impressive thus far, completing over 67% of his passes (wow!) as a frosh, with 1,922 yards and a 10/4 TD-INT ratio.  His performance vs. Nevada was absolutely fantastic, and shows just how much promise there is for Padron.  He threw for a school-record 460 yards on 32-for-41 passing, with two TD's and zero INT's.  Check out some of his throws in that Hawai'i Bowl. 
Pretty impressive all the way around, and a frosh QB at that.  With another year of growth, who knows what he can do in 2010.
'09 DEFENSIVE STATS: 84th in the country in total defense, allowing 397.1 yards per game.  They were 88th against the run, at 166.7 yards per game, and 79th against the pass, finishing 230.4 yards per game allowed through the air.  They were also 74th in sacks (23), but the did pick off 17 passes, tied for 16th in the country. 
DEFENSIVE STRATEGY:  They employ the 3-4 defense, switching to the system last year in an effort to get more speed and athleticism on the field with some extra depth at linebacker.  The move did help, in that they were 118th in the country in total defense in '08, allowing 479.5 yards per game.  That's an improvement of almost 80 yards per game in total defense from '08 to '09.
TOP DEFENSIVE PLAYER:  Leading tackler Chase Kennemer is gone at one inside linebacker spot, after finishing tied for 13th in the nation in tackles with an impressive 135 in '09.  So, the weight of the defensive interior will now fall to linebacker Pete Fleps, who will assume the leadership role among the linebackers as one of the top returning tacklers on the team.
Fleps has decent size at 6-1, 230, but while he's the type that doesn't blow you away with pure speed, he is the kind of linebacker you love to have, where he's just always around the ball.  He led the team in tackles in 2008, with 106, and was third on the team in tackles last year with 86.  With Kennemer departing, the senior-to-be Fleps is an odds-on favorite to lead the team in tackles, as well as contend for first-team All-CUSA honors on defense. 
TOP THREE POST-SPRING QUESTIONS:
1)  STAR POWER LACKING ON OFFENSE? While Kyle Padron is a fast riser, no doubt about it, one has to wonder about the skill guys who are left.  With Emmanuel Sanders leaving, a big-play, all-everything senior who is the SMU career leader in virtually every key receiving stat, there is a concern about who will fill his shoes.  But it isn't THAT bad.  After all, the run-n-shoot has always been about multiple receivers who do their thing, and it's not exactly the type of system that relies on just one guy to do all the heavy lifting at the position.  And the second leading receiver, Aldrick Robinson, returns for his senior year after lettering the past three seasons, and should be set for a big final season.  They also return third leading receiver Terrance Wilkerson, as well as another starter, Cole Beasley.  In terms of pure quantity at wideout, the Mustangs should be just fine. 
The running game could be a little dicey however, and especially in the first month or so of the season.  For the first time in a while, SMU had a pretty good running back last year in Shawnbrey McNeal, who broke through to lead the team with 1,188 rushing yards on an impressive 5.0 yards per carry, plus a team high 12 TD's on the ground.  But McNeal is gone, and SMU will have to turn to some youngsters to carry the mail going forward.  Per the Dallas Morning News, incoming recruits Darryl Fields and Kevin Pope will get long looks at replacing McNeal in fall camp, but the situation bears watching.  Not that the running game is all that crucial to the run-n-shoot, I mean in years past it's been at times nothing more than window dressing.  Quick, can you name ANY running back that has come from the June Jones offense?  That said, McNeal was the first-ever 1,000-yard running back in the entire coaching career of June Jones!  But still, they at least need to find that counter-punch to keep things honest on the ground, and McNeal won't be easy to replace.
2)  PADRON DUE FOR SOPHOMORE SLUMP? It's hard to envision QB Kyle Padron as doing anything but improving in 2010, but you still have to wonder about someone who makes such a big splash so fast out of the gate.  While he will be a sophomore, he didn't even start until the seventh game of 2009, and only has the six career starts under his belt.  He looks like such a perfect fit in that offense, and with a really good arm combined with a quick release and, quite frankly, a real knack for the run-n-shoot, he could be on the cusp of a really, really special career.  But I have to admit that the outlook was awfully rosy for QB Bo Levi Mitchell a year ago, and that didn't have a happy ending.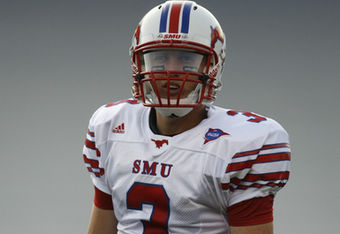 Mitchell had kind of come out of nowhere to lead the team with a bunch of yards (2865) and TD's (24) in his first shot at playing time as a frosh in '08.  The sky seemed the limit for the sophomore-to-be, but, in hindsight, the warning signs might have been there.  After all, his completion percentage of 57.6 % in the run-n-shoot isn't very good, and while the 24 TD's were great, the fact that he threw 23 INT's was a concern.  And then it all fell apart after the shoulder injury vs. Houston last year.  But Mitchell is now an afterthought in SMU-land.  In fact, he has now transferred out of SMU and guess where he ended up?  CHENEY, WA!  That's right, he is now the starting QB for Beau Baldwin's EWU Eagles!  He must have really enjoyed his trip to eastern WA last fall, even after tossing four INT's in the loss to WSU? 
But all that said, the plus side for Padron is actually a couple of very big things – completion percentage and interceptions.  Padron completed 67% of his passes last year, 10% better than Mitchell's 2008 total.  And Padron threw just four INT's in 201 passing attempts last year, clearly a big improvement from anything Mitchell had done.  In fact, Mitchell threw 10 INT's last season in 266 passing attempts. And overall, that is 33 INT's in a season and a half of starting at QB.  That is just far too many in a run-n-shoot offense.
Anyway, I guess it's a bit of a cautionary tale of beware the frosh QB with big numbers early on.  You never know if the sophomore slump might be looming, no matter how great Padron looks right now!  
3)  AND OF COURSE, THE SCHEDULE? Well, it starts out with a biggie, as the Mustangs hit the road to take on the Texas Tech Red Raiders to kick off the season, live and in color on ESPN.  They then get their next three at home, with UAB, WSU (of course), and TCU.  The price for all those early home games is that they have to close the season with three of their last four on the road, playing just one home game after October 23rd. 
WSU FOOTBALL BLOG SEZ, DOT-DOT-DOT STYLE….SMU is young, young, young, even with the 15 returning starters.  We think WSU's youth was an issue last year, well, did you know that SMU had 13 starters last year that were either frosh or sophomores?  But while they have all that youth, it's going to be a game-experienced roster in 2010.  They return 43 lettermen from last year, losing just 13 total off the entire roster……While they have lost the top WR in Sanders and the top running back in McNeal, it's not all bad.  Perhaps the best thing for SMU's offense next year is that they return four starting offensive linemen from such a prolific offense.  So even though they have to break in new talent at running back, and still have a young QB in Padron who will have to throw the ball without Emmanuel Sanders, having the experienced big guys up front can make for a smooth transition for any skill position on the team…..SMU's eight wins last year, after just one win in 2008, was good for a seven-game improvement.  That seven-game upswing was tops in the country for the 2009 season among FBS teams……Recruiting has really picked up steam for June Jones.  SMU signed 16 three-star types with this last recruiting class.  While that may not move the needle in terms of wow-factor, consider that SMU didn't even sign 16 three-star players – total – from the LAST THREE RECRUITING CLASSES!  They had just 15 three-star types signed from 2007-2009.  Amazing what winning football games can do to recruiting?…..Don't forget that the WSU-SMU game will be on TV next year!  CBS College Sports will be picking up the game, so, if you actually have that channel, hey, you are in luck…..No doubt, SMU will be out for revenge after last year's game in Pullman.  SMU was in complete control, not just in total yards but in virtually everything else –  outgaining WSU in the air (424-239), on the ground (80-37), and even a ridiculous time-of-possession advantage (39 minutes and change, to just 20 minutes for WSU!).  But as we once again saw the golden rule of football, the turnover ratio can be such a deciding factor in any game.  WSU did turn it over three times in that game, but the five giveaways from SMU, including the two pick-six TD's, just killed the Mustangs……Some of the top 'net stops for all things SMU include:  Ponyfans.com, an all-everything site for SMU sports;  PonyPride.com, part of the Rivals network;  PonyStampede.com, part of Scout.com;  DallasNews.com's SMU blog; and finally, The SMU Athletics Official Site, SMUMustangs.com.
All for now.  For previous 2010 Spring Fish Wraps, go here:
Spring Fish Wrap – Oklahoma State Edition
Spring Fish Wrap – Montana State Edition
Enjoy your Monday, and of course, GO COUGS!