"The scout team is that way"
Good morning and Happy Hump Day, Cougs! After an advent calendar, Midnight Maneuvers, a few weeks, several practices, a few scrimmages, a tailgate party, a dead car and a new car, Spring Football 2012 is officially over. We learned a few things about Mike Leach and the rest of his coaching staff. We got to know a little bit about what the depth chart will look like when fall camp opens later this year. And most importantly, we got to drink some beer and watch Cougar football on a beautiful day in Spokane. So what does it all mean? It's hard to say. Spring football took on a bigger air of importance this year with our new, famous coach implementing a new, famous offense along with the rest of his staff imparting their wisdom on our impressionable young Cougs. I'll take a position-by-position view at how things are looking as we head out of Spring and inch slowly along to the fall when the real games happen. This week, I'll check out the offense. First, click on "Read More", or on the link that shows the comments, or on the title of the article. You know, whatever.
"Aww schucks." "No, Aww shucks, you."
Quarterback
Projected depth chart post-spring (PDCPS) – QB1: Jeff Tuel, QB2: Connor Halliday, QB3: David Gilbertson, QB4: Cody Clements
Due to his pesky liver problem (laceration, not alcohol related) which was compounded by a hit early in camp, Connor Halliday never really had a chance to pose a threat to Jeff Tuel's starting spot as many had expected. After what to me seemed like a bit of a slow start, Tuel put a stranglehold on his spot, ripping up the #1 defense (or what was left of it) in the Crimson and Gray game to head into the fall as the undisputed leader of the team. He'll need to stay sharp in fall camp, of course, but the talk of a quarterback competition is quieted for now.
Biggest surprise: I'd have to say David Gilbertson earns the title here. There were several moments where Lucas and I looked at each other at Joe Albi and said, "Gilbertson looks pretty good, don't he?" You'll have to forgive our post tailgate party bad grammar, but the sentiment is what matters. David, son of Keith looked poised and made some tough throws. Will he ever start a game for the Cougs? Probably not, but I wouldn't be completely horrified if he had to; just a little bit horrified.
Running Back
PDCPS – Rickey Galvin and Carl Winston (1 and 1A), Leon Brooks, Marcus Mason, Teondray Caldwell (the rest)
I didn't read anything about RG5 that totally jumped off the page at me this spring, but I'm still of the belief that he's poised for a monster season. I also still love Winston's role to spell him and come in as The Little Bowling Ball That Could. His "Should I try to go around this guy? Naaaah, through him seems better" style should be an interest combination with the open space that the Air Raid combines. He should have the opportunity to run over some DBs this year (and no, not the Ed Hardy shirt kind. I mean defensive backs).
Biggest surprise: The coaching staff absolutely loves Leon Brooks and he couldn't help but rip off 40 yard runs seemingly every practice. We've heard this story to a certain degree before, but it's never amounted to much in the way of production on Saturdays, unless of course you count coming in a few times a game to fair catch as production. In that case, dude has produced big time.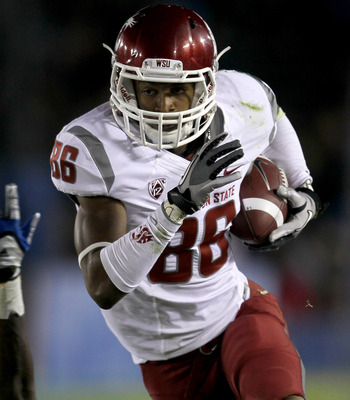 Marquess Wilson, best scout teamer in America
Wide Receiver
PDCPS – Ummmm….it's hard to say. There are something like a bazillion receivers available and that will all be rotated in to catch a whole bunch of passes
Just for kicks, let's say the first guys on the field will be Marquess Wilson (duh) on one side with one of the Williamses on the other (Kristoff or Dominique) with Bobby Ratliff and Andrei Lintz in the slot. After that, the pu pu platter of Simone, Bomber, Eaddy, Myers, Dockery, Bontemps and Loftus will come in and get theirs. Throw a few more guys in the mix this August and holy crap! I'm willing to concede the title of best receiving corps in the conference to USC based on their top 2, but after that, it's gotta be Wazzu.
Biggest surprise: We've got co-winners at the receiver position with the Andrei Lintz ascension to potentially dominant slot receiver and the arrival of a walk-on transfer from Hawaii named Drew Loftus. I like to think I follow WSU football pretty darn closely, but I've gotta admit I'd never heard of Loftus until practices started. I still couldn't pick him out of a line-up, but that's OK because I can't imagine a situation in which I'd ever have to.
Offensive Line
PDCPS – I think the starters will look something like this: LT – John Fullington, LG – Dan Spitz, C – Elliot Bosch, RG – Wade Jacobson, RT – Rico Forbes. If you were to put an entire second unit together, it would probably be: LT – Sam Jones (maybe?), LG – Zach Johnson, C – Matt Goetz, RG – Chas Sampson (maybe?), RT – Jake Rodgers
I don't feel great about having question marks in the mix when we're only listing a two deep, but there are some real unknowns in the mix when it comes to guys like Sam Jones, Niu Sale and Alex Mitchell. There's also Gunnar Eklund, Taylor Meighen and Denzell Dotson among others to sprinkle in some depth. It's hardly a proven unit, but there are certainly a bunch of guys available, so that's good? I guess?
In honor of the recently completed draft, let's close the book on the offense Mel Kiper, Jr. style:
When you look at a team like Washington State, you're lookin' at a team where you look out there and you see a lot of weapons. You look at a Marquess Wilson and a Dominique Williams and you see big time playmaking ability.You'd like to look out there and see a little more effort, but you look at the production and the production is there.You look in the slot and you look at a Bobby Ratliff who is Mr. Reliable and you look at an Andrei Lintz and you're lookin' at a guy with incredible physical tools. Then you look at a Jeff Tuel. You look at his injury history and it's not good, but you look at a Mike Leach offense and you expect a big year from Tuel. If you look out there and you're looking for an area of concern, it'd have to be the offensive line. You look at a John Fullington as a guy with NFL potential, but after that, you look at a lot of guys who really need to step up.
I'll be back, next Hump Day with a similar look at the new Mike Breske defense. Until then…
Go Cougs