Welcome to week nine of the Paul Wulff radio show.  A good listen last night too, as Wulff has maintained his positive banter for most of 2009.  Still upbeat and enthusiastic of where this thing is headed, even after another tough setback.  Anyway, here we go with the things to take from last night's show:
1) Bud Nameck asked about injuries.  Wulff said that other than Chima Nwachukwu's ankle injury, that was really it in terms of players who were hurt during the Notre Dame game and are considered doubtful for this week.  Wulff said "Chima is definitely doubtful for this week", so, looks like another setback to a starter in the secondary.  They didn't discuss who would replace Chima as the starter at strong safety, but glancing at this week's depth chart, it appears Kyle McCartney is the primary backup.  But according to Grippi, it sounds like Jay Matthews would move over there from his normal backup free safety spot.  I guess we'll see on Saturday.

2)  Nameck brought up the offensive line struggles vs. Notre Dame.  Wulff said that "they were rusty" and that "Tyson Pencer, BJ Guerra and Zach Williams were all a little off" and "overall, the offensive line just didn't play well.  We need to do a much better job of protecting the quarterback.  We ARE CAPABLE in playing so much better, and we will play better on the offensive line." 

3)  Nameck asked about Notre Dame looking so good and physical.  Wulff said that "no question, they have a very strong offensive line with their four seniors and all their experience and size.  But what surprised us was their defense.  They were faster and more physical than we thought they would be."  But definitely the speed of their defense was most surprising.  Wulff said that "on tape of what we've watched on Notre Dame this year, many of their games were on grass, and several games in wet conditions.  They just didn't look that fast on tape.  But get them on field turf, indoors on a dry surface, and they were very fast and it took us by surprise."  Wulff went on to say that surfaces really do play a big part in how fast a team can play.  For example, in the WSU indoor practice facility, WSU has the old-school artificial carpet.  Wulff said "we'll practice in there, and us coaches think wow, hey, we're pretty fast!  But we get out even on the field turf, and we slow down.  And it's even more pronounced on a natural surface."   
4)  Nameck asked about the Oregon – USC game, and what Wulff thought of it.  Wulff said he watched it later, and was "very surprised.  Not necessarily at the outcome, but that the way Oregon beat USC, I just didn't think that would happen like that.  But Oregon is a really, really good football team.  We thought so after we played them, and we think so now.  They have great team speed and they play to their schemes really well."  Nameck asked if USC not getting back to a BCS bowl is bad for the Pac-10?  Wulff said "no, it's not necessarily a bad thing, as long as our Pac-10 champ goes on to represent well in the BCS bowl.  It doesn't matter who the champion is, as long as they play well in their bowl." 
Personally?  I think the perception is that the Pac-10 goes as USC goes.  It's a natural thing that the east coast media will see.  You can already hear them glance out west and say "Oh, USC has a couple of losses?  The Pac-10 is DOWN!"  Oh well.  They said that last year before the bowls.  How did the Pac-10 do last year in bowl season?  UNDEFEATED, that's how.  So we'll see.
5)  A caller asked about the tight ends, and the lack of production at the position this year.  Wulff agreed, and said that "Tony Thompson was doing OK there, but we have moved him out more into the slot as a wide receiver in recent weeks (note – Thompson has just 9 catches all of this year, tops among tight ends).  But Wulff also said that "we have been kind of going away from the tight end lately in the passing game, but we will probably get back to it next year."  Wulff went on to say that Zach Tatman and Skyler Stormo have been "adequate" this year, but they have some new blood coming next year with redshirt frosh Andre Lintz, and then a couple of fantastic verbal commits that he couldn't name that will be tight ends, and could play immediately next year.  He won't name them, but we will – Aaron Dunn of Mead and Jake Rodgers of Shadle Park, both in the top 30 or so in the country in tight end recruits, both verbal commits for WSU. 
Along the topic of the offense in general, Wulff added that "offensively, we need veteran players to execute multiple things.  Right now we just don't have that.  But as our youth matures, we will be more wide open with our offense.  It will come.  There is a fine line, and right now the idea on offense is to do some things right, and then expand on that, instead of throwing everything at them at once and having those struggles." 
6)  Nameck asked "how are you handling the losses?  Is it pretty tough for you?" Wulff paused for a moment, and then said "it's tough because I'm not used to this.  We were successful before, and we don't like this.  Nobody wants to lose.  Saturdays are the toughest, and parts of Sunday as well.  But after we watch film, and then get into the week, things get better in a hurry.  I see the position our program is in now, but I also know the program is moving forward.  We are living through tough times, and I am a competitor.  BELIEVE ME, NOBODY WANTS TO WIN MORE THAN I DO!  But there is a process to get there.  Once we do get there, it will be fun for everyone.  But we are doing all the right things.  The wins will come, and probably come as the last thing in all this, but they will come, and sooner than people think." 
7)  A caller asked about Jeff Tuel, and how he was doing with the Notre Dame loss.  Wulff said that even though he had a tough game, after watching the film, "he did a lot of really good things.  Unfortunately he had some poor blocking in front of him, and he made a few mistakes like the interception he forced and the missed deep ball to Johnny Forzani that should have gone for a touchdown.  But we are just so pleased with Jeff Tuel.  He has an outstanding presence about him, and the players and coaches all agree that he will be our spark-plug for the offense going forward." 
Wulff then reminded that "people are making a big deal about Matt Barkley at USC or Tate Forcier at Michigan, but people have to realize that both of those guys enrolled early and were part of spring practices and the offseason programs.  Jeff Tuel just showed up in August, we've only had him for three months.  To do the things he is doing now against teams like USC, Oregon, Cal and Notre Dame, just three months into the program as an 18-year old true freshman, is remarkable."  On the missed deep ball to Forzani, Nameck asked if it was just a matter of Tuel not trusting the wide receivers yet?  Wulff said "no question, Tuel has a strong arm, and throws one of the best deep balls that he has ever been around as a quarterback.  It's that good.  He is going to be special."  Finally on Tuel, Nameck asked about a recent article comparing Jeff Tuel and Beau Sweeney, the backup QB at Cal.  Remember Sweeney and Tuel were on the same high school team on Clovis West in Fresno, with Tuel one year behind Sweeney.  Wulff said "they are both good players" but "we are really partial to our guy.  And we think that over time, Tuel will have the opportunity to do some bigger things here in terms of throwing the ball than they do at Cal.  We are going to be a very QB-friendly system in throwing the ball, and it will work out best for Tuel here."
8)  Bud asked about Arizona's offense. Did you know that Arizona leads the Pac-10 in total offense, 445 yards per game?  More than Oregon, Cal or USC?  Wulff said "Nick Foles is a really good player, on pace to set a completion percentage record in the Pac-10.  Part of it is their system, where it's a lot of very quick throws, WR screens, things like that.  Throws that are so quick and short that they can almost be classified as running plays, really.  They throw it outside a lot instead of attacking vertically, but that's their system.  It's working just fine for them, and they have only been sacked FOUR TIMES this entire season." 
Bud mentioned that it looks like Nic Grigsby won't be available this week, but Keola Antolin will probably be their main running back.  Wulff said "Antolin is a quick, fast guy and there is very little drop-off between him and Grigsby.  They are going to get their yards and their points."  Nameck asked "how do you defend an attack like this?"  Wulff said "you have to try and disrupt their timing.  But you have to be sound on the perimeter, get off blocks, and be disciplined in your assignments.  We have to be good tacklers on Saturday.  Again, they will get their yards and points, but we have to make them earn it, and get them out of synch and out of rhythm."  Gulp.  Sounds a LOT like what they were saying going into the Oregon game??  Here's hoping they've learned from playing against an offense like that! 
9)  Bud asked about Arizona's defense.  Maybe not the Desert Swarm anymore, but they are still a tough group to face.  Wulff said "no question, they are tough.  Lots of speed and skill, all across the board.  D-line, linebackers and secondary are all very strong, very fast."  Right now Arizona has the #2 rushing defense in the conference, just 101.3 yards per game allowed on the ground, and overall, #3 in the conference in total defense.  They are also number one in the conference in giving up the fewest number of first downs.  Wulff said "we have our work cut out for us." 
10) Finally, Bud asked about Mike Stoops, and how he finally got AZ to a bowl game last year after four years of struggling.  Wulff said that "it really shows the strength of the Pac-10. You CAN make progress, but it takes time growing up your program.  It is really, really tough in the Pac-10 to climb back up the ladder.  But we will get there."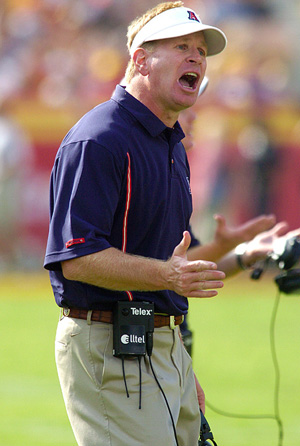 Wulff then talked in general terms about getting the program back in shape.  "We have great competitors in our program, and we need that mindset and determination to make it.  And right now, our own players are doing an excellent job of recruiting for us, when we bring recruits in for visits.  We really sell the family aspect of the program, and that when  you come to Washington State, you are part of a family."
That's it for now.  Again, a positive, upbeat radio show this week.  Kind of been the general theme all year, really.  I think the most "down in the dumps" he sounded was maybe after the ASU game, but then again he was barely on the radio show that week as it was the bye week, and the whole thing turned into a Martin Stadium telethon. 
Of course, enjoy your day and GO COUGS!