Imagine my surprise coming back from a week of vacationing in Mexico to getting lambasted with all these AI trade rumors and speculation. How exciting! Thid was first news I saw at the Airport in the dirty, dirty A.T.L. while we were waiting for our connecting flight back to Minneapolis. In Mexico we had ESPN and some other sports (read: soccer) channel and that was about it. However, ESPN was in Spanish. And it mostly played Soccer highlights. Not a big help for keeping up on the NBA or anything other than soccer.
[image]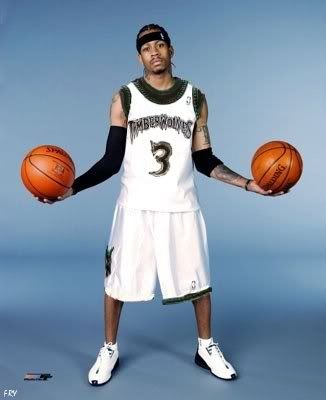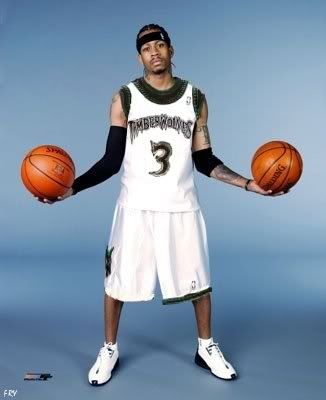 Will Allen Iverson find his way into a Wolves Uniform? [image2]
I was able to watch the Monday and Thursday night football games, except they were both dubbed over with Spanish announcers and all the stats and stuff on screen were in Spanish. Quite odd. Luckily, at the airport in the land of the Ying-Yang Twins, I found out a wealth of information from the little scrolling ticker on ESPNews. Also, I was able to watch the same AI speculation over and over on the screen, except that I didn't know what they were saying because it was muted and didn't have captions. OK, so I was lying about the finding out a "wealth of information" part. However, it got me way more excited that I had any right to be, because I saw a caption on the ticker saying something about "AI wants to become a Timber Wolf." I began incessantly babbling to the wife, (who was not nearly as overly concerned as I was) as to why someone wanted to get traded to our team. Or even what the big deal was.

ME: "But, don't you understand we could trade for Allen IVERSON, for like, 50 cents on the dollar!"

HER: Confused look…

ME: "Essentially, we could trade for him without having to give up too much because his team wants to get rid of him and he hasn't gotten along with their front office for years now"

HER: "But… if he is so good… why would they want to trade him?"

ME: "Well, that's just the way it goes in sports sometimes. It's been a bad situation for a while now, he's not happy, and wants to play where he would have a chance to contend for a title. Plus, he gets paid so much its not easy for them to just trade him to anyone…. Kind of like how it is with KG here."

HER: "Oh, I guess I see." Goes back to Magazine.

ME: "Wow, this is really exciting… I wonder what the trade could possibly be??? I wonder if it's true that he really wants to come to Minnesota to play with KG… He is exactly the time of player that KG would thrive with when playing alongside. AI is one of the top scorers in the league, and combined with KG's versatility we would be instant playoff contenders! Those two guys have probably the most heart and will to win as any two players in the league. How exciting!"

HER: "But if he is so good why would they want to trade him?"

ME: Sigh.
That is a good question. Why would they want to trade AI? Well, I know why they would want to trade AI, but I am not sure some of the casual fans know. There are several reasons:
– The Philadelphia 76er's in disarray. They have the second highest payroll (96M) of any teams in the league, second only to the unfathomable Knicks. For all this money they are paying, they have one of the bottom five records in the league at this point (5-13)
– They owe massive amounts of money to a handful of players. They are paying three players a total of 47 Million dollars this year alone: AI, Chris Webber and Samuel Dalembert. That figure goes up substantially over the next few years.
– AI has not gotten along with the 76er's Front Office for years now, despite him toeing the company line and saying he has always been "happy" and wanted to "retire a 76er."
– It's just time for AI to go. Management has said it and Allen has finally come out and declared that he wants to be traded. He said a "change of scenery might just be best for everyone." If that's not the writing on the wall, I don't know what is.
– Lastly, AI is one of their most tradable assets (despite his high salary) and the best chance they have at cutting payroll in an attempt to rebuild their roster around the young guys they have acquired: Andre Iguodala, Rodney Carney, Shavlik Randolph, Kyle Korver, and to some extent Dalembert. Not to mention the additional chips they could acquire by trading Iverson.
The biggest dilemma in this situation for the Philadelphia 76er's is what to do with Chris Webber if they trade AI. Being saddled with his monstrous salary (43 Million over the next 19 months) is not something very conducive to a successful rebuilding team. Unfortunately, Chris Webber is virtually the most untradable contract that exists in the NBA. It would be one thing if he was healthy, but he is not. He is saddled with injury every season and his body is breaking down. He is nowhere near the athlete that he was when he signed the massive contract. His attitude is also not very stellar, as he has been disgruntled in Philadelphia for a while now. Even if he were healthy, I'm not sure many teams would want to take on his attitude for what he still offers on the court. IF the 76er's braintrust could somehow get rid of Webber in a trade along with Iverson, AI could be had for .50 cents on the dollar tops… but most likely for a lot less. The problem is getting someone to take Webber back too. No team in the league could feasibly trade for AI AND Webber. Therefore, three or four teams would need to be involved in a trade of that caliber… and which team would want Webber? That would make no sense. Still, AI is on the block from anywhere to .75 to .50 cents on the dollar. Let's take a look at what the media across the country is saying regarding a potential Iverson trade to the Wolves:
– Iverson has indicated that a trade to Minnesota, where he would be with forward Kevin Garnett, would be attractive to him. Both are former M.V.P.'s who have never won a championship. The Timberwolves are said to be dangling Troy Hudson (making $6 million) and may have to include the rookie Randy Foye. – New York Times
– Then there's a deal with the Timberwolves, which could break the Bulls' hearts. One would seem to make sense. Minnesota has Randy Foye, a talented Villanova rookie whom the 76ers have coveted, and it has numerous expendable contracts that could be used to match Iverson's $17 million salary. It also has free-agent point guard Mike James, who becomes eligible to be traded next week. – Chicago Tribune
– Kevin Garnett and Allen Iverson— the possibility of that combination lifted Garnett's spirits just minutes after a big victory over Utah."Bring it on, I love 'The Answer,' " Garnett said Friday night. "We would welcome AI with open arms. Where's Kevin McHale?
McHale, vice president of basketball operations, would not comment on rumors that Iverson would end up in Minnesota. But his star player went so far as to look into a local television camera and make a plea to Iverson. "Come on, boy," Garnett said. "I can't think of anyone who wouldn't want to play with him."
In a pregame interview, coach Dwane Casey deflected questions about Iverson, who sounds as if he is on his way out of Philadelphia. Afterward, Casey stayed the course. "That's none of my business," he said. "All I'm concerned with is this roster I have right now." – USA Today
– "This will not be an easy trade for the Wolves to complete, because they have a startlingly limited cache of assets. Which is exactly why I recently urged them to deal Garnett. They just don't have the coveted goods to get him help.
The best they can conceivably offer Philly is a package built around Villanova's own Randy Foye. There would be other players involved, starting with Ricky Davis, but Foye is by far Minnesota's most attractive commodity after KG. How 'bout when I tell you that they can't get Minnesota's first-round pick in the June draft, also known as the Greg Oden draft? Foye would have to be sufficiently marquee to appease the Sixers, because they can't get Minnesota's 2007 first-round pick in this deal. The Wolves' pick in the June draft — also known as the Greg Oden draft — has already been committed to the Los Angeles Clippers. If the pick falls from No. 1 through No. 10 in June, Minnesota keeps it. If it's No. 11 or lower, it goes to the Clippers to complete the Sam Cassell trade from the summer of 2005".- ESPN.com
So, what do I think? Should the Wolves trade for AI? Honestly, it's not that easy. The decision comes down to a plethora of factors. Everything from Money, the players involved, the focus of this team, and most importantly, KG's future. IF Taylor and CO. want to keep KG on the Wolves through at least the end of his contract, I think they have to look long and hard about acquiring AI…NOW. The time is right, he could be had for *cheap* and apparently he wants to come and play with KG. Of all the other possible, realistic trades that have been rumored, what could help the Wolves to win more right now? I see this trade as easily the most viable potential deal on the market right now. And honestly, it is kind of too bad that all this trade rumor talk about AI to the Wolves is going down right now because it is distracting people from seeing how well the Wolves have been playing recently. Granted, we are not burning up the league but we have won three games in a row, especially a tough win over the Utah Jazz, who currently are tied for the best record in the league!
From what I have seen on the net and heard from friends, it sounds like the deal would/could be something like AI for: Foye, Davis, Hudson, and Eddie G. This current trade works on the RealGM.com trade checker, just so that you know it could be legit. Another name that has been floating around is Mike James, but what sense would it make to trade him when trying to put together a veteran laden team for a title run? It doesn't. He would stay. It makes sense that we would make them take Hudson off our hands, as he is one of the most worthless players on our team for what he gets paid. Hey, if the 76er's want to get rid of Iverson, I don't see them having to take back Hudson as something that would hold up the deal. What do I think about this? Well, if this trade is honestly on the table, I don't see how we could not do it in a millisecond.
KG gets a running mate like no one he has ever had before. A true 1A option to ease the burden placed on KG to do everything for our team night in and night out. We would be instantly adding 30+ points and 8 assists a night. How do teams stop the one-two combination of KG and AI? That would mean no more double and triple teams on KG. And you surely can't double AI and keep KG one on one, unless you have one of the select few defenders in the league that can contain KG alone.
The heart and will to win that these two players would put on display each night would be a truly awesome spectacle to behold. Honestly, KG and AI are easily in the top 5 in this category, compared to anyone else in the league. They both know that they are getting older and that they can't carry teams alone. What better way to make a title run than to team up together? We'd still have guys like Mike James, Hassell, Jaric, Smith, and Blount to pick up the slack. If McCants can come back, great, but if not, I wouldn't be too concerned.
What are arguments for not making this trade? I think the main holdup for the die hard fans of the Wolves is that they don't want to trade Foye. No one knows what he can do. He could be the next star. He could be KG's D-Wade. First off, by the time it takes him to mature into anything of that caliber KG will be long gone. I don't know about you, but I just can't see KG sticking around until his contract runs matures if the Front Office doesn't make any drastic changes. Do you think he will stay around on the "Hope" that Foye can somehow become D-Wade and lead us to a title within the next season and a half? Ha, I don't think so. On the other hand, we know that AI can give us 30+ points and 8 assists per game… RIGHT NOW. How could anyone not trade "potential" for that production? Will Foye ever be that dominant? I doubt it. Even if he were somehow able, like I said earlier, it will take time. Much more time than KG is willing to wait. And KG and AI have a mutual respect for each other. Who wouldn't want to see them together on the court? It makes me giddy just thinking about that possibility.
Another potential issue from Taylor's loose lips is "money." He has said there is no way he would do a trade like this because of the money and salary implications. Is he telling the truth? Or is it a smoke screen? Who knows… regardless of whether it is truth or not, I wish he would just be quiet instead of all the nonsense he keeps spewing to the media and making himself look like a complete idiot that has no idea how to run a NBA team. As if the Cassell and Spreewell contract negotiations that he made public weren't enough, here he goes again. Let's hope it's just a smoke screen. But, I think a maneuver of that sort is honestly above any trickery that he is capable of, so he's sadly probably telling the truth. As for the salary cap implications, yes AI gets more money for the next two years, but we are also giving up almost 17 Million dollars to get AI, including Hudson's albatross contract that runs through 2010. Granted, we would have to sign a few more players to fill out our contract, but they could be had very cheap. Dwayne Jones and AC… where you guys at? The contracts of AI and KG would run out in 2.5 years, at which point the Wolves (Taylor) would free up about 45 Million dollars of salary. That is a colossal amount that could be used for new players. Or, Taylor could just pocket the savings. Either way, our flexibility with the salary cap situation would be insanely great by that time.
And while we are on the topic of money, the actual attendance for people that showed up at the Target Center the last two games was between 11,000 and 13,000 people. These numbers are a far cry from the numbers of "Tickets Sold," which is usually listed as anywhere from 15,000+ to 17,000 fans. The difference of the up to 6,000 fans a game means a huge loss of in game revenue from concessions to souvenirs and etc. With the addition of AI, I think Taylor would instantly see an enormous boost of not only paid attendance, but actual empirical attendance as well. That additional revenue could go a long way to easing the terrible burden of having to pay AI for the next 2.5 years. I just don't see the topic of "money" as being one of the main hold ups in this deal. That's a sad, pitiful excuse.
By all indications, our Front Office has repeatedly told us that they are going to keep Kevin Garnett a Timberwolf, no matter what. If this is indeed truly the case, we need to do everything in our power to try and win NOW. If this means acquiring a potential "problem" player like AI, then so be it. For the record, I don't really think he's a "problem player" at all. A lot of things said about him are terribly overblown, because of his image. But when it comes down to it, he leaves everything out on the court, where it truly matters.
Honestly, I think AI and KG together would be instant playoffs at the very minimum. If all that is standing in the way is trading a promising rookie then we have to do the trade. If I find out that we could have made this trade, but Taylor vetoed it because of "money" I think I could be sick. So, let's make it happen, get AI to Minnesota pronto.
CW