"With the firing of Head Coach Dwane Casey, there has been plenty of dissent.  Listening to the barrage undertaken by KFAN yesterday (Barreiro, Sludge and Lake) it has become apparent that most of the blame has been lifted from the hands of Casey; as if the blood upon his hands has been wiped clean.  With this, it seems McHale has proceeded to be the one who has continuously rolled in the blood of our slaughtered Wolves.
[image]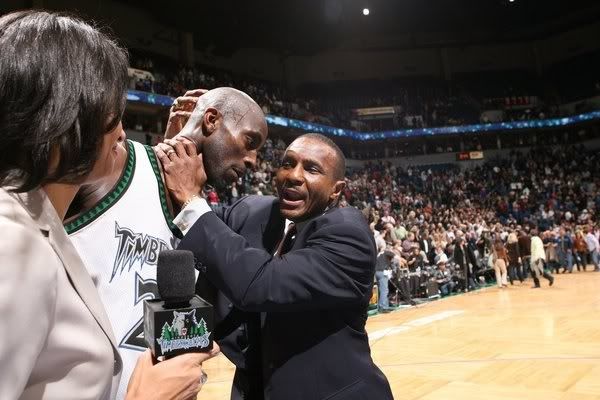 The Dwane Casey Error, I mean, Era is finally over. [image2]
Although it cannot be denied that McHale has set us up for a horrendous future, its time we give the man a little credit for this move.  Although the move to hire Dwane was, in my humble opinion, a terrible one in the first place, he has finally reconciled himself for one atrocious managerial decision.  With that, I decided to analyze the situation and answer this central question: "Did Mchale 'throw Casey under the bus?'"  I've heard this several times on differing forums so I feel its time to assess the situation with less bias toward McHale's poor decision making.
Frequently, I've heard that this team is "overachieving" at 20-20; in which the basic sentiment is that Casey deserved the coach of the year award (Although this was never mentioned before his sudden departure).  It has been said numerous times by several sources that this team is reaching the potential that its talent allows (The eighth seed, behind seven other "superior" teams).  In regards to these statements, the last time I checked talent was not the sole reason you win in this League.  If that was the case, would the Clippers be hovering under .500 with a lineup like Cassell, Livingston, Maggette, Mobley, Kaman, and All-Star Elton Brand?  Would Atlanta, with a ton of young talent (Smith, Childress, Johnson, Shelden, and Marvin Williams), be one of the worst teams in the League?!  Same goes for Sacramento (Artest, Bibby, Martin), New Jersey (Kidd, Carter, Jefferson), and a few other teams.  This league is about talent to an extent, but lets be realistic, you usually don't play in the NBA unless you have some sort of talent (granted, there are players like Mad Dog)!!! So, to say the sole reason there are 7 teams ahead of ours simply because of talent is completely ridiculous.  You have to take into account other factors such as how the team is interacting in the locker room (something that we know NOTHING about, or at least some of us don't) as well as how well the players swallow what the coach is preaching.  A good coach can rally his team around common ground, and usually thats winning ball games.  When you have guys dissenting against the coach (as shown by Davis, and a couple others I've personally heard speak out with CW and Bonk), its obvious that not everyone is on board and believes in the cause.  Having a system that has been shown to have several flaws in the rotation, offensive schemes, and play calling; it's obvious that the chemistry will not fall into place.  Therefore, the team will be inconsistent and come up short in games which should have never been close (or in this team's case, games in which the Wolves never should have lost HUGE leads). Say what you will about being thrown under the bus, but the continual ranting and raving about McHale (Or who we Minnesota fans like to call "McFail") does jack squat.  He is here to stay, as shown by Glen Taylor's everlasting affinity with him ("He's here until he wants to quit" is his basic sentiment).  Casey may have been a good guy and he might have given it his all, but according to those making the decisions, it wasn't enough. And some of us, feel the same (In concurrence with the ultimate intellectual, McFail).
By placing the blinders on and blaming only McHale, it makes it much easier to swallow and state that Casey is a "scapegoat."  The reality of the situation is simple.  He failed to implement a successful offensive scheme that allowed this team to play consistent basketball.  He also established a rotation that proved to be unsuccessful in making a run of more then 10 games (Not of straight wins, but of solid basketball).  Sure, he started this month off great, but we fail to recognize that some of the games shouldn't have went into overtime, and after the impressive start in 2007 we played some of the worst basketball of the season (Including what I see as probably the decisive game, Atlanta).  Regardless of the discontent for McHale (believe me, I hate his atrocious managerial decisions too), Casey did not show the potential to be the type of coach that this team needs.  I'm not saying Randy Wittman is the answer, but he may improve the rotations and offensive schemes which would definitely help this team out.  If not, we've just got another Casey that most likely won't last past this season anyways.  The best way to put it is that McHale made a poor decision in hiring Casey.  We didn't need a rookie coach for the last year and a half (wasting KG's prime), we needed a proven coach who would've given us a better chance to win games.  Even with Kevin McHale making poor decisions, it cannot be denied that a better coach would've netted us more wins more consistently.  I'm all for McFail being fired, but I've been for it for more than just now.  We have to accept that our true man of genius, McHale, is in the situation where he can fail and keep his job.  Casey was not.  McFail should have been fired long ago, which would've most likely led to a better coach (NOT Casey), better talent, and an overall better team.
Although it is sad that a good man was "relieved" of his duties, its time to accept that he just wasn't right for the job.  Thats the bed McHale has made for us throughout his decisions, and we, as Wolves fans, have to be willing to lie in it.  That is until Taylor throws the damn thing away and buys a Sealy Posturepedic."
-TWolfTim22
____________________________________________________
Excellent sentiments Tim.  Honestly, I can't disagree with this at all.  I also can't believe how quickly people are losing sight of how truly an awful coach Casey was.  Yeah, McHale should share in some of the blame, and yeah Taylor has no idea what he is doing when it comes to running a sports franchise; but Casey was still liable for plenty of the blame when it came to the actual games.  Namely: for the awful execution on the floor, failing to call timeouts to stop crucial runs by the opponents, lack of in-game adjustments, atrocious substitution patterns, no enthusiasm (unless Bonk is around at half-time to cheer Casey on), and just an overal subpar display and lack of leadership.  Leadership being probably the most important facet regarding being a good coach in the NBA.  That's just something Casey is just not yet able to do at this stage in his career… at least not for the way this team is constructed (however poorly that may be.)
Great examples of teams with more talent playing as poorly as the Wolves, if not worse.  As you said, that goes to prove that a team needs more than talent alone to win in today's NBA.  What you truly need is a "Ego Manager" so to speak, that exhibits great Leadership, Motivational, and Organizational skills as well.  Look at the top coaches in the Western Conference.  Avery, Jackson, D'Antoni, Popovich, Sloan, and Karl.  They ALL fit this billing.  I truly believe coaches that have these traits, and know at least something about the actual game of basketball itself, (or know how to hire good X and O's assistants) are essential for winning in today's NBA.
Is Whittman the long term answer?  God I hope not.  He's another one of the the "Good Old Boys."  It Taylor and McHale truly care anything at all about this franchise, they will have already started trying to locate potential PROVEN canidates to coach this team next season.  If they just hand Whittman the job and an extension, that just goes to show they don't give a damn and can't be bothered to find the type of coach this team truly needs.
It's "nice" that Taylor and McHale gave someone outside the proverbial "MN Country Club" a chance, but Casey was just not the right man for this job.  That was readily apparent LAST season.  I thought we were trying to "win now?"  Well, a rookie coach was NOT the answer, regardless of who it was…
CW