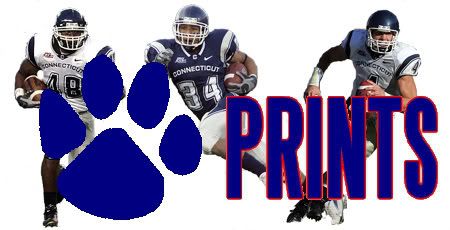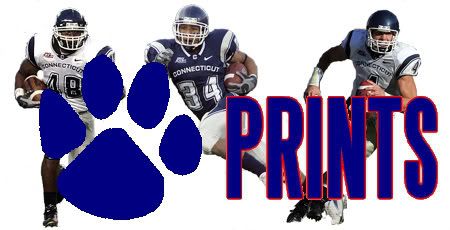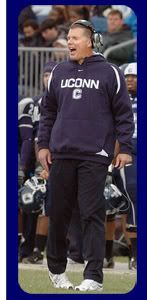 If you believe the rumors you are hearing about Randy Edsall going to Georgia Tech, don't. They are just rumors. With Edsall having children still in high school, odds are he won't be leaving anytime soon.
Still with Chan Gailey getting canned at Georgia Tech and Edsall having spent a year there as defensive coordinator and the Huskies having a great season, rumors will fly.
"I've said it many many times," Edsall said. "It doesn't matter what line of work you're in, if you have success there's going to be rumors out there and they're rumors.

"When you have success and you do some good things . . . that's the nature of the business. I don't get all caught up in it or anything like that. It's one of those things that some of those things do happen. People come along and they want to talk to you then you've got to sit down and determine what's best for you and your family just like anybody would. My profession's no different than anybody else. I'm just like everybody else. That happens with the nature of all of our professions."
If he was a candidate, I highly doubt that he would publicly come out and say it. After all, he is the same Edsall who walked out of a press conference after Saturday's loss at West Virginia.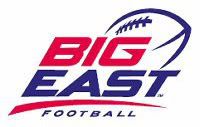 The Tampa Tribune announced it's all Big East media team and awards yesterday and there are some Huskies on the list.
Danny Lansanah and Robert Vaughn were named to the defensive squad while Tyvon Branch was named to the special teams squad. Randy Edsall was an unanimous choice for Big East media coach of the year and the Huskies were picked as the surprise team of the Big East.
A look at the entire awards after the jump.
Each position has a maximum of eight votes. Leading vote getters at each position listed below with votes in (parenthesis).
Offense
WR Harry Douglas, Louisville (8)
WRTiquan Underwood, Rutgers (4)
TE Gary Barnidge, Louisville (7)
OL Jeremy Zuttah, Rutgers (8)
OL Ryan Stanchek, West Virginia(7)
OL Jeff Otah, Pittsburgh (6)
OL Pedro Sosa, Rutgers (4)
OL Eric Wood, Lousiville (4)
QB Pat White, West Virginia (8)
RB Ray Rice, Rutgers (8)
RB LeSean McCoy, Pittsburgh (6)
Defense
DL Johnny Dingle, West Virginia (8)
DL George Selvie, South Florida (8)
DLAnthony Hoke, Cincinnati (7)
DL Eric Foster, Rutgers (3)
LB Ben Moffitt, South Florida (8)
LBDanny Lansanah, UConn (6)
LB Scott McKillop, Pittsburgh (5)
DB Mike Mickens, Cincinnati (7)
DB Haruki Nakamura, Cincinnati (7)
DB Trae Williams, South Florida (7)
DBRobert Vaughn, UConn and Mike Jenkins, South Florida (3)
Specialists
P Kevin Huber, Cincinnati (7)
K Pat McAfee, West Virginia (4)
ReturnerTyvon Branch, UConn (5)
Coach of the yearRandy Edsall, UConn (6).
Offensive player of the yearPat White, WVU (8)
Defensive player of the yearGeorge Selvie, USF (6)
It's not surprising to me that no one on the UConn offense was named to the team. The defense up until the last game had been the strong point of the Huskies in my opinion.
[quotes from the Hartford Courant]