Faced with a stiff test at least on paper, the UConn women did to West Virginia what they've done to opponents all year, play great defense and shoot the ball well, as they went on to an 84-48 win at Gampel Pavilion on Wednesday night.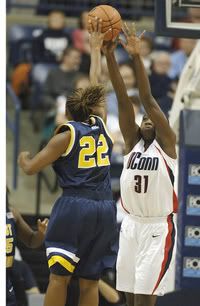 Maya Moore led the way for the Huskies (14-0, 2-0 Big East) tonight with 25 points on 9-of-17 shooting, including a career-high four 3-pointers. Tina Charles had her 7th double-double of the season as she put in 18 points and pulled down 14 rebounds. Mel Thomas rebounded from zero point effort in the last game to score 14 points tonight. Ketia Swanier added 7 points off the bench for the Huskies.
Olayinka Sanni paced the Mountaineers (11-3, 1-1) with 12 points and a team-high 5 rebounds. Sparkle Davis chipped in with 11 points while West Virginia star Meg Bulger struggled from the field (1-8) and scored just 4 points.
UConn started out the game like it does most games, on a big run. This time the Huskies started out on a 13-0 run before West Virginia scored it's first basket with 15:45 left to go in the first half. UConn kept it going as Thomas 3-pointer gave the Huskies a 27-5 lead. UConn would go into the locker room with a 43-21 lead. The Mountaineers made only six baskets in the first half while committing 11 turnovers.
UConn's lead got as big as 37 points in the second half behind the shooting of Charles and Moore. UConn head coach Geno Auriemma began to clear his bench towards the middle of the second half and the reserves did their best to maintain the big lead. At times, Geno did get pissed at them for not keeping up the intensity of the first team.
The Huskies return to action on Saturday when they travel to Freedom Hall in Louisville to take on the Cardinals. Tip-off is scheduled for 4 PM and the game will be televised locally on CPTV.

Notes and Musings:
The starters were Renee Montgomery, Mel Thomas, Maya Moore, Tina Charles and Brittany Hunter.
Hunter didn't play in the second half because her troublesome right knee was giving her problems.
WVU forward Meg Bulger is the younger sister of St. Louis Rams QB Marc Bulger. Her sister Kate was also a star at West Virginia.
UConn held West Virginia to 30.9% (17-55) shooting. The Huskies shot 53.3% (32-60) including 10-of-18 (55.6%) from 3-point land.
The Huskies had assists on 24 of their 32 made baskets.
The Huskies forced 17 WVU turnovers into 21 points while committing 15 of their own. WVU only turned those into 9 points.
UConn's poor free throw shooting continued as they were 10-16 (62.5%). I am telling you one game those misses are going to cost them.
The Huskies won the battle of the boards 43-27.
CPTV will be showing the Roast of Geno Auriemma at 6:15 PM on Saturday.